Search



Home


Surname


First Name
Popular Products



Coat of Arms


Clan Badges


Books & Gifts


Celtic Jewelry


Black Shirts


CD Music


Download

Design Gallery



Irish


Flags


Celtic


Tartans


Scottish


Claddagh


Surnames


Highlander


Celtic Radio
Research



History


Country


Families

Our catalog of products also includes three designer logos created specially by the Celtic Radio designers:

'Enjoy Life' Brand - Pigmented fun t-shirts with our 'Enjoy Life' logo. Stickers available too!

'StormCelt' Brand - Rugged wilderness outdoor wear for the true independent Celt.

'StormGale' Brand - Clothing products to keep you warm & dry when storm winds blow.

Our Heraldry Database has thousands of Family histories to search. Visit Now!

MacMahon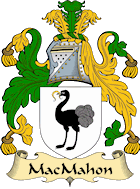 Coat of Arms

---

M

acMahon is one of the best known and most distinguished names in Ireland. In Irish Mac Mathghamha, or in ultra-modern spelling MacMahuna, it is said to be derived from the Irish word for a bear. It is borne by two quite distinct septs. One of these belongs to Co. Clare, in which county is now the most numerous name. These descend from Mahon, son of Murtagh Mor O'Brien, King of Ireland (D. 1119), a.....
Heraldry Database Index


Surname
Branch
Origins
Flag
Badge
Info
Coat of Arms
0´Hen-nessy
O'Driscoll
Irish
Ar. a ship or ancient galley, .
Abarcrumbie
MacNab
Scottish
Sable, on a chevron Argent thr...
Abarcrumby
MacNab
Scottish
Sable, on a chevron Argent thr...
Abbernetti
MacDuff
Scottish
Quarterly, 1st & 4th, Or, a li...
Abbot
MacNab
Scottish
Sable, on a chevron Argent thr...
Abbotson
MacNab
Scottish
Sable, on a chevron Argent thr...
Abbott
MacNab
Scottish
Sable, on a chevron Argent thr...
Abbottson
MacNab
Scottish
Sable, on a chevron Argent thr...
Abercairnie
Murray
Scottish
Quarterly, 1st, paly of six Or...
Abercairny
Murray
Scottish
Quarterly, 1st, paly of six Or...
Abercrombie
MacNab
Scottish
Sable, on a chevron Argent thr...
Abercromby
MacNab
Scottish
Sable, on a chevron Argent thr...
Abercrombye
MacNab
Scottish
Sable, on a chevron Argent thr...
Abercrummye
MacNab
Scottish
Sable, on a chevron Argent thr...
Aberlady
Dunbar
Scottish
Gules, a lion rampant Argent, ...
Abernathie
MacDuff
Scottish
Quarterly, 1st & 4th, Or, a li...
Abernathy
MacDuff
Scottish
Quarterly, 1st & 4th, Or, a li...
Aberneathy
MacDuff
Scottish
Quarterly, 1st & 4th, Or, a li...
Abernethi
MacDuff
Scottish
Quarterly, 1st & 4th, Or, a li...
Abernethie
MacDuff
Scottish
Quarterly, 1st & 4th, Or, a li...
Abernethny
MacDuff
Scottish
Quarterly, 1st & 4th, Or, a li...
Abernethy
Leslie
Scottish
Quarterly, 1st & 4th, Argent, ...
Abernethy
MacDuff
Scottish
Quarterly, 1st & 4th, Or, a li...
Abernyte
MacDuff
Scottish
Quarterly, 1st & 4th, Or, a li...
Abernythe
MacDuff
Scottish
Quarterly, 1st & 4th, Or, a li...

---

( Showing 1 to 25 of 6436 )

Next >>