Search



Home


Surname


First Name
Popular Products



Coat of Arms


Clan Badges


Books & Gifts


Celtic Jewelry


Black Shirts


CD Music


Download

Design Gallery



Irish


Flags


Celtic


Tartans


Scottish


Claddagh


Surnames


Highlander


Celtic Radio
Research



History


Country


Families

We custom design and produce all of our products with industrial press technologies located at our Boston Massachusetts facilities! This industrial process results in superior manufacturing that will outlast even store bought products. Our base products are supplied from a major clothing wholesaler, so we can keep our prices low.

Orders made today are generally filled within 1-4 weeks depending on our current supply schedule. All products have a 30 day money back guarantee for defects in workmanship. Customer satisfaction is our number one priority!

Our Heraldry Database has thousands of Family histories to search. Visit Now!

Archibald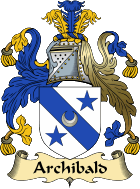 Coat of Arms

---

T

he surname Archibald is of patronymic origin, being derived from the first name of the father of the original bearer. Archibald is derived from the ancient German personal name Ercambald for which the literal translation is "precious-bold". The surname Archibald simply signifies "son of" or "descendant of" Archibald. This surname is particularly associated with Scotland where one of the earliest r.....
Heraldry Database Index


Surname
Branch
Origins
Flag
Badge
Info
Coat of Arms
0´Hen-nessy
O'Driscoll
Irish
Ar. a ship or ancient galley, .
Abarcrumbie
MacNab
Scottish
Sable, on a chevron Argent thr...
Abarcrumby
MacNab
Scottish
Sable, on a chevron Argent thr...
Abbernetti
MacDuff
Scottish
Quarterly, 1st & 4th, Or, a li...
Abbot
MacNab
Scottish
Sable, on a chevron Argent thr...
Abbotson
MacNab
Scottish
Sable, on a chevron Argent thr...
Abbott
MacNab
Scottish
Sable, on a chevron Argent thr...
Abbottson
MacNab
Scottish
Sable, on a chevron Argent thr...
Abercairnie
Murray
Scottish
Quarterly, 1st, paly of six Or...
Abercairny
Murray
Scottish
Quarterly, 1st, paly of six Or...
Abercrombie
MacNab
Scottish
Sable, on a chevron Argent thr...
Abercromby
MacNab
Scottish
Sable, on a chevron Argent thr...
Abercrombye
MacNab
Scottish
Sable, on a chevron Argent thr...
Abercrummye
MacNab
Scottish
Sable, on a chevron Argent thr...
Aberlady
Dunbar
Scottish
Gules, a lion rampant Argent, ...
Abernathie
MacDuff
Scottish
Quarterly, 1st & 4th, Or, a li...
Abernathy
MacDuff
Scottish
Quarterly, 1st & 4th, Or, a li...
Aberneathy
MacDuff
Scottish
Quarterly, 1st & 4th, Or, a li...
Abernethi
MacDuff
Scottish
Quarterly, 1st & 4th, Or, a li...
Abernethie
MacDuff
Scottish
Quarterly, 1st & 4th, Or, a li...
Abernethny
MacDuff
Scottish
Quarterly, 1st & 4th, Or, a li...
Abernethy
Leslie
Scottish
Quarterly, 1st & 4th, Argent, ...
Abernethy
MacDuff
Scottish
Quarterly, 1st & 4th, Or, a li...
Abernyte
MacDuff
Scottish
Quarterly, 1st & 4th, Or, a li...
Abernythe
MacDuff
Scottish
Quarterly, 1st & 4th, Or, a li...

---

( Showing 1 to 25 of 6360 )

Next >>