Search



Home


Surname


First Name
Popular Products



Coat of Arms


Clan Badges


Books & Gifts


Celtic Jewelry


Black Shirts


CD Music


Download

Design Gallery



Irish


Flags


Celtic


Tartans


Scottish


Claddagh


Surnames


Highlander


Celtic Radio
Research



History


Country


Families

We custom design and produce all of our products with industrial press technologies located at our Boston Massachusetts facilities! This industrial process results in superior manufacturing that will outlast even store bought products. Our base products are supplied from a major clothing wholesaler, so we can keep our prices low.

Orders made today are generally filled within 1-4 weeks depending on our current supply schedule. All products have a 30 day money back guarantee for defects in workmanship. Customer satisfaction is our number one priority!

Our Heraldry Database has thousands of Family histories to search. Visit Now!

Cummins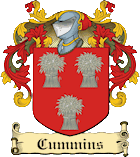 Coat of Arms

---

N

otwithstanding its very English appearance Cummins is a Gaelic Irish surname quite distinct from the English Cummings and Cumming, though sometimes the original O Coimin takes those forms as its anglicized synonyms. Indeed the number of variants in English is considerable - Commons, Comyns, Kimmons, commane and even MacSkimmins are recorded by the Registrar-General as being used as int.....
Country Database Index
Country Name
Map
Coat of Arms
National Flag
Preview
Scotland

Scotland (Alba in Gaelic) is a nation in northwest ...

Ireland

Ireland (Irish: Éire) is the third-largest island i...

Isle of Man

The Isle of Man (Ellan Vannin in Manx) or Mann (Man...

Wales

Wales (Welsh: Cymru; pronounced IPA: /ˈkə...

Cornwall

Cornwall (Cornish: Kernow or occasionally Curnow) i...

Brittany

Brittany (French: Bretagne, French pronunciation ...

Galicia

Galicia (spelt identically in Galician and Spanish)...

England

England is the largest and most populous constituen...

Germany

The English word "Germany" derives from Latin name ...

France

France, officially the French Republic (French: Rép...

Portugal

Portugal, officially the Portuguese Republic (Portu...