Search



Home


Surname


First Name
Popular Products



Coat of Arms


Clan Badges


Books & Gifts


Celtic Jewelry


Black Shirts


CD Music


Download

Design Gallery



Irish


Flags


Celtic


Tartans


Scottish


Claddagh


Surnames


Highlander


Celtic Radio
Research



History


Country


Families

We custom design and produce all of our products with industrial press technologies located at our Boston Massachusetts facilities! This industrial process results in superior manufacturing that will outlast even store bought products. Our base products are supplied from a major clothing wholesaler, so we can keep our prices low.

Orders made today are generally filled within 1-4 weeks depending on our current supply schedule. All products have a 30 day money back guarantee for defects in workmanship. Customer satisfaction is our number one priority!

Our Heraldry Database has thousands of Family histories to search. Visit Now!

MacIntyre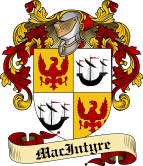 Coat of Arms

---

I

n Gaelic, the name Macintyre is rendered 'Mac an t-Saoir', meaning 'son of the carpenter'. A traditional account dates the origins of the name to the early twelfth century, when Somerled was establishing his lordship in the Western Isles. After Olav the Red, Norse King of Man and the Isles, resisted Somerled's ambitions, he then resorted to diplomacy, and sought the hand of the king's daughter, Ra.....
Heraldry Database: Abercairny
Abercairny


Heraldry Database

Surname: Abercairny
Branch: Murray
Origins: Scottish
More Info: Scotland


Background: The progenitor of this family was Feskin, who flourished in the twelfth century. While it has been claimed that he may have been a Pict, it is more likely that he was a Flemish knight, one of many of that bellicose and ruthless group of warlords who were employed by the Norman kings to pacify their new realm of England after the Conquest. David I, who had been brough up at the English court, sought to employ such men to help him hold the wilder parts of his kingdom, and he granted lands in West Lothian to Freskin. The ancient Pictish kingdom of Moray, in Gaelic, 'Moireabh', was also given to Freskin, to put an end the remnants of the old royal house. In a series of politically astute moves, he and his sons inter-married with the house of Moray to consolidate their power. There seems little doubt that royal Pictish blood flowed in the veins of Freskin's descendents, and the lines descending of Freskin's are linked heralically by their use of three stars and the colours blue and silver in some fashion on their coats of arms. The Earls of Sutherland descend from what is thought to be Freskin's eldest son. In charters, Freskin's other descedents were designated 'de Moravia', and this, in Lowlands Scots, became 'Murray'.



Motto:
Dexter, Tout prest, Quite Ready.
Arms:
Quarterly, 1st, paly of six Or and Sable (Atholl); 2nd, or, a fess chequy Azure and Argent (Stewart); 3rd, Argent, on a bend Azure three stags' heads cabossed Or (Stanley); 4th, Gules, three legs in armour Proper, garnished and spurred Or, flexed and conjoined in triangle at the upper part of the thigh (Isle of Man); end surtout, on an inescutcheon Azure, three mullets Argent within a Royal Tressure Or (Murray) ensigned of a Marquess' coronet Or (Marquessate of Tullibardine).
Crest:
Dexter, on a Wreath Argent and Azure a mermaid holding in her dexter hand a mirror and in her sinister a comb all Proper.
Supporters:
(on a compartment embellished with juniper) Dexter, a savaged Proper, wreathed about the temples and loins with juniper, his feet in fetters, the chain held in his right hand Proper, sinister, a lion rampant Gules, armed and langued Azure, gorged with a plain collar of the Last charged with three mullets Argent.
Badge:
A hand paleways grasping a key Proper, issuant from and within a chaplet of juniper Proper and ensigned with the coronet of a Duke (Atholl).
Plant:
Juniper, for Atholl and butcher's broom, for Murray.
View the Heraldry Dictionary for help.

T
he Murrays trace their heritage back to the twelfth century and take their name from the great province of Moray, once a local kingdom. It was during this time that the Flemish lords crossed the North Sea and established themselves in the Scottish realm. Among them was Freskin, son of Ollec. Either Freskin or his son William intermarried with the ancient royal house of Moray. The senior line of the Murrays took the surname of Sutherland and became Earls of Sutherland by 1235.
Thereafter the chiefs of the Murrays were the Lords of Petty in Moray who also became Lords of Bothwell in Clydesdale before 1253. An heir of this line, Sir Andrew of Murray, was the brilliant young general who led the Scots in 1297 in their first uprising against the English conquerors. He was mortally wounded while winning his famous victory at Stirling Bridge. His son, Sir Andrew Murray, 4th Lord of Bothwell, third Regent of Scotland, married Christian Bruce, a sister of King Robert the Bruce. He was captured at Roxburgh early in 1333 and was a prisoner in England at the time of the battle of Halidon Hill. He obtained his freedom in time to march to the relief of his wife, who was bravely defending Kildrummy Castle. Sir Andrew commenced with unabated spirit to struggle in the cause of independence and died in 1338. The last Murray Lord of Bothwell died in 1360 of the plague.
The chiefship of the Murrays fell into doubt amongst the various scattered branches of the name--from Sutherland and Murray itself, through Perthshire and Stirlingshire to Annandale and the Borders. By the sixteenth century, the Murrays of Tullibardine in Strathearn had assumed the leadership of the Murrays. This was formally confirmed by Bands of Association in 1586 and 1589. Lairds from all over Scotland recognized the supremacy of the line of Sir John Murray.
Sir John became the 1st Earl of Tullibardine in 1606. Thus, the Tullibardine hegemony was firmly established among the Murrays; and the late George Iain Murray, 10th Duke of Atholl was also Marquis of Tullibardine as recognized in Lyon Register as Chief of the Murrays. The 2nd Earl of Tullibardine married Lady Dorothea Stewart, heiress of the Earls of Atholl in 1629 and Marquises from 1676. To their medieval peacock's head crest (motto-Praite), they added the mermaid (motto-Tout Pret), as Lords of Balquidder; and in the seventeenth century, they took the demi-savage holding a sword and a key commemorating the capture of the last Lord of the Isles by the 1st Stewart Earl of Atholl in 1475: hence the motto Furth, Fortune, and Fill the Fetters. (Go forth against your enemies, have good fortune, and return with hostages and booty).

Name Variations: Abercairnie, Abercairny, Athol Atholl, Balneaves, Buttar, Butter, Butters, Flamanc, Flamang, Flamench, Flamyng, Fleeman, Fleeming, Flemen, Fleming, Flemmynge, Flemyn, Flemyne, Flemyng, Flemynge, Fleymen, Fleyming, Fliming, Flymen, Flymyng, MacKinnoch, MacKmurrie, MacMurray, MacMurre, MacMurree, MacMurrie, MacMurry, MacMurrye, MacMury, Mirrey, Monchryf, Moncref, Moncrefe, Moncreife, Moncreiff, Moncreiffe, Moncrief, Moncriefe, Moncrieff, Moncrieffe, Moncrif, Moncrife, Moncriffe, Monkreff, Monkreth, Montcreffe, Montcrief, Montcrif, Moray, Morray, Mouncref, Mowray, Mulmurray, Mulmury, Muncrefe, Muncreff, Muncreif, Muncreiffe, Muncreyfe, Muncrif, Muncrife, Munkrethe, Muray, Murra, Murrai, Murraue, Murray, Murrie, Murry, Mury, Neaves, Pepper, Phylemen, Piper, Pyper, Ratray, Ratre, Ratteray, Rattray, Retrey, Rettra, Rettray, Rotray, Smail, Smaill, Smal, Smale, Small, Smalle, Smaw, Smeal, Smeall, Spaden, Spadine, Spaldene, Spaldeng, Spalding, Spaldyn, Spaldyng, Spaldynge, Elibank, MacKmurrie, MacMurray, MacMurre, MacMurree, MacMurrie, MacMurry, MacMurrye, MacMury, Mirrey, Moray, Morray, Mowray, Mulmurray, Mulmury, Muray, Murra, Murrai, Murraue, Murray, Murrie, Murry, Mury, MacKmurrie, MacMurray, MacMurre, MacMurree, MacMurrie, MacMurry, MacMurrye, MacMury, Mirrey, Moray, Morray, Mowray, Mulmurray, Mulmury, Muray, Murra, Murrai, Murraue, Murray, Murrie, Murry, Mury, Tullibardine .

References:
One or more of the following publications has been referenced for this article.
The General Armory; Sir Bernard Burke - 1842.
A Handbook of Mottoes; C.N. Elvin - 1860.
Scottish Clans and Tartans; Neil Grant - 2000.
Scottish Clan and Family Encyclopedia; George Way of Plean and Romilly Squire - 1994.
Scottish Clans and Tartans; Ian Grimble - 1973.
World Tartans; Iain Zaczek - 2001.
Clans and Families of Scotland; Alexander Fulton - 1991.






Sign-up for a Founders account and receive personalized
family heraldry service and much more!


Want to know more?
Click the Heart!

Heraldry Database