Search



Home


Surname


First Name
Popular Products



Coat of Arms


Clan Badges


Books & Gifts


Celtic Jewelry


Black Shirts


CD Music


Download

Design Gallery



Irish


Flags


Celtic


Tartans


Scottish


Claddagh


Surnames


Highlander


Celtic Radio
Research



History


Country


Families

All of our products can be order in bulk for family reunions and get-togethers. Depending on the number of items ordered, we can offer bulk orders at reduced prices for incredible savings from individual items. We also offer embroidered Clan Badge and Coat of arms patches in bulk orders for all of your family and clan festivals.
Don't see your Clan Badge or Family Coat of Arms or do you have a special customized order? Please
contact
us with your special order details and we will be happy to setup a free quote.

Our Heraldry Database has thousands of Family histories to search. Visit Now!

MacMahon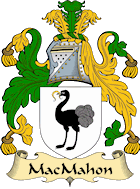 Coat of Arms

---

M

acMahon is one of the best known and most distinguished names in Ireland. In Irish Mac Mathghamha, or in ultra-modern spelling MacMahuna, it is said to be derived from the Irish word for a bear. It is borne by two quite distinct septs. One of these belongs to Co. Clare, in which county is now the most numerous name. These descend from Mahon, son of Murtagh Mor O'Brien, King of Ireland (D. 1119), a.....
Heraldry Database: Ainas
Ainas


Heraldry Database

Surname: Ainas
Branch: MacInnes
Origins: Scottish
More Info: Scotland


Background: The MacInnes's are of ancient Celtic origin, with the name MacAoghuis being Gaelic for "son of Angus". The ancestors were probably amoung the earliest settlers of Dalriada and were said to have formed a branch of the Siol Gillebride, believed to be the original inhabitants of Morven and Ardnamurchan. Old tradition has it that the MacInnes were promised favour by the Lord of the Isles. A later chief of the Clan MacInnes was appointed Constable of the Castle of Kinlochaline and was still held by a MacInnes when it was burnt by Coll Kitto in 1648. The clan suffered severly early in the 13th century during the conquest of Argyll by Alexander II and at about this time the clan moved under the protection of the Campbells. They supported the Covenantors against Charles I and later supported the Hanoverians against the Jacobites under the Campbells, although there also seems to have been a MacInnes appointed as Hereditary Bowmen to the chiefs of clan MacKinnon. Another group of MacInnes were also to be found as followers of the Stewarts of Ardshiel and as such supported the Jacobite struggle. Of those MacInnes who emigrated, Donald MacInnes became a merchant and later Senator in Canada and Renn MacInnes became Bishop of Jerusalem in 1914.



Motto:
Irid ghibht Dhe agus an Righ, Through the grace of God and the King.
Arms:
Quarterly, 1st, Azure, a castle of two towers Or, port and windows Gules; 2nd & 3rd, Or, upon a sea in base undy Azure and Argent, a lymphad Vert flagged and five visible oars in action Gules; 4th, gyronny of eight Sable and Or; overall, dividing the quarters, a cross Vert charged with a millrind between four pheons Argent, accompanied by two cross crosslets in the flanks and as many cross crosslets fitche, in chief and in base, of the said cross all of the Last.
Crest:
A sinister arm from the shoulder bendways, attired in a close sleeve of the proper tartan of Clan Aonghais, cuff flashes yellow with three buttons Or, grasping a bow Vert, stringed Gules.
Plant:
Holly.
View the Heraldry Dictionary for help.

C
lan MacInnes' ancestors were among the early inhabitants of Islay, Jura and the Kintyre peninsula in Scotland, generally part of the region known as Argyll. These Scotti, a Celtic, Gaelic-speaking people, first appear there as settlers from Ireland in c. 500 when Fergus Mór, king of the north Irish kingdom of Dál Riata, and his two brothers, Loarn and Óengus, expanded their lands into southwestern Alba.
Óengus had already established a colony on Islay and/or Jura and was the master of ships for the new Kingdom. Óengus (Angus) is considered to be the first of the MacInnes Clan and is thought to be buried on Iona. Dalriada quickly grew in influence and strength, and eventually overran the indigenous Pictish peoples and their culture. The area then became known as Scotland after these Scotti immigrants.
It is believed that MacInneses lived on Iona with Columba. Oengus and his descendants would have exploited their seagoing skills and ventured to Iona at an early time. Iona is the final resting-place of many MacInneses and lore says that Columba selected the site whereupon the Kiel Church now stands in Lochaline near Kinlochaline Castle, the castle built by the MacInneses.
During the 9th century the clan moved out of the western isles and into Argyll (Morvern and Ardgour). This was most likely as a result of constant Viking raids in the islands.
By the early 12th century MacInnes people were well established in all of Morvern (the peninsula bounded by Loch Sunart and Loch Linnhe and adjacent to the Isle of Mull). The traditional seat of the Chiefs of Clan MacInnes was established there in Kinlochaline Castle. As the Viking raids continued to terrorize their lands the MacInneses became members of an alliance known as Siol Gillebride (Seed of the Servant of St. Bride) along with MacGillivrays, MacMasters and MacEacharns somewhat in the manner of Clan Chattan, under the leadership of the Celtic-Norse warrior Somerled (killed in 1164, often referred to as Somerled MacGillebride, and his father was believed to be a MacAonghais Chief). Somerled's grandson was the first of Clan Donald (McDougall and McDonald clans).
"Chief of MacInnes sought Somerled to seek his aid. A skilled warrior, Somerled agreed to help them if they would follow his directions completely. He told them to kill and skin a herd of longhaired highland cattle, and to then march their normally kilt-clad fighters in plain sight of the invading Vikings. Next they were to dress in the cowhides with the long hair turned outwards and march again before their enemies; then a third time they were to march in front of the Vikings, but this time wearing the hides turned skin side out. The MacInnes men followed his advice. The Vikings were fooled into thinking the MacInneses had three times their actual fighting strength. They turned and fled the "overwhelming numbers" and many were slain. In thanks to Somerled, the MacInnes' vowed to become his vassals."
In the mid 14th century, the last chief of Clan MacInnes was killed, along with his sons, by order of John of Islay, Lord of the Isles. Chief MacInnes had advised John to divorce his wife, Amy MacRuari, and marry the daughter of future king Robert II of Scotland. Amy got revenge by telling John that MacInnes had complained that, while being lodged at John's residence, his quarters stank because they were used as a dog's kennel. Enraged, John ordered Donald, son of Lachlan MacLean, to kill MacInnes. These murders were carried out in Castle Ardtornish on the Sound of Mull, and as a reward Clan MacLean were deeded the lands and castle of Ardgour. Clan MacInnes remains without a Chief, and many of the clan scattered to Appin, Craignish, Lochaber and Skye, but some of the clan continued to occupy the castle.
In the 16th Century, many of the MacInnes Clan moved to Sleat on the Isle of Skye. Five longships are said to have made the journey, each holding a family group. From these five families are descended the five lineages of the name of MacInnes on the Isle of Skye. Some of these MacInnes men became the hereditary bowmen to the Mackinnon of Strath. The bowmen were known as Sliochd Neill a' bhogha (The Line of Neil of the Bow). Others of the dispossessed Clan had joined with Clan Dugall Craignish and some went to Perthshire and joined with the MacGregors, leading to an ill-informed present-day claim that MacInnes is a Sept of MacGregor. It should be also noted that Clan Innes is unrelated to MacInnes having arisen in Moray east of Inverness at a later date.
During the Jacobite uprisings most of the Clan MacInnes supported the British government however one branch of the clan fought for the Jacobite cause.
In the 1745 Jacobite Rising, MacInnes Clansmen took up arms on both sides. Some stood with the Campbells and the House of Argyll, but others (MacInneses of Morvern, Lochaber and Appin) supported Prince Charles Edward Stuart and fought beside Stewart of Ardshiel, who commanded of the Appin (Stewart) Regiment. A MacInness clansman, MacMaster of Glenaladale, raised Prince Charles banner at Glenfinnan. Four MacInnes men were killed and two wounded in the battle. Others may have been captured and subsequently hanged. Donald Livingstone, the 18-year-old son of Anna MacInnes of Morvern, saved the Appin Banner from Culloden and smuggled it home. The banner is now housed in the Museum of Scotland. These kinsmen are buried in the cemetery of Kiel Kirk (Kiel Church) in Lochaline Morvern. The church and cemetery exist today, with many old grave stones housed in the session house next to the church. One John McGinnes helped row Charles to safety and when captured and flogged, refused to disclose the details.
The Highland Clearances, from about 1790 to 1840s, drove many MacInneses from their homes, notably on Skye and Mull. These Clearances were designed to get the tenant farmers off the land to make room for profitable sheep herding. Poverty, crop failures and high rents also contributed to the tide of emigration that emptied the highlands during the 19th Century. Numerous parish cemeteries on Mull, Skye, Iona, Islay and across Argyll hold the remains of clansmen.
Kinlochaline Castle was the seat of the chief of Clan MacInnes for much of the Clan's history. In 1645, during the English Civil War, the castle was attacked and burned by MacDonalds serving under James Graham, 1st Marquess of Montrose, a member of Clan Graham. Clan MacInnes retained control of the castle following this attack, along with a later attack in 1679 during a feud with the Archibald Campbell, 9th Earl of Argyll. The castle, which was then heavily damaged, was abandoned by Clan MacInnes around 1690.
Name Variations: Aengus, Ainas, Anegos, Anegous, Anegus, Angas, Anggues, Angous, Anguis, Angus, Anguss, Aonas, Aonghas, Aonghus, Canch, Keanish, Kenish, Kenneis, Kennish, Kinnes, Kinnis, MacAinish, MacAinsh, MacAnce, MacAngus, MacAnish, MacAnsh, MacAonghus, MacCainsh, MacCance, MacCanch, MacCanish, MacCaniss, MacCans, MacCanse, MacCansh, MacCants, MacHinch, MacIlnaey, MacInas, MacInnes, MacInnesh, MacInness, MacInnis, MacInnisch, MacInnish, MacKance, MacKants, MacKanyss, MacKinish, MacKinnes, MacKinness, MacKinnis, MacKinshe, MacKmaster, MacMagister, MacMaster, MacNeish, MacQuinnes, MacYnwiss, Maistersone, Maistertoun, Maistertoune, Maistertown, Makangus, Makanys, Masterson, Masterton, Mastertone, Naische, Naish, Naos, Neasch, Neis, Neische, Neish, Nes, Nesche, Ness, Nies, Niesh, Nish, MacInnes of Kinlochaline, MacInnes of Malagawatch, MacInnes of Morven, MacInnes of Rickersby, Angus, MacAngus, MacCainsh, MacCansh, MacMaster.
References:
One or more of the following publications has been referenced for this article.
The General Armory; Sir Bernard Burke - 1842.

A Handbook of Mottoes; C.N. Elvin - 1860.

Scottish Clans and Tartans; Neil Grant - 2000.

Scottish Clan and Family Encyclopedia; George Way of Plean and Romilly Squire - 1994.

Scottish Clans and Tartans; Ian Grimble - 1973.

World Tartans; Iain Zaczek - 2001.

Clans and Families of Scotland; Alexander Fulton - 1991.

Wikipedia: http://en.wikipedia.org/wiki/Clan_MacInnes
Electric Scotland: http://www.electricscotland.com/webclans/m/macinne2.html




Weathered




Sign-up for a Founders account and receive personalized
family heraldry service and much more!


Want to know more?
Click the Heart!

Heraldry Database