Search



Home


Surname


First Name
Popular Products



Coat of Arms


Clan Badges


Books & Gifts


Celtic Jewelry


Black Shirts


CD Music


Download

Design Gallery



Irish


Flags


Celtic


Tartans


Scottish


Claddagh


Surnames


Highlander


Celtic Radio
Research



History


Country


Families

All of our products can be order in bulk for family reunions and get-togethers. Depending on the number of items ordered, we can offer bulk orders at reduced prices for incredible savings from individual items. We also offer embroidered Clan Badge and Coat of arms patches in bulk orders for all of your family and clan festivals.
Don't see your Clan Badge or Family Coat of Arms or do you have a special customized order? Please
contact
us with your special order details and we will be happy to setup a free quote.

Our Heraldry Database has thousands of Family histories to search. Visit Now!

MacDonald of Clan Ranald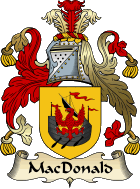 Coat of Arms

---

D

uring the whole of the 15th century the Clanranald had been engaged in feuds regarding the lands of Garmoran and Uist; first, with the Siol Gorrie, or race of Godfrey, eldest brother of Ranald, the founder of the tribe, and afterwards with the MacDonalds or Clanhuistein of Sleat, and it was not till 1506, that they succeeded in acquiring a legal title to the disputed lands. John, eldest son of Hug.....
Jewelry: Celtic Trinity Necklace

| | |
| --- | --- |
| Celtic Trinity Necklace | $25.00 |
---




| | |
| --- | --- |
| Place your order: | |
Product Description:
Our stunning Celtic Trinity Pendant is made from Pewter and looks impressive when matched with one of our magnificent necklaces.
The Trinity Knot, also known as a Triquetr, originated with the Celts/Druids. They believed it to be representative of the natural forces: earth, air, and water. On a more spiritual level, it has also been known to symbolize life, death, and rebirth. Christians believe that the three points represent the three elements of the trinity: the Father, the Son, and the Holy Spirit (or Holy Ghost). There are also several other meanings that basically boil down to one thing: three separate entities that are inter-connected.
Our Celtic Trinity Pendant is made of Silver Pewter and can be paired with a 20 inch high quality black leather necklace. You will be looking Celtic with this wonderful combination at Celtic Festivals or Highland Games!
Available Styles:
24 Inch 925 Sterling Silver Chain Necklace (2mm)
Our Celtic Trinity Pendant is made of Silver Pewter and is paired with a 24 inch Sterling Silver chain necklace. This is 925 2 mm sterling silver that will compliment an already great product. Look fantastic with this wonderful combination at festivals and games!
20 Inch Black Leather Cord (2mm)
Or choose a stylish black leather cord for a cool rough look which can be worn by ladies and men!

---
Shipping & Guarantee:

All orders are shipped via the United States postal service. Downloads are sent via Email within 24-48 hours. For business and wholesale orders, please
contact
us for a discounted price and special shipping instructions. Orders outside of the United States requires additional shipping fees. We offer a 30 day money back guarantee for defects in workmanship. Your satisfaction is our priority! Please tell your friends and family about the Celtic Radio Store!
---