Search



Home


Surname


First Name
Popular Products



Coat of Arms


Clan Badges


Books & Gifts


Celtic Jewelry


Black Shirts


CD Music


Download

Design Gallery



Irish


Flags


Celtic


Tartans


Scottish


Claddagh


Surnames


Highlander


Celtic Radio
Research



History


Country


Families

Our catalog of products also includes three designer logos created specially by the Celtic Radio designers:

'Enjoy Life' Brand - Pigmented fun t-shirts with our 'Enjoy Life' logo. Stickers available too!

'StormCelt' Brand - Rugged wilderness outdoor wear for the true independent Celt.

'StormGale' Brand - Clothing products to keep you warm & dry when storm winds blow.

Our Heraldry Database has thousands of Family histories to search. Visit Now!

O'Corrigan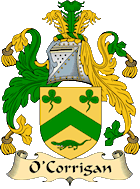 Coat of Arms

---

T

he great Gaelic family of Corrigan emerged and was first recorded in Ulster, where they were seated from very ancient times, long before the Norman Conquest in 1066. The O'Corrigans, O'Coraidhegain or O'Corragáin in Gaelic/Irish are descended through the Donnellys and the Maguires, Princes of Fermanagh, who in turn descended from the O'Hart, from the ancient King Colla da Criock, King of Orgiall, .....
Heraldry Database: Cox
Cox


Heraldry Database

Surname: Cox
Branch: Cox
Origins: Scottish
More Info: Scotland


Background: The surname Cox is of English or Welsh origin, and may have originated independently in several locations in Great Britain, with the variations arriving at a standard spelling only later. An early record of the surname dates from 1556 with the marriage of Alicea Cox at St. Martin in the Fields, Westminster, London. Cox is the 69th-most common surname in the United Kingdom.



Motto:
Nil amplius oro, I pray for nothing more.
Arms:
Or, a chev. az. betw. two mullets pierced in chief and a lion's head erased in base gu.
Crest:
A dexter arm embowed issuing out of the sea holding in the hand an anchor in bend sinister, cabled ppr.
View the Heraldry Dictionary for help.

O
ne possibility of the origin is that it is a version of the Old English cocc which means "the little," and was sometimes placed after the name of a leader or chieftain as a term of endearment. Surnames such as Wilcox, Willcocks and Willcox are examples of this practice: all are composed of the name William and the archaic word cocc, coming together to mean "little William." The suggestion is that only the element -cox may have endured as a surname for some families.
Another opinion is that the name is derived from the Old English cock, which means a "heap" or "mound," and was a topographic name for a man living near any heap, hill or other bundle. Names like Haycock or Haycox come from such practice, meaning from "the hay mounds" or "the hay fields." Again, the element -cox may have only been carried on in some families.
The third possibility is that it comes from the Welsh coch, meaning "red." In this opinion, the word could have either been applied to a man with red hair, calling him in essence "the Red," or else served as a topographic name for someone living near the rudy-hued hills found in Wales, implying that the man is "from the red hills." In Cornwall, the surnames Cock and Couch (pronounced 'cooch') also derive from Cornish cogh "red, scarlet". As a Cornish surname, Cock can also derive from 'cok', "fishing boat", the Cornish surname "Cocking" being the diminutive form 'cokyn', "small fishing boat". In these cases, the surname is likely to derive from occupation.
The English word cock is derived from the French coq, and a fourth possibility, though a very limited one (as the surname had already been established in many parts of Great Britain), is that the surname came about as a nickname from the French language.
Noticeably similar surnames include Cock, Cocks, Coxe, Coxen and Coxon. There is no evidence beyond similar spellings and phonetics that these surnames are related. Given that the origins of the Cox surname are uncertain, it is possible that these names developed as spelling variations, or that each of these names has an origin in a separate word and language.
Name Variations: Cox, Cock, Cocks, Coxe, Coxen, Coxon, MacQuilly, MacGilly, Magilly, MacGiolla, Coc, Cockson, Kokson, Coc de Slepe, Cocc.
References:
One or more of the following publications has been referenced for this article.
The General Armory; Sir Bernard Burke - 1842.

A Handbook of Mottoes; C.N. Elvin - 1860.

Scottish Clans and Tartans; Neil Grant - 2000.

Scottish Clan and Family Encyclopedia; George Way of Plean and Romilly Squire - 1994.

Scottish Clans and Tartans; Ian Grimble - 1973.

World Tartans; Iain Zaczek - 2001.

Clans and Families of Scotland; Alexander Fulton - 1991.

Wikipedia: http://en.wikipedia.org/wiki/Cox_(surname)



| | |
| --- | --- |
| Discuss | Search |


Sign-up for a Founders account and receive personalized
family heraldry service and much more!


Want to know more?
Click the Heart!

Heraldry Database