Search



Home


Surname


First Name
Popular Products



Coat of Arms


Clan Badges


Books & Gifts


Celtic Jewelry


Black Shirts


CD Music


Download

Design Gallery



Irish


Flags


Celtic


Tartans


Scottish


Claddagh


Surnames


Highlander


Celtic Radio
Research



History


Country


Families

Our store includes not only customized products, but select clothing items from brand name house hold names like Champion, Izod, WeatherProof, Adidas and more. For those in rural areas or that are home bound, we offer a separate clothing store containing thousands of items that can be purchased quickly with expedited service and shipping (hard to find larger sizes are available). We offer a wide selection of popular Celtic and Medieval books, Jewelry, Gifts, Accessories (such as caps and designer bags), Mouse Pads, Coat of Arms Plaques, Surname History PDF files, Bumper Stickers and Coat of Arms Downloads.

Our Heraldry Database has thousands of Family histories to search. Visit Now!

Cameron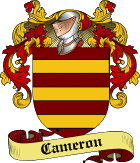 Coat of Arms

---

T

he Cameron country lies in Lochaber, which lies astride the south-western end of Glenalbyn, or the Great Glen, as it is often called. Glenalbyn divides the Highlands into two parts; to the south, the Southern Highlands, comprising the Grampian and Monadhliath ranges; to the north, the Northern and Western Highlands. The Caledonian Canal, first opened to traffic in 1822 traverses the entire lengt.....
Heraldry Database: Yeates
Yeates


Heraldry Database

Surname: Yeates
Branch: Yeates
Origins: Irish
More Info: Ireland


Background: The famous literary and artistic family of Yeats, which had formerly been in Dublin, settled in County Sligo at the end of the seventeenth century. There are a number of families of Yates and Yeates elsewhere unconnected with them. The name means dweller by the gate.



Arms:
Per fess embattled ar. and sa. three gates counterchanged.
View the Heraldry Dictionary for help.

T
he name Yeats, alias Yates and Yeates, Is on record in Dublin in the seventeenth century. The ancestor of the well known Co. Sligo family was Jervis Yeats, a citizen of Dublin who died in 1712. The first in Co. Sligo was Church of Ireland rector of Drumcliff. He was grandfather of John Butler Yeats (1839-1922) the artist, who had two famous sons, William Butler Yeats (1865-1939), the poet, and Jack Butler Yeats (1870-1957) the leading artist in Ireland in the present century.
Name Variations: Yeates, Yeats, Yates.
References:
One or more of the following publications has been referenced for this article.
The General Armory; Sir Bernard Burke - 1842.

A Handbook of Mottoes; C.N. Elvin - 1860.

Irish Families, Their Names, Arms & Origins; Edward MacLysaght - 1957.

The Surnames of Ireland; Edward MacLynsaght - 1957.


| | |
| --- | --- |
| Discuss | Search |


Sign-up for a Founders account and receive personalized
family heraldry service and much more!


Want to know more?
Click the Heart!

Heraldry Database