Search



Home


Surname


First Name
Popular Products



Coat of Arms


Clan Badges


Books & Gifts


Celtic Jewelry


Black Shirts


CD Music


Download

Design Gallery



Irish


Flags


Celtic


Tartans


Scottish


Claddagh


Surnames


Highlander


Celtic Radio
Research



History


Country


Families

Our catalog of products also includes three designer logos created specially by the Celtic Radio designers:

'Enjoy Life' Brand - Pigmented fun t-shirts with our 'Enjoy Life' logo. Stickers available too!

'StormCelt' Brand - Rugged wilderness outdoor wear for the true independent Celt.

'StormGale' Brand - Clothing products to keep you warm & dry when storm winds blow.

Our Heraldry Database has thousands of Family histories to search. Visit Now!

O'Kelly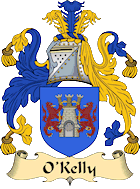 Coat of Arms

---

T

here are approximately 50,000 Kellys and O'Kellys in Ireland to-day. It is the second commonest Irish surname, not far behind Murphy in numerical strength. This name presents a remarkable example of the extent to which the prefixes O and Mac, so widely dropped during the period of Gaelic submergence, have been resumed. In the year 1890 there were 1,242 births registers as Kelly (distributed all ov.....
Heraldry Database: Yeates
Yeates


Heraldry Database

Surname: Yeates
Branch: Yeates
Origins: Irish
More Info: Ireland


Background: The famous literary and artistic family of Yeats, which had formerly been in Dublin, settled in County Sligo at the end of the seventeenth century. There are a number of families of Yates and Yeates elsewhere unconnected with them. The name means dweller by the gate.



Arms:
Per fess embattled ar. and sa. three gates counterchanged.
View the Heraldry Dictionary for help.

T
he name Yeats, alias Yates and Yeates, Is on record in Dublin in the seventeenth century. The ancestor of the well known Co. Sligo family was Jervis Yeats, a citizen of Dublin who died in 1712. The first in Co. Sligo was Church of Ireland rector of Drumcliff. He was grandfather of John Butler Yeats (1839-1922) the artist, who had two famous sons, William Butler Yeats (1865-1939), the poet, and Jack Butler Yeats (1870-1957) the leading artist in Ireland in the present century.
Name Variations: Yeates, Yeats, Yates.
References:
One or more of the following publications has been referenced for this article.
The General Armory; Sir Bernard Burke - 1842.

A Handbook of Mottoes; C.N. Elvin - 1860.

Irish Families, Their Names, Arms & Origins; Edward MacLysaght - 1957.

The Surnames of Ireland; Edward MacLynsaght - 1957.


| | |
| --- | --- |
| Discuss | Search |


Sign-up for a Founders account and receive personalized
family heraldry service and much more!


Want to know more?
Click the Heart!

Heraldry Database