Search



Home


Surname


First Name
Popular Products



Coat of Arms


Clan Badges


Books & Gifts


Celtic Jewelry


Black Shirts


CD Music


Download

Design Gallery



Irish


Flags


Celtic


Tartans


Scottish


Claddagh


Surnames


Highlander


Celtic Radio
Research



History


Country


Families

Our catalog of products also includes three designer logos created specially by the Celtic Radio designers:

'Enjoy Life' Brand - Pigmented fun t-shirts with our 'Enjoy Life' logo. Stickers available too!

'StormCelt' Brand - Rugged wilderness outdoor wear for the true independent Celt.

'StormGale' Brand - Clothing products to keep you warm & dry when storm winds blow.

Our Heraldry Database has thousands of Family histories to search. Visit Now!

O'Brennan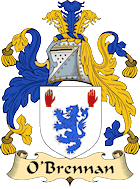 Coat of Arms

---

In modern Ireland there are many Brennans: the name comes twenty-eighth in the statistical list of Irish surnames. Here and there one is met with the prefix O, but to-day the form MacBrennan is seldom if ever found.

The simple form Brennan is used in the anglicized form of two quite distinct Gaelic Irish surnames, viz. O Braonain and Mac Branain. The former is the appellation of fou.....
Heraldry Database: Gore
Gore


Heraldry Database

Surname: Gore
Branch: Gore
Origins: Irish
More Info: Ireland


Background: Several families of this English locative name (gor, a strip of land) were prominent among the Anglo-Irish landed gentry from the seventeenth century, especially in Counties Mayo, Sligo and Clare.



Motto:
In hoc signo vinces, Under this sign thou shalt conquer.
View the Heraldry Dictionary for help.

We are unable to locate the history for this surname. If you can provide us with this information, then please
contact
Arms & Badges!
Name Variations: Gore, Gare.
References:
One or more of the following publications has been referenced for this article.
The General Armory; Sir Bernard Burke - 1842.

A Handbook of Mottoes; C.N. Elvin - 1860.

Irish Families, Their Names, Arms & Origins; Edward MacLysaght - 1957.

The Surnames of Ireland; Edward MacLynsaght - 1957.


| | |
| --- | --- |
| Discuss | Search |


Sign-up for a Founders account and receive personalized
family heraldry service and much more!



Want to know more?
Click the Heart!

Heraldry Database