Search



Home


Surname


First Name
Popular Products



Coat of Arms


Clan Badges


Books & Gifts


Celtic Jewelry


Black Shirts


CD Music


Download

Design Gallery



Irish


Flags


Celtic


Tartans


Scottish


Claddagh


Surnames


Highlander


Celtic Radio
Research



History


Country


Families

All of our products can be order in bulk for family reunions and get-togethers. Depending on the number of items ordered, we can offer bulk orders at reduced prices for incredible savings from individual items. We also offer embroidered Clan Badge and Coat of arms patches in bulk orders for all of your family and clan festivals.
Don't see your Clan Badge or Family Coat of Arms or do you have a special customized order? Please
contact
us with your special order details and we will be happy to setup a free quote.

Our Heraldry Database has thousands of Family histories to search. Visit Now!

Hunter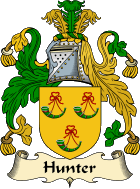 Coat of Arms

---

A

t Hunterston in Ayrshire is carefully preserved on a frail parchment a charter signed by Robert II on 2 May 1374 confirming the grant of land to William Hunter "for his faithful service rendered and to be rendered to us in return for a silver penny payable to the Sovereign at Hunterston on the Feast of Pentecost." To this day the Laird of Hunterston keeps silver pennies, minted in the reigns of Ro.....
Heraldry Database: Evans
Evans


Heraldry Database

Surname: Evans
Branch: Evans
Origins: Irish
More Info: Ireland


Background: Usually a Welsh name;occasionally an anglicized form of the rare O' hEimhin of Ormond: this is derived from a word meaning swift. The Evans surname is common in Britian and were used as the anglicized form of Gaelic Irish surnames. In this case, Evans represents the older Gaelic name O'Hevine which is now obsolete. Evan is he Welsh form of John, dating from about 1500.



Motto:
Pro libertate patriœ, For the liberty of my country.
View the Heraldry Dictionary for help.

We are unable to locate the history for this surname. If you can provide us with this information, then please
contact
Arms & Badges!
Name Variations: Evans, Evens, Evins, Heaven, Heavens.
References:
One or more of the following publications has been referenced for this article.
The General Armory; Sir Bernard Burke - 1842.

A Handbook of Mottoes; C.N. Elvin - 1860.

Irish Families, Their Names, Arms & Origins; Edward MacLysaght - 1957.

The Surnames of Ireland; Edward MacLynsaght - 1957.



| | |
| --- | --- |
| Discuss | Search |


Sign-up for a Founders account and receive personalized
family heraldry service and much more!


Want to know more?
Click the Heart!

Heraldry Database