Search



Home


Surname


First Name
Popular Products



Coat of Arms


Clan Badges


Books & Gifts


Celtic Jewelry


Black Shirts


CD Music


Download

Design Gallery



Irish


Flags


Celtic


Tartans


Scottish


Claddagh


Surnames


Highlander


Celtic Radio
Research



History


Country


Families

We custom design and produce all of our products with industrial press technologies located at our Boston Massachusetts facilities! This industrial process results in superior manufacturing that will outlast even store bought products. Our base products are supplied from a major clothing wholesaler, so we can keep our prices low.

Orders made today are generally filled within 1-4 weeks depending on our current supply schedule. All products have a 30 day money back guarantee for defects in workmanship. Customer satisfaction is our number one priority!

Our Heraldry Database has thousands of Family histories to search. Visit Now!

MacRannell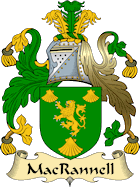 Coat of Arms

---

I

n Reynolds we have an example of a fine old Gaelic Irish surname which has been given as its usual anglicized form a common English one. In Irish it is Mac Raghnaill, Raghnall being the Gaelic equivalent of Randal or Reginald. The forms MacRannal and Grannell, also used in English, are of course, nearer the original. The sept belongs to Co. Leitrim; their territory was Muintir Eolais in th.....
Heraldry Database: Lloyd
Lloyd


Heraldry Database

Surname: Lloyd
Branch: Lloyd
Origins: Welsh
More Info: Wales


Background: The name Lloyd is a variation of the Welsh word llwyd or clwyd, which means "grey" or "brown". (Llwyd is also used as a personal name.) The double-l represents the voiceless alveolar lateral fricative of Welsh, and was sometimes also represented as fl, yielding the related name Floyd. First found in Montgomeryshire.



Motto:
Heb Dduw heb ddim, Duw a digon; Without God without anything, God is enough.
Arms:
Or, three mens' heads ppr. in armour ar. garnished of the field.
Crest:
A man's head ppr. in armour ar. garnished or, and on a labe lissuing from his mouth, and proceeding over his head, these words, Avonno div derbid.
View the Heraldry Dictionary for help.

We are unable to locate the history for this surname. If you can provide us with this information, then please
contact
Arms & Badges!
Name Variations: Lloyd, Llwyd, Lloid, Loyd, Loid, Lwyd, Flood, Floyd.
References:
One or more of the following publications has been referenced for this article.
The General Armory; Sir Bernard Burke - 1842.

A Handbook of Mottoes; C.N. Elvin - 1860.


| | |
| --- | --- |
| Discuss | Search |


Sign-up for a Founders account and receive personalized
family heraldry service and much more!


Want to know more?
Click the Heart!

Heraldry Database