Search



Home


Surname


First Name
Popular Products



Coat of Arms


Clan Badges


Books & Gifts


Celtic Jewelry


Black Shirts


CD Music


Download

Design Gallery



Irish


Flags


Celtic


Tartans


Scottish


Claddagh


Surnames


Highlander


Celtic Radio
Research



History


Country


Families

We custom design and produce all of our products with industrial press technologies located at our Boston Massachusetts facilities! This industrial process results in superior manufacturing that will outlast even store bought products. Our base products are supplied from a major clothing wholesaler, so we can keep our prices low.

Orders made today are generally filled within 1-4 weeks depending on our current supply schedule. All products have a 30 day money back guarantee for defects in workmanship. Customer satisfaction is our number one priority!

Our Heraldry Database has thousands of Family histories to search. Visit Now!

MacDonald of Clan Ranald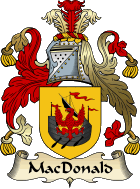 Coat of Arms

---
During the whole of the 15th century the Clanranald had been engaged in feuds regarding the lands of Garmoran and Uist; first, with the Siol Gorrie, or race of Godfrey, eldest brother of Ranald, the founder of the tribe, and afterwards with the MacDonalds or Clanhuistein of Sleat, and it was not till 1506, that they succeeded in acquiring a legal title to the disputed lands. John, eldest son of Hu.....
Heraldry Database: Holden
Holden


Heraldry Database

Surname: Holden
Branch: Holden
Origins: British
More Info: England


Background: Holden is an English surname which was first taken from the same English place name. It is made up of the Old English elements 'hol' (deep, hollow) and 'denu' (valley). Mainly Lancashire, habitational name from places in Lancashire and West Yorkshire.



Motto:
Nec sperno, nec timeo; I neither despise nor fear.
Arms:
Argent, six alerions three, two, one, gules. Some an escutcheon gules, in the centerpoint.
Crest:
A double headed Alerion, gules.
View the Heraldry Dictionary for help.

T
his is an English medieval surname. It is locational and probably originally from the places called Holden in the counties of Lancashire and West Yorkshire, although similiarly named places may have existed elsewhere in the country. The derivation is from the Olde English pre 7th century words "hol", meaning deep, and "denu", a valley; hence, "deep valley". Locational surnames were developed when former inhabitants of a place moved to another area, usually to seek work, and were best identified by the name of their birthplace. Topographical surnames were easily created, as both natural and man-made features in the landscape, provided recognisable distinguishing surnames in the small communities of the Middle Ages. The early surname development includes William Holeden of Sussex in 1327, and Richard atte Holdene of Kent at the same date. Other early examples taken from early surviving church registers include Sarah Holdren, christened at St Dunstans in the East, Stepney, on May 7th 1689, John Holdron, christened at St Bartholmew the Great, city of London, on February 24th 1709, and Moses Holden (1777 - 1864), an astronomer, who constructed one of the first magic lanterns. The first recorded spelling of the family name is shown to be that of Robert de Holden. This was dated 1285, in the Assize Court rolls of Lancashire, during the reign of King Edward 1st of England, 1272 - 1307.
Name Variations: Holden, Holdin, Houlden, Houldin, Howlden, Holdren, Holdron, Holeden, Holdene, Holh, Denu.
References:
One or more of the following publications has been referenced for this article.
The General Armory; Sir Bernard Burke - 1842.

A Handbook of Mottoes; C.N. Elvin - 1860.

English Surnames; C.M. Matthews - 1966.

A Dictionary of English Surnames; P.H. Reaney - 1958.

Surname Database: http://www.surnamedb.com/Surname/Houlden



| | |
| --- | --- |
| Discuss | Search |


Sign-up for a Founders account and receive personalized
family heraldry service and much more!


Want to know more?
Click the Heart!

Heraldry Database