Search



Home


Surname


First Name
Popular Products



Coat of Arms


Clan Badges


Books & Gifts


Celtic Jewelry


Black Shirts


CD Music


Download

Design Gallery



Irish


Flags


Celtic


Tartans


Scottish


Claddagh


Surnames


Highlander


Celtic Radio
Research



History


Country


Families

We custom design and produce all of our products with industrial press technologies located at our Boston Massachusetts facilities! This industrial process results in superior manufacturing that will outlast even store bought products. Our base products are supplied from a major clothing wholesaler, so we can keep our prices low.

Orders made today are generally filled within 1-4 weeks depending on our current supply schedule. All products have a 30 day money back guarantee for defects in workmanship. Customer satisfaction is our number one priority!

Our Heraldry Database has thousands of Family histories to search. Visit Now!

Ward (Bangor Castle-Down)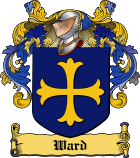 Coat of Arms

---
Although Ward is a very common English name, the great majority of Irish Wards are native Irish in origin, the Gaelic form of the name being Mac an Bhaird, which means son of the bard; the pronunciation of these words is closely reproduced in the alternative form in English, viz. Macanward, also written MacAward and McWard. The Wards, as their name implies, were professional and hereditary bards, .....
Heraldry Database: Griffiths
Griffiths


Motto:
Le bon temps viendra, The Good Times Will Come.
Arms:
Gules, three lioncels passant in pale argent armed azure.
Crest:
A lion passant sable.
View the Heraldry Dictionary for help.

G
riphiud is the old Welsh form of this name, "iud," meaning chief. We also note in 1392 Gruffydd ap Madog Vnyon.
Although there are now many families with this name the armorial bearings illustrated represent one only. One very ancient family Griffiths derive from one of the most distinguished lines in Cambrian genealogy.
Deducing descent from no less a person than Tudor Trevor, Lord of Hereford, Bromfield, Thirk, both the Maelors and Oswestry.
The Welsh surname Griffith is patronymic in origin, belonging to that category of surnames derived from the forename of the original bearer's father. In this instance, the surname signifies the "son or descendant of Gruffydd". Noted early Welsh bearers of the name include Griffith ap (son of) Cynan who was the king of north Wales and the founder of the first Royal Tribe of Wales while Gruffydd ap Llewllyn (d. 1063) was one of the most able rulers of Wales in the Middle Ages, scoring some notable victories over the English until he was eventually defeated by King Harold in 1063. Other early Welsh references include one Blethin ab Gryffydd who appears in the Subsidy Rolls of 1295 while Gruffydd ap Madag Dynon is recorded in the extent The Extent of Chirkland in 1392. June Gryffydd is listed in the Subsidy Rolls of Suffolk in 1524 while John ap Griffith, of Bangor is listed in the Bills ab Chester in 1585. Edward ap Griffith, of Halewood is recorded in the same records in 1581. Records relating to the arrival of bearers of the name to the "New World" include one Owen Griffith who settled in Virginia in 1666 while in Gillen's, "Founders of Australia" one John Griffiths (1758-1844) is recorded. He served at Port Jackson in the company of Captain James Meredith, arriving in New South Wales on board the "Friendship". He was sent to Norfolk Island in 1789 where he held nearly one hundred acres of land.
Name Variations: Griff, Griffith, Griffiths, Griffeth, Griffeths, Griffin, Griffins.
References:
One or more of the following publications has been referenced for this article.
The General Armory; Sir Bernard Burke - 1842.

A Handbook of Mottoes; C.N. Elvin - 1860.


| | |
| --- | --- |
| Discuss | Search |


Sign-up for a Founders account and receive personalized
family heraldry service and much more!


Want to know more?
Click the Heart!

Heraldry Database