Search



Home


Surname


First Name
Popular Products



Coat of Arms


Clan Badges


Books & Gifts


Celtic Jewelry


Black Shirts


CD Music


Download

Design Gallery



Irish


Flags


Celtic


Tartans


Scottish


Claddagh


Surnames


Highlander


Celtic Radio
Research



History


Country


Families

We produce shirts for clans, organizations or websites! Expediated manufacturing and shipping is available for an additional charge. Our ever growing selections of designs includes family Coat of Arms, Scottish Clan Badges, Irish Claddagh Badges, Flags, Tartans, Surnames, Celtic, Irish and Scottish designs. Please
contact
us for a custom quote on bulk orders.

Our Heraldry Database has thousands of Family histories to search. Visit Now!

Brown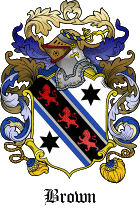 Coat of Arms

---
.....
Heraldry Database: Draper
Draper


Heraldry Database

Surname: Draper
Branch: Draper
Origins: British
More Info: England


Background: Maker or seller of woollen cloth.



Motto:
Vicit, pepercit, He conquered, he spared.
Arms:
Ar. on two chev. betw. three escallops sa. six martlets or.
View the Heraldry Dictionary for help.

We are unable to locate the history for this surname. If you can provide us with this information, then please
contact
Arms & Badges!
Name Variations: Draper, Drapere, Draiper, Draeper, Drapar, Drapir, Drayper, Drapper, Drapier, Drabber, Drapber, Drabper, Drappar.
References:
One or more of the following publications has been referenced for this article.
The General Armory; Sir Bernard Burke - 1842.

A Handbook of Mottoes; C.N. Elvin - 1860.

English Surnames; C.M. Matthews - 1966.

A Dictionary of English Surnames; P.H. Reaney - 1958.


| | |
| --- | --- |
| Discuss | Search |


Sign-up for a Founders account and receive personalized
family heraldry service and much more!


Want to know more?
Click the Heart!

Heraldry Database