Search



Home


Surname


First Name
Popular Products



Coat of Arms


Clan Badges


Books & Gifts


Celtic Jewelry


Black Shirts


CD Music


Download

Design Gallery



Irish


Flags


Celtic


Tartans


Scottish


Claddagh


Surnames


Highlander


Celtic Radio
Research



History


Country


Families

We custom design and produce all of our products with industrial press technologies located at our Boston Massachusetts facilities! This industrial process results in superior manufacturing that will outlast even store bought products. Our base products are supplied from a major clothing wholesaler, so we can keep our prices low.

Orders made today are generally filled within 1-4 weeks depending on our current supply schedule. All products have a 30 day money back guarantee for defects in workmanship. Customer satisfaction is our number one priority!

Our Heraldry Database has thousands of Family histories to search. Visit Now!

Ward (Bangor Castle-Down)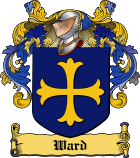 Coat of Arms

---
Although Ward is a very common English name, the great majority of Irish Wards are native Irish in origin, the Gaelic form of the name being Mac an Bhaird, which means son of the bard; the pronunciation of these words is closely reproduced in the alternative form in English, viz. Macanward, also written MacAward and McWard. The Wards, as their name implies, were professional and hereditary bards, .....
Heraldry Database: Darley
Darley


Heraldry Database

Surname: Darley
Branch: Darley
Origins: British
More Info: England


Background: There are a number of places in England called Darley, including Darley Dale in Derbyshire, Darley Bridge in the same county, Darley Hall in Hertfordshire, and Darley Head in Yorkshire. Curiously the Dictionary of English Places Names, a book which omits almost as many names as it includes, refers only to Darley village in Derbyshire and Darley Abbey, also in Derbyshire. This place is recorded in 1199 as Derlega, which means deer wood or possibly deer farm, whilst Darley village is first recorded in Dooms day Book in 1086, and has the same meaning. Indeed as far as we have been able to research all places called Darley have the meaning of the deer wood or possibly in some cases 'Dear's wood', with Dear being an early English personal name.

Locational surnames with usually names given to the local lord of the manor and his descendants or to people who left their original home and moved somewhere else. In so doing they took, or were given, as easy identification, the name of their former village or town. It is unclear as to when the name was first recorded but it is a regular in the surviving poll tax rolls of the year 1379. These recordings include John de Derlye of Yorkshire and Richard de Derleg of Derbyshire whilst in the church registers of the diocese of Greater London we have the recording of Elizabeth Darley at St James Clerkenwell in 1587.



Motto:
Vivitur ingenio, He lives by skill.
Arms:
Gu. six fleurs-de-lis ar. three, two, and one, within a bordure erm.
Crest:
A horses head, couped gu. accountred in armour ar. bridled or.
View the Heraldry Dictionary for help.

T
he Darley family is one which can trace its ancestry back to the days before the Norman Conquest. During the last 900 years it has spread to many parts of the British Isles, Australia, the United States and Canada, and almost certainly has acknowledged relatives in all the former British Dominions, The tracing of the family history has not been easy, for the Darleys have taken no major part in the newsworthy happenings of the day, and when they have been engaged in matters of importance, they have left no written material on this involvement. At only a few places in this country are they well known -at Darley Dale where the 14th century church tower built by a member of the family stands as his memorial and guards his effigy; at Buttercrambe, York, where the Darley Arabian was brought in 1704; at Thorne, Doncaster, where the family still brews good beer as it has done for the last 200 years; at Itchenor, Hampshire, where Capt. John Darley landed Louise, Duchess of Portsmouth, in 1661; at Ipswich where they are reputed to have built the Mayflower in 1620, and in Dublin where the Darleys are closely associated with the Guinnesses.
According to Miss Erma Darley of California, Sir Edmond d'Erle was the founder of the family, being born in Normandy in 1033 and, as a follower of Neville, created Earl of Westmorland, came to England in 1066. After the Northern Rebellion of about 1087 he was seised of a knight's fee at Wistow, near Selby, Yorkshire. The family pedi­gree in the Darley family papers deposited in the North Yorkshire Record Office, begins with Sir John Darley, probably grandson of Sir Edmond, resident at Wistow in 1099. He married Armetrude Brailsforth and had a family of two sons and five daughters. From then on the pedigree remains unbroken in the direct line of descent until 1720, but there are many younger sons missing from it which is unfortunate as some of the more notable members of the family were descended from the younger sons and their place in the pedigree is not clear. It is therefore impossible to say which of the English Darleys was the founder of the Irish family or which of the Cornish branch was the first American Darley.
From the beginning the Darleys were connec­ted with Derbyshire families. Thomas (1117) married the daughter of Edmond Linacre; John (1139) married Maud Sacheverell; Edmond married Jane Fitzherbert. Other well-known Derbyshire families such as Bradbourne, Radbourfle, Babington of Dethick, Cockayne of Ashbourne, Columbell of Derby and Lowe of Alderwasley are all represented in the Darley pedigree.
Name Variations: Darley, Darleigh, Darligh, Darly, Darlee, Darlington, Derbyshire, Derby, Derlye, Derleg.
References:
One or more of the following publications has been referenced for this article.
The General Armory; Sir Bernard Burke - 1842.

A Handbook of Mottoes; C.N. Elvin - 1860.

English Surnames; C.M. Matthews - 1966.

A Dictionary of English Surnames; P.H. Reaney - 1958.

Surname Database: http://www.surnamedb.com/Surname/darley
Gen UKI: http://www.genuki.org.uk





Sign-up for a Founders account and receive personalized
family heraldry service and much more!


Want to know more?
Click the Heart!

Heraldry Database