Search



Home


Surname


First Name
Popular Products



Coat of Arms


Clan Badges


Books & Gifts


Celtic Jewelry


Black Shirts


CD Music


Download

Design Gallery



Irish


Flags


Celtic


Tartans


Scottish


Claddagh


Surnames


Highlander


Celtic Radio
Research



History


Country


Families

Welcome to our Celtic Radio Store - part of Coat of Arms Online Sales! You can help support all of the Celtic Radio broadcast channels and our website by purchasing one of our quality made customized products. We combine our award winning designer graphics with brand name apparels. Our products make excellent gifts for all occasions and especially for the person that has it all!
We produce shirts for clans, organizations or websites! Expediated manufacturing and shipping is available for an additional charge. Please
contact
us for a custom quote.

Our Heraldry Database has thousands of Family histories to search. Visit Now!

McKenny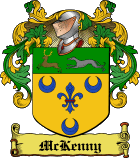 Coat of Arms

---

The O'Kenny families of Ireland are found documented in our version of Keatings History of Ireland. According to O'Dugan, they were chiefs of Moy Ith. The name is as well, one of the 100 most numerous surnames in all of Ireland.

As might be expected there are several distinct origins for the name. Most often the family hails originally from the Galway/Roscommon area, as a sept of O'Cionn.....
Heraldry Database: Bell
Bell


Heraldry Database

Surname: Bell
Branch: Bell
Origins: British
More Info: England


Background: The name may derive from the French "bel," meaning fair , beautiful, or handsome. Since the derivation is descriptive, common ancestry cannot be assumed for all those bearing the surname. The name was sometimes taken from the sign of an inn or shop. The sign of a bell was frequently used - "John at the Bell" became "John Bell." There is no particular country or province of origin, though the name was fairly prevalent in medieval Scotland and England.



Motto:
Signum pacis amor, Love is the token of peace.
Arms:
Az. three church bells or, two and one, a chief, erm.
Crest:
A portcullis ppr.
View the Heraldry Dictionary for help.

T
his interesting surname, with variant spellings Bel and Belle, has a number of possible derivations. Firstly, it may be a metonymic occupational name for a bellringer or bellfounder, or a topographical name for someone living "at the bell"; this indicates either residence by an actual bell or "at the sign of the Bell", deriving from the Middle English, Olde English pre 7th Century "belle" meaning bell. Secondly, it may have derived from the medieval given name "Bel". As a man's name this is from the Old French "beu, bel" meaning "handsome", which was also used as a nickname. As a female name it represents a short form of Isobel, a form of Elizabeth. Finally, it may be an Anglicized form of the Gaelic "MacGiolla Mhaoil", "son of the servant of the devotee". The surname dates back to the mid 12th Century (see below). Early recordings include one Robert de la Belle (1222) London. Church recordings show the christening of Mary Bell, an infant, on August 13th 1541, at St. Peter's, Cornhill, London, and the marriage of Margarett Bell to Wylliam Traford on September 13th September 1551, at St. Mary's, Westminster, also in London. One Charles Bell, aged 23 yrs., a famine emigrant, sailed from Liverpool aboard the "Henry Clay", bound for New York, on April 15th 1846. The first recorded spelling of the family name is shown to be that of Seaman Belle, which was dated 1181 - 1187, in "Early London Personal Names", by E. Ekwall, during the reign of King Henry 11, known as "The Builder of Churches", 1154 - 1189.
Name Variations: Bell, Belle, Beale, Beal, Beals, Beales, Bale, Beel, Biehl, Bale, Beall.
References:
One or more of the following publications has been referenced for this article.
The General Armory; Sir Bernard Burke - 1842.

A Handbook of Mottoes; C.N. Elvin - 1860.

English Surnames; C.M. Matthews - 1966.

A Dictionary of English Surnames; P.H. Reaney - 1958.

Surname Database: http://www.surnamedb.com/Surname/bell
About.com: http://genealogy.about.com/od/surname_meaning/p/bell.htm



| | |
| --- | --- |
| Discuss | Search |


Sign-up for a Founders account and receive personalized
family heraldry service and much more!


Want to know more?
Click the Heart!

Heraldry Database