Search



Home


Surname


First Name
Popular Products



Coat of Arms


Clan Badges


Books & Gifts


Celtic Jewelry


Black Shirts


CD Music


Download

Design Gallery



Irish


Flags


Celtic


Tartans


Scottish


Claddagh


Surnames


Highlander


Celtic Radio
Research



History


Country


Families

We produce shirts for clans, organizations or websites! Expediated manufacturing and shipping is available for an additional charge. Our ever growing selections of designs includes family Coat of Arms, Scottish Clan Badges, Irish Claddagh Badges, Flags, Tartans, Surnames, Celtic, Irish and Scottish designs. Please
contact
us for a custom quote on bulk orders.

Our Heraldry Database has thousands of Family histories to search. Visit Now!

Collins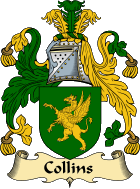 Coat of Arms

---

C

ollins is of course a common English surname: of 29 Collins biographies in the Dictionary of National Biography 27 are of Englishmen. Nevertheless in Ireland Collins may be regarded as a genuinely indigenous Irish name: in fact it is one of our most numerous surnames, being number 30 in the relevant statistical list with an estimated Collins population of 14,000 persons. The great majority of thes.....
Coat Of Arms: Latin Coat Of Arms

| | |
| --- | --- |
| Latin Coat of Arms | $25.00 |
---




| | |
| --- | --- |
| Place your order: | |
---
Shipping & Guarantee:

All orders are shipped via the United States postal service. Downloads are sent via Email within 24-48 hours. For business and wholesale orders, please
contact
us for a discounted price and special shipping instructions. Orders outside of the United States requires additional shipping fees. We offer a 30 day money back guarantee for defects in workmanship. Your satisfaction is our priority! Please tell your friends and family about the Celtic Radio Store!
---
Product Description:
"Many theories have been put forward to account for the evolution and perfection of heraldry. Its birth coincided with changes in the nature of European society itself, which was becoming more sophisticated, with more and more estates passing from one generation to the next. Throughout Europe, the general trend to migration that had characterized the Dark Ages had come to a halt. Family roots were now firmly bedded in, with the village settlement in place and, at its centre, the first two "estates": the priest, who prayed for all, and the knight or lord who fought for all.

By the 13th century, the notion of gentility was firmly established among the lordly classes, who sought connections with similarly genteel families through marriage. The idea of a stable, ancient and exclusive bloodline was accentuated, and the development of the shield of arms created an ideal symbol to confirm the hereditary nature of that descent."

We are proud to honor these ancient Coat of Arms of the British, Irish, Scottish, Welsh, Spanish, French, Germany, Italian and Portuguese peoples. Our current library contains over 15,000 Coat of Arms of family names and septs. Proudly display your heritage at family gatherings, festivals and historical attractions. They make for a wonderful eye-catching conversation piece!

All Coat of Arms are rendered in gorgeous full color and are available in small design or large design styles (see alternative small design version below). When an order is placed, we will email a preview of the Arms and/or Motto. This is to insure that you receive the correct Arms for your family. Please note that our graphically examples are limited in color due to the constraints of the internet.
---
Video:





Available Styles:

A Family Coat of Arms print is the perfect gift for the person that has it all. Our beautiful, full color Coat of Arms can be printed on a number of different parchment or photographic papers. We highly recommend the semi-gloss photographic paper or the MagnaCarta Parchment paper which produces the highest quality image. Included with this product is the Latin Family Motto as well as English translation. When matched with a solid oak, glass plated, grooved frame the effect provides a luster of antiquity that can be placed in the finest living room or hallway.

To help offset the cost of printed Coat of Arms products, we have decided to make available an option to purchase just the Coat of Arms print. This option is ideal for customers that have their own frames. For customers that wish to purchase both the print and frame, we have made available a beautiful traditional hardwood oak frame which compliments the color design and is the perfect gift for any occasion. Our Family Heirloom and Bombay Dark are solid frames offered at a reduced priced. These are made of high quality materials designed with a wood-like finish. Because of the reduced cost of these frames, the design shown can vary slightly as we obtain different inventories from our suppliers of these products.


Latin Motto:

Frames:

Solid Oak Frame
(High Quality)

Family Heirloom
(Solid Frame - Can Vary Slightly)

Bombay Dark
(Solid Frame - Frame Design Can Vary Slightly)
Beauty & the Beast
(Solid Frame - Frame Design Can Vary Slightly)



Paper Stock Options:




| | | |
| --- | --- | --- |
| Semi-Gloss Photographic | Matte Photographic | MagnaCarta Parchment |




| | | |
| --- | --- | --- |
| Ivory Parchment | Copper Parchment | Gold Parchment |

Product Example:








Browse our other Coat of Arm Products:

---