Search



Home


Surname


First Name
Popular Products



Coat of Arms


Clan Badges


Books & Gifts


Celtic Jewelry


Black Shirts


CD Music


Download

Design Gallery



Irish


Flags


Celtic


Tartans


Scottish


Claddagh


Surnames


Highlander


Celtic Radio
Research



History


Country


Families

We produce shirts for clans, organizations or websites! Expediated manufacturing and shipping is available for an additional charge. Our ever growing selections of designs includes family Coat of Arms, Scottish Clan Badges, Irish Claddagh Badges, Flags, Tartans, Surnames, Celtic, Irish and Scottish designs. Please
contact
us for a custom quote on bulk orders.

Our Heraldry Database has thousands of Family histories to search. Visit Now!

Sinclair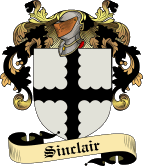 Coat of Arms

---
St Clare lay in Pont d'Eveque in Normandy, and was the birthplace of this great northern clan. Walderne de Santo Claro accompanied William the Conqueror on his invasion of England in 1066. His son by Margaret, daughter of Richard of Normandy, was one of the many Anglo–Norman barons who came north to settle in Scotland during the reign of David I. William de Santo Claro was granted the barony of Ro.....
Family Name Index: ( Showing 1 To 10 Of 32129)
Welcome to the Coat of Arms Online Surname index. Search our entire catalog of designs for your family surname. Click on the Coat of Arms to view a larger version. If you ordering from a third-party site and require the Arms #, you can find it here. Can't find your family's Coat of Arms, no worries...contact us and we will have our graphic artist create your family's Coat of Arms!
( Showing 1 to 10 of 32129 ) Next >>