Search



Home


Surname


First Name
Popular Products



Coat of Arms


Clan Badges


Books & Gifts


Celtic Jewelry


Black Shirts


CD Music


Download

Design Gallery



Irish


Flags


Celtic


Tartans


Scottish


Claddagh


Surnames


Highlander


Celtic Radio
Research



History


Country


Families

All of our products can be order in bulk for family reunions and get-togethers. Depending on the number of items ordered, we can offer bulk orders at reduced prices for incredible savings from individual items. We also offer embroidered Clan Badge and Coat of arms patches in bulk orders for all of your family and clan festivals.
Don't see your Clan Badge or Family Coat of Arms or do you have a special customized order? Please
contact
us with your special order details and we will be happy to setup a free quote.

Our Heraldry Database has thousands of Family histories to search. Visit Now!

Swain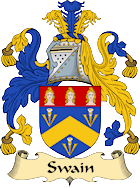 Coat of Arms

---

Swain is an English surname derived from the Old Norse personal name Sveinn (Sven, Sweyn), meaning a youth or young man. There are a number of variations in the spelling of the surname Swain, including Swaine, Swainne, and Swayne.

It is also common as a given name in history as Sweyn.

From this word meaning boy, young male or servant, are derived:

(1) The noun swai.....
Family Name Index: ( Showing 1 To 10 Of 32123)
Welcome to the Coat of Arms Online Surname index. Search our entire catalog of designs for your family surname. Click on the Coat of Arms to view a larger version. If you ordering from a third-party site and require the Arms #, you can find it here. Can't find your family's Coat of Arms, no worries...contact us and we will have our graphic artist create your family's Coat of Arms!
( Showing 1 to 10 of 32123 ) Next >>