Search



Home


Surname


First Name
Popular Products



Coat of Arms


Clan Badges


Books & Gifts


Celtic Jewelry


Black Shirts


CD Music


Download

Design Gallery



Irish


Flags


Celtic


Tartans


Scottish


Claddagh


Surnames


Highlander


Celtic Radio
Research



History


Country


Families

Our store includes not only customized products, but select clothing items from brand name house hold names like Champion, Izod, WeatherProof, Adidas and more. For those in rural areas or that are home bound, we offer a separate clothing store containing thousands of items that can be purchased quickly with expedited service and shipping (hard to find larger sizes are available). We offer a wide selection of popular Celtic and Medieval books, Jewelry, Gifts, Accessories (such as caps and designer bags), Mouse Pads, Coat of Arms Plaques, Surname History PDF files, Bumper Stickers and Coat of Arms Downloads.

Our Heraldry Database has thousands of Family histories to search. Visit Now!

MacDonald of MacDonald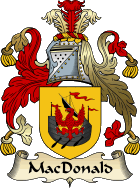 Coat of Arms

---

C

lan Donald is one of the oldest, and probably the largest and most famous of all the Highland clans. Its Celtic heritage goes back into antiquity, beyond the 6th Century AD, to the great clans in what today is Ireland, Conn of the 100 Battles, Cairfre Raida, founder of Dal Raida in Antrim, Eire, and Colla Uathais. Our Viking heritage goes back to Ingiald "Ill-Ruler" and Olaf "Tree-Hewer" in 7th Ce.....
Family Name Index: ( Showing 1 To 10 Of 32129)
Welcome to the Coat of Arms Online Surname index. Search our entire catalog of designs for your family surname. Click on the Coat of Arms to view a larger version. If you ordering from a third-party site and require the Arms #, you can find it here. Can't find your family's Coat of Arms, no worries...contact us and we will have our graphic artist create your family's Coat of Arms!
( Showing 1 to 10 of 32129 ) Next >>