Search



Home


Surname


First Name
Popular Products



Coat of Arms


Clan Badges


Books & Gifts


Celtic Jewelry


Black Shirts


CD Music


Download

Design Gallery



Irish


Flags


Celtic


Tartans


Scottish


Claddagh


Surnames


Highlander


Celtic Radio
Research



History


Country


Families

Our catalog of products also includes three designer logos created specially by the Celtic Radio designers:

'Enjoy Life' Brand - Pigmented fun t-shirts with our 'Enjoy Life' logo. Stickers available too!

'StormCelt' Brand - Rugged wilderness outdoor wear for the true independent Celt.

'StormGale' Brand - Clothing products to keep you warm & dry when storm winds blow.

Our Heraldry Database has thousands of Family histories to search. Visit Now!

Spencer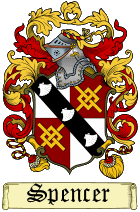 Coat of Arms

---

The Spencers have been farmers since pre-Tudor times, coming to prominence in Warwickshire in the fifteenth century. John Spencer became feoffee of Wormleighton in 1469, and a tenant at Althorp in 1486. His nephew another John, through trade in livestock and commodities, then bought both properties outright, was knighted, and so lay the bedrock for the family's fortune.

His descendants e.....

| | |
| --- | --- |
| The Kinnitty Sessions | $12.95 |
| | |
| --- | --- |
| Album: The Kinnitty Sessions by Lúnasa | |
Title:
Artist:
Year:
Type:
Album Rating:

The Kinnitty Sessions
Lúnasa

Pre-Owned

Preview Tracks

NO
SONG TITLE
DURATION
RATING
LISTEN
1
Stolen Purse: Stolen Purse/An Síoda Slide/Brendan McMahon's Reel
4:49
4.6
2
Ballyogan: Dans Fisel/Ballyogan Reel
2:55
4.7
3
Punch: Scottish Concerto Strathspey/Trip to Winsor/Punch in the Dark
4:26
4.4
4
The Dimmers: Jerry O'Sullivans/The Dimmers
3:40
4.9
5
Island Paddy: Rathlin Island/Sporting Paddy
2:40
4.8
6
Sean in the fog: Easter Sunday/Come back with my bloody car/Sean sa Cheo
5:01
4.2
7
Bulgarian Rock: Split Rock/Djinovsko Horo
4:18
3.6
8
The Wounded Hussar
3:53
3.7
9
The Walrus: The Four Courts/Michael Kennedy's Reel
2:40
3.9
10
Maids in the Kitchen: Mrs O'Sullivan's Jig/The Kitchen Maid
2:58
4.3
11
Tie the Bonnet: The Pullet/Hull's Reel/Tie The Bonnet
3:13
4.7
---
Shipping & Guarantee:

All orders are shipped via the United States postal service. Downloads are sent via Email within 24-48 hours. For business and wholesale orders, please
contact
us for a discounted price and special shipping instructions. Orders outside of the United States requires additional shipping fees. We offer a 30 day money back guarantee for defects in workmanship. Your satisfaction is our priority! Please tell your friends and family about the Celtic Radio Store!
---