Search



Home


Surname


First Name
Popular Products



Coat of Arms


Clan Badges


Books & Gifts


Celtic Jewelry


Black Shirts


CD Music


Download

Design Gallery



Irish


Flags


Celtic


Tartans


Scottish


Claddagh


Surnames


Highlander


Celtic Radio
Research



History


Country


Families

Welcome to our Celtic Radio Store - part of Coat of Arms Online Sales! You can help support all of the Celtic Radio broadcast channels and our website by purchasing one of our quality made customized products. We combine our award winning designer graphics with brand name apparels. Our products make excellent gifts for all occasions and especially for the person that has it all!
We produce shirts for clans, organizations or websites! Expediated manufacturing and shipping is available for an additional charge. Please
contact
us for a custom quote.

Our Heraldry Database has thousands of Family histories to search. Visit Now!

Wren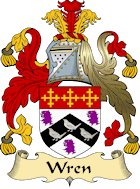 Coat of Arms

---

T

he root of the surname Wren is the old English wrenna for the bird wren. The name probably strted out as a nickname for someone of wren-like characteristics, a small, busy and quick-moving person. The wren is also seen as wily, as the tale of the wren boys of Cork suggests. There are two spellings of the name, Wren and Wrenn. Wrenn was probably more common until the 17th century. Although Wren.....

| | |
| --- | --- |
| The Incident | $7.95 |
| | |
| --- | --- |
| Album: The Incident by Beoga | |
Title:
Artist:
Year:
Type:
Album Rating:

The Incident
Beoga
2009
Pre-Owned

Preview Tracks

NO
SONG TITLE
DURATION
RATING
LISTEN
1
Lamped
3:37
-
2
Antics
3:23
4.5
3
Mary Danced with Soldiers
4:20
-
4
Mister Molly's
4:06
-
5
The Flying Golf Club
5:09
4.0
6
Strange Things
3:16
2.0
7
This Incident
3:54
-
8
The Bellevue Waltz
4:07
4.5
9
On the Way
3:09
4.0
10
Fly Fishing
3:47
-
11
The Best is yet to Come
2:44
-
---
Shipping & Guarantee:

All orders are shipped via the United States postal service. Downloads are sent via Email within 24-48 hours. For business and wholesale orders, please
contact
us for a discounted price and special shipping instructions. Orders outside of the United States requires additional shipping fees. We offer a 30 day money back guarantee for defects in workmanship. Your satisfaction is our priority! Please tell your friends and family about the Celtic Radio Store!
---