Search



Home


Surname


First Name
Popular Products



Coat of Arms


Clan Badges


Books & Gifts


Celtic Jewelry


Black Shirts


CD Music


Download

Design Gallery



Irish


Flags


Celtic


Tartans


Scottish


Claddagh


Surnames


Highlander


Celtic Radio
Research



History


Country


Families

Welcome to our Celtic Radio Store - part of Coat of Arms Online Sales! You can help support all of the Celtic Radio broadcast channels and our website by purchasing one of our quality made customized products. We combine our award winning designer graphics with brand name apparels. Our products make excellent gifts for all occasions and especially for the person that has it all!
We produce shirts for clans, organizations or websites! Expediated manufacturing and shipping is available for an additional charge. Please
contact
us for a custom quote.

Our Heraldry Database has thousands of Family histories to search. Visit Now!

MacConville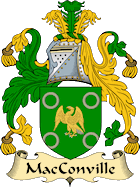 Coat of Arms

---

R

ecorded in several forms including McGonigle, McGonigal, McConigal, and the dialectal variant McConville or Conwell, this is an illustrious Irish surname. It is believed to have provided more members of the clergy per head of numbers, than any other Irish clan, and yet at the sametime to have had many members who have followed a warlike tradition. Until the 20th century, the nameholders were const.....

| | |
| --- | --- |
| Live From Dublin | $7.95 |
| | |
| --- | --- |
| Album: Live From Dublin by The Chieftains | |
Title:
Artist:
Year:
Type:
Album Rating:

Live From Dublin
The Chieftains
2004
Pre-Owned

Preview Tracks

NO
SONG TITLE
DURATION
RATING
LISTEN
1
Introduction
0:37
5.0
2
Opening Medley=Brian Boru's March/ Nine Points Of Roguery/ The Magpie/ Pretty Girls
5:52
4.4
3
Down The Old Plank Road
2:19
4.3
4
Derek's Tune=The Geese And Bright Love
3:50
4.6
5
Galician Medley=Never Trust A Man's Love/ Mazurka/ Guadalupe/ Muineira De Jios/ Duelling Chanters
7:59
4.2
6
Ellen Browne
3:02
4.2
7
Banish Misfortune/ Morning Dew/ Arkansas Traveller/ Wild Irishman
6:03
4.6
8
Oiche Nollag = Christmas Eve
2:52
4.5
9
Fionnghula
1:53
4.7
10
Carrickfergus
6:03
3.3
11
I'll Tell Me Ma
2:50
4.6
12
Tá Am Coileach Ag Fógairt An Lae = 3 Pipes
2:33
4.8
13
Ottawa Valley Dance
1:52
4.9
14
Finale
12:55
4.4
15
Farewell To Music
3:13
4.0
---
Shipping & Guarantee:

All orders are shipped via the United States postal service. Downloads are sent via Email within 24-48 hours. For business and wholesale orders, please
contact
us for a discounted price and special shipping instructions. Orders outside of the United States requires additional shipping fees. We offer a 30 day money back guarantee for defects in workmanship. Your satisfaction is our priority! Please tell your friends and family about the Celtic Radio Store!
---