Search



Home


Surname


First Name
Popular Products



Coat of Arms


Clan Badges


Books & Gifts


Celtic Jewelry


Black Shirts


CD Music


Download

Design Gallery



Irish


Flags


Celtic


Tartans


Scottish


Claddagh


Surnames


Highlander


Celtic Radio
Research



History


Country


Families

Our catalog of products also includes three designer logos created specially by the Celtic Radio designers:

'Enjoy Life' Brand - Pigmented fun t-shirts with our 'Enjoy Life' logo. Stickers available too!

'StormCelt' Brand - Rugged wilderness outdoor wear for the true independent Celt.

'StormGale' Brand - Clothing products to keep you warm & dry when storm winds blow.

Our Heraldry Database has thousands of Family histories to search. Visit Now!

Bevan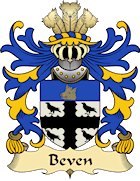 Coat of Arms

---

T

he surname of Bevan has the associated arms recorded in Sir Bernard Burkes General Armory. Ulster King of Arms in 1884. The arms were granted in 1695 to William Bevan Esq., of Pen-y-Coed, County Carmathen, high sherif of that shire, and his brothers Theophilus Bevan and Thomas Bevan. The name was brought into England in the wake of the Norman Invasion of 1066 and anglicized from the Old French BEI.....

| | |
| --- | --- |
| Just When You Thought It Was Safe To Sit Down | $7.95 |
| | |
| --- | --- |
| Album: Just When You Thought It Was Safe To Sit Down by Keltik Elektrik | |
Title:
Artist:
Year:
Type:
Album Rating:

Just When You Thought It Was Safe To Sit Down
Keltik Elektrik
2001
Pre-Owned

Preview Tracks

NO
SONG TITLE
DURATION
RATING
LISTEN
1
The Long Note
4:23
4.0
2
Caber Feidh
3:53
2.0
3
The Fair Maid of Takla Makan
7:33
3.8
4
The Brae's O' Balquidder
4:31
1.3
5
The Oyster Wives' Rant
3:20
2.3
6
You're Welcome Home, Grainne!
5:35
4.0
7
Oranmore
4:59
3.9
8
Caledfwlch
5:25
3.1
9
The Old Pipe Reel
6:40
1.2
---
Shipping & Guarantee:

All orders are shipped via the United States postal service. Downloads are sent via Email within 24-48 hours. For business and wholesale orders, please
contact
us for a discounted price and special shipping instructions. Orders outside of the United States requires additional shipping fees. We offer a 30 day money back guarantee for defects in workmanship. Your satisfaction is our priority! Please tell your friends and family about the Celtic Radio Store!
---