Search



Home


Surname


First Name
Popular Products



Coat of Arms


Clan Badges


Books & Gifts


Celtic Jewelry


Black Shirts


CD Music


Download

Design Gallery



Irish


Flags


Celtic


Tartans


Scottish


Claddagh


Surnames


Highlander


Celtic Radio
Research



History


Country


Families

Our store includes not only customized products, but select clothing items from brand name house hold names like Champion, Izod, WeatherProof, Adidas and more. For those in rural areas or that are home bound, we offer a separate clothing store containing thousands of items that can be purchased quickly with expedited service and shipping (hard to find larger sizes are available). We offer a wide selection of popular Celtic and Medieval books, Jewelry, Gifts, Accessories (such as caps and designer bags), Mouse Pads, Coat of Arms Plaques, Surname History PDF files, Bumper Stickers and Coat of Arms Downloads.

Our Heraldry Database has thousands of Family histories to search. Visit Now!

Spencer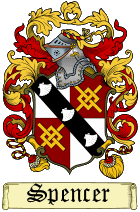 Coat of Arms

---

The Spencers have been farmers since pre-Tudor times, coming to prominence in Warwickshire in the fifteenth century. John Spencer became feoffee of Wormleighton in 1469, and a tenant at Althorp in 1486. His nephew another John, through trade in livestock and commodities, then bought both properties outright, was knighted, and so lay the bedrock for the family's fortune.

His descendants e.....

| | |
| --- | --- |
| Irish Pirate Ballads and Other Songs of the Sea | $7.95 |
| | |
| --- | --- |
| Album: Irish Pirate Ballads and Other Songs of the Sea by Dan Milner | |
Title:
Artist:
Year:
Type:
Album Rating:

Irish Pirate Ballads and Other Songs of the Sea
Dan Milner
2009
Pre-Owned

Preview Tracks

NO
SONG TITLE
DURATION
RATING
LISTEN
1
Ten Thousand Miles Away
3:38
4.0
2
The Ballad of Ó Bruadair / Out on the Ocean
3:55
4.0
3
Saucy Ward
4:15
-
4
Captain Coulston
5:39
-
5
Granuaile
3:50
-
6
Get Up, Jack, Let John Sit Down / Miss Thornton's
4:33
3.8
7
The Flying Cloud
6:28
4.5
8
Larry Maher's Big Five-Gallon Jar
3:16
-
9
Bold McCarthy (The City of Baltimore)
4:42
-
10
All for Me Grog / Parnell's March
3:57
-
11
Castle Gardens (Sixty Years Ago)
4:58
-
12
The Lowlands Low
4:16
-
13
The River Lea
5:34
4.0
---
Shipping & Guarantee:

All orders are shipped via the United States postal service. Downloads are sent via Email within 24-48 hours. For business and wholesale orders, please
contact
us for a discounted price and special shipping instructions. Orders outside of the United States requires additional shipping fees. We offer a 30 day money back guarantee for defects in workmanship. Your satisfaction is our priority! Please tell your friends and family about the Celtic Radio Store!
---