Search



Home


Surname


First Name
Popular Products



Coat of Arms


Clan Badges


Books & Gifts


Celtic Jewelry


Black Shirts


CD Music


Download

Design Gallery



Irish


Flags


Celtic


Tartans


Scottish


Claddagh


Surnames


Highlander


Celtic Radio
Research



History


Country


Families

Our store includes not only customized products, but select clothing items from brand name house hold names like Champion, Izod, WeatherProof, Adidas and more. For those in rural areas or that are home bound, we offer a separate clothing store containing thousands of items that can be purchased quickly with expedited service and shipping (hard to find larger sizes are available). We offer a wide selection of popular Celtic and Medieval books, Jewelry, Gifts, Accessories (such as caps and designer bags), Mouse Pads, Coat of Arms Plaques, Surname History PDF files, Bumper Stickers and Coat of Arms Downloads.

Our Heraldry Database has thousands of Family histories to search. Visit Now!

O'Kennedy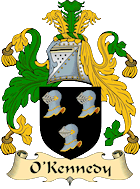 Coat of Arms

---

T

he eponymous ancestor of the O'Kennedys was Kennedy, nephew of Brian Boru, or Cinneide in Irish, the resultant surname being O Cinneide (Brian Boru's father was Cinneide). They are thus a Dalcassian sept, and at first their territory was around Glenomra near Killaloe, and their occupation is perpetuated by the name of the civil parish comprising that area, viz. Killokennedy, but pressure from the .....

| | |
| --- | --- |
| Inne Amarach (Yesterday Tomorrow) | $7.95 |
| | |
| --- | --- |
| Album: Inne Amarach (Yesterday Tomorrow) by Téada | |
Title:
Artist:
Year:
Type:
Album Rating:

Inne Amarach (Yesterday Tomorrow)
Téada
2008
Pre-Owned

Preview Tracks

NO
SONG TITLE
DURATION
RATING
LISTEN
1
Reels: Lady Montgomery's/Follow Me Down To Carlow/Give The Girl Her Fourpence/Jenny Tie Your Bonnet
3:54
5.0
2
Slip Jig/Hop Jigs: The Tenpenny Piece/James Kelly's/Comb Your Hair And Curl It
4:06
5.0
3
March/Barndance/Reel: Jamesy Gannon's/McDermott's/Over The Moor To Peggy
4:39
5.0
4
Polkas: Tá Dhá Ghabhairín Bhuí Agam/The Shelf
4:50
5.0
5
Air: Nóra Críona
3:31
5.0
6
Jigs: Delia Keane's/The Horse's Leotard/Seán Buí/The Dawn Chorus
4:55
4.7
7
Hornpipes: The Ebb Tide/Peter Wyer's
4:12
5.0
8
Reels: Sarah's Delight/Paddy Seán Nancy's/The Ireland We Knew/The Ewe Reel
4:27
4.5
9
Planxty/Polka/Slide: Planxty Crilly/Micho Russell's/Mickey Callaghan's
5:11
4.3
10
Single Jigs: Port Aitheantais na gCaipíní/Johnny's So Long At The Fair
2:28
4.0
11
Reels: Bonnie Ann/John Kelly's/The Boy In The Boat
3:48
4.5
---
Shipping & Guarantee:

All orders are shipped via the United States postal service. Downloads are sent via Email within 24-48 hours. For business and wholesale orders, please
contact
us for a discounted price and special shipping instructions. Orders outside of the United States requires additional shipping fees. We offer a 30 day money back guarantee for defects in workmanship. Your satisfaction is our priority! Please tell your friends and family about the Celtic Radio Store!
---