Search



Home


Surname


First Name
Popular Products



Coat of Arms


Clan Badges


Books & Gifts


Celtic Jewelry


Black Shirts


CD Music


Download

Design Gallery



Irish


Flags


Celtic


Tartans


Scottish


Claddagh


Surnames


Highlander


Celtic Radio
Research



History


Country


Families

Our catalog of products also includes three designer logos created specially by the Celtic Radio designers:

'Enjoy Life' Brand - Pigmented fun t-shirts with our 'Enjoy Life' logo. Stickers available too!

'StormCelt' Brand - Rugged wilderness outdoor wear for the true independent Celt.

'StormGale' Brand - Clothing products to keep you warm & dry when storm winds blow.

Our Heraldry Database has thousands of Family histories to search. Visit Now!

Guthrie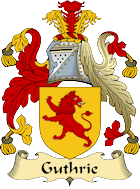 Coat of Arms

---

T

he lands known as Guthrie lie in the Angus, and the family who took this as their name is one of the oldest in that county. The name's origin is not known. There is a fable that the lands were named by an early Scots King after a fisherman 'gut three' fish to serve to his hungry monarch. A more likely origin lies in the Gaelic 'gaothairach', 'windy place'. King William the Lion gra.....

| | |
| --- | --- |
| Forgiven, Not Forgotten | $7.95 |
| | |
| --- | --- |
| Album: Forgiven, Not Forgotten by The Corrs | |
Title:
Artist:
Year:
Type:
Album Rating:

Forgiven, Not Forgotten
The Corrs
1996
Pre-Owned

Preview Tracks

NO
SONG TITLE
DURATION
RATING
LISTEN
8
Minstrel Boy [Instrumental]
2:15
4.2
9
Toss the Feathers (Instrumental)
2:52
3.9
15
Erin Shore (Instrumental)
4:14
4.8
---
Shipping & Guarantee:

All orders are shipped via the United States postal service. Downloads are sent via Email within 24-48 hours. For business and wholesale orders, please
contact
us for a discounted price and special shipping instructions. Orders outside of the United States requires additional shipping fees. We offer a 30 day money back guarantee for defects in workmanship. Your satisfaction is our priority! Please tell your friends and family about the Celtic Radio Store!
---