Search



Home


Surname


First Name
Popular Products



Coat of Arms


Clan Badges


Books & Gifts


Celtic Jewelry


Black Shirts


CD Music


Download

Design Gallery



Irish


Flags


Celtic


Tartans


Scottish


Claddagh


Surnames


Highlander


Celtic Radio
Research



History


Country


Families

We custom design and produce all of our products with industrial press technologies located at our Boston Massachusetts facilities! This industrial process results in superior manufacturing that will outlast even store bought products. Our base products are supplied from a major clothing wholesaler, so we can keep our prices low.

Orders made today are generally filled within 1-4 weeks depending on our current supply schedule. All products have a 30 day money back guarantee for defects in workmanship. Customer satisfaction is our number one priority!

Our Heraldry Database has thousands of Family histories to search. Visit Now!

MacMillan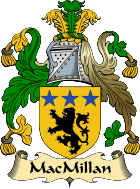 Coat of Arms

---

T

he Macmillans are Celts descended from an ancient royal house and from the orders of the Celtic church. In the sixth century, the Irish prince, St Columba, established his church on Iona, thereafter the cradle of Christianity in Gaelic Scotland. The Columban church permitted priests to marry, and it faced increasing pressure from the papacy after the arrival in Scotland of Queen Margaret, under wh.....

| | |
| --- | --- |
| Compendium: The Best of Patrick Street | $7.95 |
| | |
| --- | --- |
| Album: Compendium: The Best of Patrick Street by Patrick Street | |
Title:
Artist:
Year:
Type:
Album Rating:

Compendium: The Best of Patrick Street
Patrick Street
2001
Pre-Owned

Preview Tracks

NO
SONG TITLE
DURATION
RATING
LISTEN
2
Jenny Picking Cockles/An Gabhrán/Jack Keane's Reel
3:36
4.0
3
The Dream/Indiana
7:00
4.1
4
White Petticoat/Kerry Jig/Katy Is Waiting
4:40
3.9
5
Stewball And The Managhan Grey Mare
4:23
3.3
6
Rainbow 'Mid the Willows
5:35
3.0
7
Newmarket Polkas
3:41
3.6
8
William Taylor
3:08
4.8
9
The Set/La Cardeuse
3:14
4.5
10
Brackagh Hill
5:49
4.1
11
Killanin's Fancy/The Dash to Portobello/Anna Maculeen
5:12
4.7
12
Lintheads/Lawrence Common
7:43
4.3
13
Loftus Jones
3:33
4.5
14
Music for a Found Harmonium
4:06
3.9
---
Shipping & Guarantee:

All orders are shipped via the United States postal service. Downloads are sent via Email within 24-48 hours. For business and wholesale orders, please
contact
us for a discounted price and special shipping instructions. Orders outside of the United States requires additional shipping fees. We offer a 30 day money back guarantee for defects in workmanship. Your satisfaction is our priority! Please tell your friends and family about the Celtic Radio Store!
---