Search



Home


Surname


First Name
Popular Products



Coat of Arms


Clan Badges


Books & Gifts


Celtic Jewelry


Black Shirts


CD Music


Download

Design Gallery



Irish


Flags


Celtic


Tartans


Scottish


Claddagh


Surnames


Highlander


Celtic Radio
Research



History


Country


Families

We produce shirts for clans, organizations or websites! Expediated manufacturing and shipping is available for an additional charge. Our ever growing selections of designs includes family Coat of Arms, Scottish Clan Badges, Irish Claddagh Badges, Flags, Tartans, Surnames, Celtic, Irish and Scottish designs. Please
contact
us for a custom quote on bulk orders.
$0.00

Our Heraldry Database has thousands of Family histories to search. Visit Now!

Carruthers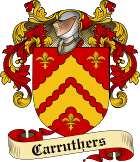 Coat of Arms

---

T

he name arises in Dumfriesshire and appears to allude to an ancient British fort called Caer Rydderch or Rhythyr. Black asserts that this means 'fort of Rydderch', which appears to be a form of personal name. The family rose in the thirteenth century to be stewards of Annandale under the Bruces. Black narrates the career of Nigel de Karruthers, a cleric who was Rector of Ruthwell in 1380, rose to .....

| | |
| --- | --- |
| Celtic Song [Narada World] | $12.95 |
| | |
| --- | --- |
| Album: Celtic Song [Narada World] by Dhomhnail, Maighread Ni | |
Title:
Artist:
Year:
Type:
Album Rating:

Celtic Song [Narada World]
Dhomhnail, Maighread Ni

Pre-Owned

Preview Tracks

NO
SONG TITLE
DURATION
RATING
LISTEN
1
Mairead Nan Cuiread/The Bob Parsons Strathspey [Medley]
4:43
4.0
2
When You Return [Delirium]
5:48
2.8
3
You Saw His Eyes
5:02
5.0
4
An Cailín Gaelach
4:48
2.5
5
Chuaigh Me 'Na Rosann
4:10
4.5
6
Donal Agus Morag / The New-Rigged Ship
4:27
4.6
7
La Belle Dame Sans Merci
3:11
-
8
Seacht
6:16
3.0
9
É Hor
5:25
3.0
---
Shipping & Guarantee:

All orders are shipped via the United States postal service. Downloads are sent via Email within 24-48 hours. For business and wholesale orders, please
contact
us for a discounted price and special shipping instructions. Orders outside of the United States requires additional shipping fees. We offer a 30 day money back guarantee for defects in workmanship. Your satisfaction is our priority! Please tell your friends and family about the Celtic Radio Store!
---