Search



Home


Surname


First Name
Popular Products



Coat of Arms


Clan Badges


Books & Gifts


Celtic Jewelry


Black Shirts


CD Music


Download

Design Gallery



Irish


Flags


Celtic


Tartans


Scottish


Claddagh


Surnames


Highlander


Celtic Radio
Research



History


Country


Families

All of our products can be order in bulk for family reunions and get-togethers. Depending on the number of items ordered, we can offer bulk orders at reduced prices for incredible savings from individual items. We also offer embroidered Clan Badge and Coat of arms patches in bulk orders for all of your family and clan festivals.
Don't see your Clan Badge or Family Coat of Arms or do you have a special customized order? Please
contact
us with your special order details and we will be happy to setup a free quote.

Our Heraldry Database has thousands of Family histories to search. Visit Now!

O'Brien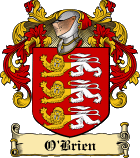 Coat of Arms

---

I

n these brief accounts of Irish septs and families in which only a page or two is devoted to each subject, it is impossible to do justice to the greatest of them, such as the O'Briens, the O'Connors and the O'Neills, about whom whole volumes have been written and more has yet to be added. From the tenth century, when the sept rose to the High Kingship of Ireland in the person of Brian Boru, down t.....

| | |
| --- | --- |
| Celtic Passion: The Songs of Roy Orbison | $7.95 |
| | |
| --- | --- |
| Album: Celtic Passion: The Songs of Roy Orbison by Songs from Roy Orbison | |
Title:
Artist:
Year:
Type:
Album Rating:

Celtic Passion: The Songs of Roy Orbison
Songs from Roy Orbison
1997
Pre-Owned

Preview Tracks

NO
SONG TITLE
DURATION
RATING
LISTEN
1
Oh, Pretty Woman
2:25
3.6
2
In Dreams
3:14
5.0
3
Crying
2:58
2.0
4
Blue Bayou
3:08
2.5
5
Only the Lonely
2:41
3.3
6
You Got It
4:08
4.0
7
Dream Baby (How Long Must I Dream)
2:45
-
8
It's Over
3:07
5.0
9
A Love So Beautiful
3:09
-
10
Working for the Man
3:59
4.0
11
Claudette
3:39
4.0
12
Running Scared
3:13
3.3
13
Memories of Maria
1:30
-
14
Falling
3:16
2.0
---
Shipping & Guarantee:

All orders are shipped via the United States postal service. Downloads are sent via Email within 24-48 hours. For business and wholesale orders, please
contact
us for a discounted price and special shipping instructions. Orders outside of the United States requires additional shipping fees. We offer a 30 day money back guarantee for defects in workmanship. Your satisfaction is our priority! Please tell your friends and family about the Celtic Radio Store!
---