Search



Home


Surname


First Name
Popular Products



Coat of Arms


Clan Badges


Books & Gifts


Celtic Jewelry


Black Shirts


CD Music


Download

Design Gallery



Irish


Flags


Celtic


Tartans


Scottish


Claddagh


Surnames


Highlander


Celtic Radio
Research



History


Country


Families

We produce shirts for clans, organizations or websites! Expediated manufacturing and shipping is available for an additional charge. Our ever growing selections of designs includes family Coat of Arms, Scottish Clan Badges, Irish Claddagh Badges, Flags, Tartans, Surnames, Celtic, Irish and Scottish designs. Please
contact
us for a custom quote on bulk orders.

Our Heraldry Database has thousands of Family histories to search. Visit Now!

Archibald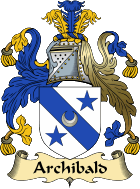 Coat of Arms

---

T

he surname Archibald is of patronymic origin, being derived from the first name of the father of the original bearer. Archibald is derived from the ancient German personal name Ercambald for which the literal translation is "precious-bold". The surname Archibald simply signifies "son of" or "descendant of" Archibald. This surname is particularly associated with Scotland where one of the earliest r.....

| | |
| --- | --- |
| Blodeugerdd: Song of the Flowers - An Anthology of Welsh Music and Song | $7.95 |
| | |
| --- | --- |
| Album: Blodeugerdd: Song of the Flowers - An Anthology of Welsh Music and Song by Anne Marie Summers and Helen Wilding | |
Title:
Artist:
Year:
Type:
Album Rating:

Blodeugerdd: Song of the Flowers - An Anthology of Welsh Music and Song
Anne Marie Summers and Helen Wilding
2009
Pre-Owned

Preview Tracks

NO
SONG TITLE
DURATION
RATING
LISTEN
1
Y'deryn pur (Gentle Bird)
2:47
3.7
2
Estampie yr ehedydd (The Lark's Estampie)
4:07
3.3
3
Ym Mhontypridd mae 'nghariad (My Lover Is in Pontypridd)
2:51
4.5
4
Tôn Cân Pensylvania (Pennsylvania Song Tune) / Hoff Fron (Fond Heart)
5:33
2.5
5
Dod dy law (Put Your Hand)
1:53
5.0
6
Abergenni / Pont Caerodor
4:09
-
7
Carol Plygain (Plygain Carol)
5:29
1.8
8
Colli'r eos (Losing the Nightingale)
4:32
1.3
9
Bedd f'anwylyd (My Lover's Grave)
7:08
4.0
10
Caru yn y coed (Courting in the Woods) / Cerdd y gog lwydlas (Cuckoo's Song) / Lliw lili ymysg y drain (Lily among the Thorns)
6:11
-
11
Y gwr a'i farch (The Man and His Steed) / If You Do Not Love Me, Go Climb a Tree
2:50
-
12
Y dyn meddw
4:49
5.0
13
Hiraeth (Longing)
3:09
5.0
14
Lisa Lan, Ffoles Llantrisant (Beautiful Lisa, Girl from Llantrisant)
5:33
2.5
---
Shipping & Guarantee:

All orders are shipped via the United States postal service. Downloads are sent via Email within 24-48 hours. For business and wholesale orders, please
contact
us for a discounted price and special shipping instructions. Orders outside of the United States requires additional shipping fees. We offer a 30 day money back guarantee for defects in workmanship. Your satisfaction is our priority! Please tell your friends and family about the Celtic Radio Store!
---