Search



Home


Surname


First Name
Popular Products



Coat of Arms


Clan Badges


Books & Gifts


Celtic Jewelry


Black Shirts


CD Music


Download

Design Gallery



Irish


Flags


Celtic


Tartans


Scottish


Claddagh


Surnames


Highlander


Celtic Radio
Research



History


Country


Families

All of our products can be order in bulk for family reunions and get-togethers. Depending on the number of items ordered, we can offer bulk orders at reduced prices for incredible savings from individual items. We also offer embroidered Clan Badge and Coat of arms patches in bulk orders for all of your family and clan festivals.
Don't see your Clan Badge or Family Coat of Arms or do you have a special customized order? Please
contact
us with your special order details and we will be happy to setup a free quote.

Our Heraldry Database has thousands of Family histories to search. Visit Now!

Stafford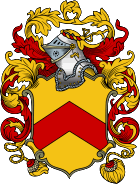 Coat of Arms

---
The family name Stafford is derived from the Anglo-Saxon word "Stat", meaning a town, and "ford" meaning a ford. These two words joined together produce the name Statford, which through a simple transition was finally spelled Stafford, the name of a town in England, which was originally built by Ethelfleda, daughter of King Alfred, about 910-915 A. D. It is located on the Sow River, near its junct.....
Heraldry Database: Meredith
Meredith


Heraldry Database

Surname: Meredith
Branch: Meredith
Origins: Welsh
More Info: Wales


Background: The name Meredith is an ancient Welsh surname. The name is derived from the Welsh personal name of Meredydd or Maredudd. The old Welsh form of the name is Morgetiud. Geneology experts state that the first portion of this name means pomp or splendor, while the second portion is udd, which means lord.



Arms:
Ar. a lion, rampant, sa. gorged with a collar and chain thereto affixed, reflexed over his back or.
Crest:
A demi lion, rampant, sa. collared and chained or.
View the Heraldry Dictionary for help.

We are unable to locate the history for this surname. If you can provide us with this information, then please
contact
Arms & Badges!
Name Variations: Meredith, Meradith, Meredeth, Meridith, Beddow, Bedo, Preddy, Predith.
References:
One or more of the following publications has been referenced for this article.
The General Armory; Sir Bernard Burke - 1842.

A Handbook of Mottoes; C.N. Elvin - 1860.


| | |
| --- | --- |
| Discuss | Search |


Sign-up for a Founders account and receive personalized
family heraldry service and much more!


Want to know more?
Click the Heart!

Heraldry Database