Search



Home


Surname


First Name
Popular Products



Coat of Arms


Clan Badges


Books & Gifts


Celtic Jewelry


Black Shirts


CD Music


Download

Design Gallery



Irish


Flags


Celtic


Tartans


Scottish


Claddagh


Surnames


Highlander


Celtic Radio
Research



History


Country


Families

Our catalog of products also includes three designer logos created specially by the Celtic Radio designers:

'Enjoy Life' Brand - Pigmented fun t-shirts with our 'Enjoy Life' logo. Stickers available too!

'StormCelt' Brand - Rugged wilderness outdoor wear for the true independent Celt.

'StormGale' Brand - Clothing products to keep you warm & dry when storm winds blow.

Our Heraldry Database has thousands of Family histories to search. Visit Now!

Gibson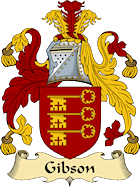 Coat of Arms

---
On the Scottish westcoast, the Gibson family was born among the ancient Dalriadans clans. Their names comes from the given name Gibb, which is the diminutive form of the name Gilbert.

Historical recordings of the name Gibson include many spelling variations. They are the result of repeated translations of the name of Gaelic to English and inconsistencies in spelling rules. Gibson, Gibso.....
Heraldry Database: Troup
Troup


Heraldry Database

Surname: Troup
Branch: Troup
Origins: Scottish
More Info: Scotland


Background: This Scottish name is habitational from a place in the parish of Gamrie, near Banff. The place is situated on a headland affording some sheltered anchorage, and is said to get its name from Middle English true hope; however, when first recorded in 1296 it already appears as Trup, so it is more likely to be of the same origin as Thorpe and other names of this origin.



Motto:
Veritas Vincit, Truth Prevails.
Arms:
Vert, three bucks trippant Or.
Crest:
A hind's head erased Proper.
View the Heraldry Dictionary for help.

T
he lands of Troup are in Banffshire, although Black records that there is a charter of 1370 which refers to the lands of John of Trowpe in Ayrshire. Hamund de Troup of Lanarkshrie appears on the Ragman Roll, rendering homage to Edward I of England in 1296. The seal attached to his homage bears a hawk with a crescent and a star which is quite different from the arms of Troup which are recorded in the Lyon register. The Troup arms, however, may simply be canting, using the word "trippant" to make a pun on the name. The family seems to have been most prominent in Banffshire and around Aberdeen. Hamelin de Troupe was a prebendary of Aberdeen Cathedral in 1332 and subsequently obtained the living of Inchebrioe in 1345. William de Troup granted a charter of land in the Mearns in 1357. Normand Trupt was made a burgess of Aberdeen in 1611. Nisbet states that the family of Troup of that Ilk ended when an heiress married a younger son of the powerful Keith family.
The lands of Troup were sold to Major Alexander Garden, a Scottish soldier in the service of the Swedish Crown in the seventeenth century, around 1654. They remained Lairds of Troup into the twentieth century. The Troups of Dunbennan, who came to bear the undifferenced arms of the family, traced their descent from John Troup of Huntly who lived in the middle of the eighteenth century. His direct descendent, Francis Troup of Dunbennan, was a distinguished architect and engineer who exhibited in the Royal Academy between the two world wars.
Troup is also an English surname of Scandinavian Viking origins. It is residential from any of the many places in England called Thorp or Thorpe, or the rarer Olde English pre 7th century "Throp". As a placename it indicated that it was an area of Vilking settlement, and a small outlying hamlet or village that was probably dependant on a larger village usually three miles away or thereabouts.
Residential or locational surnames were usually either those of the local lord of the manor, that of former inhabitants who had moved to another area, usually in search of work, and were thereafter best identified by the name of their birthplace. Early examples of the surname recording include John de Trope of Worcester in the Hundred Rolls of 1327, and William Thorp, an early emigrant to the American Colonies. He left London on the ship "Expectation" in April 1635, bound for the Island of Providence and was accompanied by his wife, Elizabeth, and their two year old daughter.
A coat of arms associated with the surname has the blazon of a silver shield charged with a red lion salient, and an orle of fleurs-de-lis in blue. The first recorded spelling of the family name is shown to be that of William de Torp. This was dated 1158, in the Pipe Rolls of Northumberland, during the reign of King Henry 11nd, known as "The Builder of Churches", 1154 - 1189.
Name Variations: Troup, Tromp, Trout, Troop, Tropp, Troy, Troupe, Troia, Trapp, Topp, Grof, Gropp, Roup, Groat, Troup, Grosh, Rous, Stoup, Coup, Dropp.
References:
One or more of the following publications has been referenced for this article.
The General Armory; Sir Bernard Burke - 1842.

A Handbook of Mottoes; C.N. Elvin - 1860.

Scottish Clans and Tartans; Neil Grant - 2000.

Scottish Clan and Family Encyclopedia; George Way of Plean and Romilly Squire - 1994.

Scottish Clans and Tartans; Ian Grimble - 1973.

World Tartans; Iain Zaczek - 2001.

Clans and Families of Scotland; Alexander Fulton - 1991.

Surename DB: http://www.surnamedb.com/Surname/Troup#ixzz5QegmInNN



| | |
| --- | --- |
| Discuss | Search |


Sign-up for a Founders account and receive personalized
family heraldry service and much more!


Want to know more?
Click the Heart!

Heraldry Database