Search



Home


Surname


First Name
Popular Products



Coat of Arms


Clan Badges


Books & Gifts


Celtic Jewelry


Black Shirts


CD Music


Download

Design Gallery



Irish


Flags


Celtic


Tartans


Scottish


Claddagh


Surnames


Highlander


Celtic Radio
Research



History


Country


Families

We custom design and produce all of our products with industrial press technologies located at our Boston Massachusetts facilities! This industrial process results in superior manufacturing that will outlast even store bought products. Our base products are supplied from a major clothing wholesaler, so we can keep our prices low.

Orders made today are generally filled within 1-4 weeks depending on our current supply schedule. All products have a 30 day money back guarantee for defects in workmanship. Customer satisfaction is our number one priority!

Our Heraldry Database has thousands of Family histories to search. Visit Now!

Scott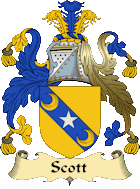 Coat of Arms

---

T

he Latin word 'Scotti' originally denoted the Irish Celts, and later the Gaels in general. However, Black, in his Surnames of Scotland, notes that in the earliest certain records of the name (in a charter around 1120) Uchtred 'Filius Scott' bears a remarkably Saxon personal name, if the family were truly of Celtic origin. Henricus le Scotte witnessed a charter by David, Earl of Strathe.....
Heraldry Database: Sinclair
Sinclair


Heraldry Database

Surname: Sinclair
Branch: Sinclair
Origins: Scottish
More Info: Scotland


Background: The name Sinclair is of Norman origin from "Saint-Clair-sur-Elle" and was established in Scotland in 1162 when Henry de St Clair of Roslin was granted lands in Lothian. His descendant Sir William became guardian to the heir of Alexander III and gained the Barony of Rosslyn in 1280. His son, Sir Henry fought with Bruce at Bannockburn and was one of the Scottish barons who signed the letter to the Pope asserting Scottish independence. His son, Henry married Isobel, co-heiress of the Earldom of Orkney and Caithness and thus transported the Sinclairs to the far north of Scotland. Their son, Henry Sinclair of Roslin became Earl of Orkney in 1379, obtained from King Haco VI of Norway. In 1455 William, 3rd Sinclair Earl of Orkney was granted the Earldom of Caithness. He also founded the celebrated Rosslyn Chapel in 1446. In 1470 the Earl of Orkney and Caithness was compelled to resign Orkney to James III in exchange for the Castle of Ravenscraig in Fife. The King was jealous of the semi-royal chief of the Earldom of Orkney which had been inherited by the Sinclairs from the Norse Sea-Kings. The Earls of Caithness were engaged in a long succession of feuds with the Sutherlands, the Gunns and the Murrays, often giving rise to violent deaths. The 2nd Earl, William died at Flodden and the 3rd Earl in a Sinclair Civil War in the Orkneys. The direct line came to an end with George, 6th Earl who through debt granted the title and estates to Sir John Campbell of Glenorchy. In 1676, after Sir John assumed the title, George Sinclair of Keiss disputed the claim and seized the Caithness estates, only to be defeated in 1680 by the Campbells near Wick. Although the claim was lost by the sword, the Privy Council rendered his claim in 1681 and he became the 7th Earl of Caithness. At the time of the '45 the northern Sinclairs were ready to join Prince Charles Edward however after Culloden they disbanded quietly. The Earldom has since passed through many Sinclair families and up until 1986 a Sinclair Earl of Caithness owned the long-ruined stronghold, Castle Girnigo, and the Sinclairs of Ulbster still hold vast estates in Caithness. Septs and dependants of the Sinclairs include Caird, Clouston, Clyne, Linklater and Mason.



Motto:
Commit thy work to God.
Arms:
Quarterly, 1st, Azure, a lymphad at anchor Or, flagged Gules, sails furled Argent, oars in saltire Or within a Royal Tressue Or (Earldom of Arkney); 2nd & 3rd, Or, a lion rampant Gules, armed and langued Azure (Sparr-Nithsdale); 4th, Azure, a three mastered ship Or, flagged Gules, under said Argent (Earldom of Caithness); overall a cross engrailed and counterchanged Argent and Sable (Sinclair).
Crest:
A cock Proper, armed and beaked Or.
Supporters:
Two griffins Gules, Wings elevated, armed, beaked and winged Or.
Badge:
1st, a unicorn sejant Proper, armed, maned and tufted Or; 2nd, a demi-bear Proper, muzzled Or, issuing from the circlet of an Earl's coronet Proper; 3rd, a mermaid Proper, crined Or, holding in her dexter hand a looking glass Proper framed Or, and in her sinister a comb also Or.
Plant:
Whin.
View the Heraldry Dictionary for help.

S
t Clare lay in Pont d'Eveque in Normandy, and was the birthplace of this great northern clan. Walderne de Santo Claro accompanied William the Conqueror on his invasion of England in 1066. His son by Margaret, daughter of Richard of Normandy, was one of the many Anglo–Norman barons who came north to settle in Scotland during the reign of David I. William de Santo Claro was granted the barony of Roslin just south of Edinburgh, and this was confirmed to his son, Sir William St Clair of Roslin, in 1180. Sir William's grandson, another William, was one of the most powerful men in Scotland in the reign of Alexander III, and was appointed sheriff of Edinburgh, Linlithgow and Haddington around 1263. He became guardian to the heir to the throne and governor of Edinburgh Castle. His eldest son, Sir Henry, swore fealty to Edward I of England in 1296, and the family generally favoured the Balliol claim to the throne. However, as the struggle for Scottish independence became paramount, the St Clares gave their loyalty to Bruce, and they fought at Bannockburn in 1314. Sir Henry received a grant of lands around Pentland in 1317 as his reward. Sir Henry's son, Sir William, was a favourite of King Robert, and he accompanied Sir James Douglas on his expedition to the Holy Land with the heart of the king. The Scots knights did not see the Holy Land, but joined the king of Aragon in his fight against the Moors of Spain. St Clare and Douglas were both killed, and the pilgrimage was abandoned. William's tomb is in the chapel at Roslin, which remains one of the finest chapels of the late-medieval period in Scotland. His grandson, Henry St Clare, became Earl of Orkney through his mother, Isabel. Haakon VI, King of Norway, who had previously controlled the islands outright, recognised the title in 1379.
The chiefship followed with the earldom of Caithness, and the fourth Earl, George, was as fierce as any of his Viking ancestors. He imprisoned his own son, the Master of Caithness, for making peace with the Morays without his permission. The Master languished in chains in the dungeons of Girnigoe Castle for seven years. He died only through the intrigues of his brother, William Sinclair of Mey, who had the jailers first starve him, then feed him with salt beef without water to drink. The Master soon died raving.
George, the sixth Earl of Caithness, was forced to sell off much of the family lands in 1672, being greatly burdened with debt. He died without issue in 1676, and Sir John Campbell of Glenorchy claimed the earldom, being in possession of most of the mortgaged estates. Glenorchy promptly married the widowed countess. The right to the title in the estates was disputed by George Sinclair of Keiss, a descendant of a younger son of the fifth Earl. Keiss took possession of the estates by force, but when he met the Campbells in a pitched battle on the banks of Altimarlech near Wick, it is said so many Sinclairs were killed that the Campbells were able to cross the water without getting their feet wet. The Sinclairs regained the earldom in 1681 by an order of Parliament.
The St Clares of Roslin laid claim to be hereditary Grand Master Masons of Scotland. In 1736, when forty-four Scottish Freemasons' Lodges met in Edinburgh to found the Grand Lodge of Scotland, William St Clare appeared as a candidate for Grand Master. He played his trump card by offering to surrender his hereditary rights, and promptly became the first elected Grand Master.
The remains of Rosslyn Castle near Edinburgh and the splendid chapel associated with it are still in family hands. In 1805, the earldom of Rosslyn passed to Sir James St Clair Erskine, Baronet, whose descendants care for these jewels of Scottish architecture today.
Name Variations: Sinclair, Budge, Caird, Clouston, Clyne, Groat, Linklater, Lyall, Wares, Mason .
References:
One or more of the following publications has been referenced for this article.
The General Armory; Sir Bernard Burke - 1842.

A Handbook of Mottoes; C.N. Elvin - 1860.

Scottish Clans and Tartans; Neil Grant - 2000.

Scottish Clan and Family Encyclopedia; George Way of Plean and Romilly Squire - 1994.

Scottish Clans and Tartans; Ian Grimble - 1973.

World Tartans; Iain Zaczek - 2001.

Clans and Families of Scotland; Alexander Fulton - 1991.



Ancient Hunting


Modern Hunting


Modern Red




Sign-up for a Founders account and receive personalized
family heraldry service and much more!


Want to know more?
Click the Heart!

Heraldry Database