Search



Home


Surname


First Name
Popular Products



Coat of Arms


Clan Badges


Books & Gifts


Celtic Jewelry


Black Shirts


CD Music


Download

Design Gallery



Irish


Flags


Celtic


Tartans


Scottish


Claddagh


Surnames


Highlander


Celtic Radio
Research



History


Country


Families

Welcome to our Celtic Radio Store - part of Coat of Arms Online Sales! You can help support all of the Celtic Radio broadcast channels and our website by purchasing one of our quality made customized products. We combine our award winning designer graphics with brand name apparels. Our products make excellent gifts for all occasions and especially for the person that has it all!
We produce shirts for clans, organizations or websites! Expediated manufacturing and shipping is available for an additional charge. Please
contact
us for a custom quote.

Our Heraldry Database has thousands of Family histories to search. Visit Now!

Duncan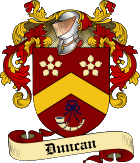 Coat of Arms

---
The Donachad, Dunchad (Duncans) descends from King Malcolm II who reigned from 1005 to 1034 and was the last king in the direct male line to descend from Kenneth MacAlpine, who united the Scots and Picts in 843 A.D. and is considered the founder of Scotland. One of Malcolm's three daughters, Bethoc, married Crinan, the secular hereditary Abbot of Dunkeld. Through her, the Abbot's son was installed.....
Heraldry Database: Mackay
MacKay


Heraldry Database

Surname: MacKay
Branch: MacKay
Origins: Scottish
More Info: Scotland


Background: In Gaelic, this name is rendered as 'Macaoidh', 'son of Hugh'. 'Aoidh' was a Celtic personal name associated with a pagan god of fire sometimes rendered as Aed or Heth.



Motto:
Manu forti, With a strong hand.
Arms:
Azure, on a chevron Argent, between three bears' heads couped of the Second, muzzled Gules, a roebuck's head erased between two hands grasping daggers, the points turned towards the buck's head all Proper.
Crest:
A dexter arm erect couped at the elbow the hand grasping a dagger also erect all Proper.
Supporters:
(on a compartment embellished with bullrushes) Dexter, a pikeman armed Proper, jacket and stockings Gules, laces, collar, ruffles and boots also Proper, breeches Vert, across his shoulder a ribbon also Gules, his helmet plumed Azure and Argent sustaining in his exterior hand a pike resting on the ground Proper; sinister, a musketeer, his coat and stockings Vert, laces, collar, ruffles and boots Proper, breeches and baldrick Gules, his helmet plummed as the other, sustaining in his exterior hand a musket resting on the group Proper.
Badge:
A great bullrush Proper.
Plant:
Great bullrush.
View the Heraldry Dictionary for help.

T
he Mackays claim descent from the Royal House of Moray through the line of Morgund of Pluscarden and were originally known as Clan Morgan. The acceptance of the Mackay's origin deriving from Morgund of Pluscardine is one suggested by Sir Learney as a possible answer to why the clan was called Morgan by Sir Robert Gordon. A possible correct answer to the Morgan question is that the clan name came from an early member named Morgan. Others suggested that Duncan mac Sithig, leader of Clan Morgan, in 1130, was an ancestor of the MacEth/Morgan/Mackay ancestor of our clan. In fact, Duncan was Duncan son of Shaw, possibly of the Duff's of Fife, of the Macintosh line. There may be no connection with these "mac Sithig" Morgans to that of the Clan Mackay. The clansmen were removed to Sutherland where they rose to a powerful position, at one time owning lands from Drimholisten to Kylescue. Their later title of MacKay comes from a chief so named living at the time of David II. The first record of the name was in 1326 when Gilchrist M'ay, progenitor of the Mackays of Ugadale, made a payment to the Constable of Tarbert. The Mackays supported Bruce and fought with him at Bannockburn and by 1427 the chief, Angus Dubh Mackay was described as leader of "4 000 Strathnaver men". Their fortunes fluctuated over the centuries and many bitter feuds ensued with the Sutherlands and Rosses. In the troubles of the 17th and 18th centuries the Mackays supported the Hanovarian forces against the Jacobites and helped secure the far north for the government. The Mackays of Strathnaver are especially remembered for the famous "Mackay Regiment" raised for the service of the Dutch and Swedish crowns during the 17th century. As a result of this many clansmen settled in Holland and Sweden and gave rise to a number of noble families there. In 1628, Sir Donald Mackay was raised to the peerage of Lord Reay by Charles I. His grandson, Colonel Aeneas Mackay of the Scotch-Dutch Brigade, married the heiress of the Baron van Haefton. The Mackays suffered badly in the Strathnaver clearances between 1815 and 1818 and finally in 1829 the Reay estate was sold to the Sutherland family and in 1875 the chiefship passed to Baron Mackay van Opermet who became 10th Lord Reay. His nephew Baron Aeneas Mackay, prime minister of the Netherlands was the great grandfather of the present chief.
The Clan Mackay Chiefship is vested in the Lords Reay who also hold the title Barons Van Ophemert in Holland. Donald MacKay, Chief of MacKay, was knighted first Lord Reay.
Donald MacKay, First Lord Reay, was knighted Baronet of Nova Scotia when he acquired Anticosti Island in (then) Nova Scotia. Baronet of Nova Scotia is a hereditary title; Hugh William Mackay, 14th Lord Reay, present Chief of MacKay, is 14th Baronet of Nova Scotia.

Name Variations: Allan, Allanson, Bain, Bayne, Kay, Key, MacAllan, MacBain, MacCaa, MacCaw, MacCay, MacGaa, MacGaw, MacGee, MacGhee, MacGhie, MacKay, MacKee, MacKie, MacPhail, MacQue, MacQuey, MacQuoid, MacVail, MacVain, MacVane Morgan, Neilson, Nelson, Paul, Pole, Poleson, Pollard, Polson, Reay, Scobie, Williamson.

References:
One or more of the following publications has been referenced for this article.
The General Armory; Sir Bernard Burke - 1842.
A Handbook of Mottoes; C.N. Elvin - 1860.
Scottish Clans and Tartans; Neil Grant - 2000.
Scottish Clan and Family Encyclopedia; George Way of Plean and Romilly Squire - 1994.
Scottish Clans and Tartans; Ian Grimble - 1973.
World Tartans; Iain Zaczek - 2001.
Clans and Families of Scotland; Alexander Fulton - 1991.



Ancient




Sign-up for a Founders account and receive personalized
family heraldry service and much more!


Want to know more?
Click the Heart!

Heraldry Database