Search



Home


Surname


First Name
Popular Products



Coat of Arms


Clan Badges


Books & Gifts


Celtic Jewelry


Black Shirts


CD Music


Download

Design Gallery



Irish


Flags


Celtic


Tartans


Scottish


Claddagh


Surnames


Highlander


Celtic Radio
Research



History


Country


Families

Welcome to our Celtic Radio Store - part of Coat of Arms Online Sales! You can help support all of the Celtic Radio broadcast channels and our website by purchasing one of our quality made customized products. We combine our award winning designer graphics with brand name apparels. Our products make excellent gifts for all occasions and especially for the person that has it all!
We produce shirts for clans, organizations or websites! Expediated manufacturing and shipping is available for an additional charge. Please
contact
us for a custom quote.

Our Heraldry Database has thousands of Family histories to search. Visit Now!

Clarke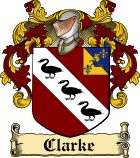 Coat of Arms

---
Clery, often spelt Cleary, is one of the Gaelic Irish surnames which has kept the prefix O to some extent in modern times. O'Clery is O Cleirigh in Irish probably derived from the work Cleireach meaning a clerk or cleric. The name itself means descendant of Cleireach, who was of the line of the famous Guaire the Hospitable, King of Connacht. Cleireach was born about the year 820 A.D. some two cent.....
Heraldry Database: Macdonald
MacDonald


Heraldry Database

Surname: MacDonald
Branch: MacDonald of MacDonald
Origins: Scottish
More Info: Scotland


Background: The Clan Donald, often described as the most powerful of the clans, hold as their eponymous ancestor Donald of Islay, who succeeeded his father Reginald or Ranald, son of Somerled, Lord of the Isle in 1207. Somerled's campaigns spanned over forty years, during which time he gained a kingdom and the hand of Ragnhild, daughter of King Olvav the Red, Norse King of Man and the Isles. The story of this match is part of the origin legends of Clan Macintyre. The new empire stretched from Bute to Ardnamurchan, including Lorne, Argyll and Kintyre on the mainland.



Motto:
Per mare per terra, By sea and by land.
Arms:
Quarterly, 1st, Argent, a lion rampant Gules, armed and langued Azure; 2nd, Or, a hand in armour fessways holding a cross crosslet fitchee Gules; 3rd, Or, a lympad sails furled and oars in action Sable, flagged Gules; 4th, Vert, a salmon naiant in fess Proper; overall on an inescutcheon en surtour Or, an eagle displayed Gules surmounted of a lympad, sails furled, oars in action Sable.
Crest:
On a crest coronet Or, a hand in armour fessways couped at the elbow Proper holding a cross crosslet fitchee Gules.
Supporters:
(on a compartment of rocks and heather Proper) Two leopards Proper.
Badge:
An Eagle displayed Gules, armed and beaked Sable, having a Chapeau Gules furred Ermine, holding in its talons an escutcheon Or charged with an eagle displayed Gules, surmounted of a lymphad, sails furled, oars in action Sable.
Plant:
Heather.
View the Heraldry Dictionary for help.

C
lan Donald is one of the oldest, and probably the largest and most famous of all the Highland clans. Its Celtic heritage goes back into antiquity, beyond the 6th Century AD, to the great clans in what today is Ireland, Conn of the 100 Battles, Cairfre Raida, founder of Dal Raida in Antrim, Eire, and Colla Uathais. Our Viking heritage goes back to Ingiald "Ill-Ruler" and Olaf "Tree-Hewer" in 7th Century Sweden and Norway. All of these traditional blood lines came together in the 12th Century Somerled MacGillebride MacGilladamnan, the historic founder of Clann Domhnaill. Our ancestors were regarded as the heads of the ancient race of Conn, and the lineal heirs of the kings of the Dalriadic Scots.
The clann increased in numbers and territory, forming a number of branches who are, by seniority:
Clan Ruari, now part of Clanranald and Glengarry
Clan Alasdair
Ardnamurchan
Glencoe
Clanranald
Clan Godfrey, now part of Clanranald and Sleat
Glengarry
Clan Donald South, also known as Dunnyveg and The Glens, or Clann Iain Mhor
Keppoch
Lochalsh, now part of Sleat
Clan Donald North or Clan Uisdean, now Sleat
Clan Donald, greatest and largest of the Highland Clans, begins it's recorded history with Somerled, a descendant of Conn of the Hundred Battles and Clan Colla. Somerled's defeat of the Norse King of Man in 1156 gained independence for southwestern Scotland that survived for over four centuries.
The clan takes it's name from Donald, the 3rd Lord of the Isles and grandson of Somerled who lived until 1269. Donald's son was the original "Mac" (meaning "son of"). It was Donald's great-grandson, Angus Og, the 6th Lord of the Isles who sheltered Robert the Bruce at the lowest ebb of his career. Later, leading a small band of Islemen, Angus Og was instrumental in Bruce's defeat of the English at Bannockburn. This battle won independence for Scotland. In recognition of Clan Donald's part in the victory Robert the Bruce proclaimed that Clan Donald would forever occupy the honored position on the right wing of the Scottish Army.
Angus Og's grandson, Donald, the 8th Lord of the Isles, married the heiress of the Earldom of Ross and in 1411 fought the Battle of Harlaw to keep his wife's inheritance from being usurped by the Regent Duke of Albany. His army of 10,000 men included the forces of almost every clan of the Highlands and Isles. All these clans were willing vassals of the Lord of the Isles. They regarded the MacDonald Chiefs as the heads of the ancient "Race of Conn," and lineal heirs of the ancient Kings of the Dalriadic Scots, going back to the 6th century and beyond.
Donald of Harlaw's son and grandson were both Earls of Ross and Lords of the Isles, controlling not only the Hebrides from Islay and Kintyre to the Butt of Lewis, but most of Argyll and the modern County of Inverness, along with the County of Antrim in northern Ireland. The Earldom was lost in 1471, but the Lordship of the Isles was not absorbed by Scotland until the middle of the 16th century. A McDonnel (a variation of the surname MacDonald) is still Earl of Antrim.
The power of the clan survived and formed the backbone of the army of the Marquis of Montrose, fighting for the survival of the Stewarts in the 17th century, and, though divided, it was an important factor in the Jacobite Rebellions of the 1700's.

Name Variations: Alexander, Begg, Burk, Crombie, Donillson, Dowall, Gowrie, Hewitson, Hewitt, Hughson, Johnson, Kellie, MacA'Challies, MacBeath, MacCaishe, MacCall, MacCash, MacCaul, MacCeallaich, MacCutchen, MacIlleriach, MacIlreach, MacIlriach, MacIlvride, MacKellachie, MacKellagh, MacLardie, MacLellan, MacRurie, MacShannachan, MacSwen, Norie, O'Drain, O'Shaig, O'Shannachan, O'Shannaig, Philipson, Pitullich, Ronald, Ronaldson, Sanderson, Alastair, Allister, Anderson, Ballach, Balloch, Beath, Beaton, Bethune, Beton, Bowie, Brodie, Budge, Buie, Bulloch, Cambridge, Cathal, Cathil, Cochran, Cochrane, Coll, Colson, Conn, Connal, Connall, Connell, Cook, Cooke, Coull, Coulson, Cririe, Cromb, Crum, Daniel, Daniels, Darrach, Darroch, Donald, Donaldson, Donnell, Donnellson, Drain, Dunnel, Forrest, Forrester, Galbraith, Galbreath, Gall, Galt, Gaul, Gauld, Gault, Gilbride, Gill, Gorrie, Gorry, Gowan, Gowans, Hawthorn, Henderson, Hendrie, Hendry, Henry, Heron, Hewison, Houston, Houstoun, Howat, Howe, Howie, Howison, Hudson, Hutcheon, Hutcheonson, Hutcheson, Hutchin, Hutchinson, Hutchison, Hutchon, Hutson, Isles, Jeffrey, Johnson, Johnstone, Kean, Keegan, Keene, Keighren, Kelly, Kinnell, Laing, Lang, Leitch, MacArthur, MacBeth, MacBheath, MacBrayne, MacBride, MacBryde, MacCaa, MacCairn, MacCambridge, MacCarron, MacCaw, MacCay, MacCluskie, MacCodrum, MacColl, MacConnal, MacConnell, MacCooish, MacCook, MacCosham, MacCrain, MacCran, MacCrierie, MacCrorie, MacCrum, MacCuaig, MacCuish, MacCuithein, MacCutcheon, MacDaniell, MacDonald, MacDrain, MacEachern, MacEachran, MacElfrish, MacElheran, MacGaa, MacGaw, MacGeachy, MacGechie, MacGee, MacGhee, MacGhie, MacGill, MacGilp, MacGorrie, MacGorry, MacGoun, MacGow, MacGowan, MacGown, MacGrain, MacHendrie, MacHendry, MacHenry, MacHugh, MacHutchen, MacHutcheon, MacIan, MacIan, MacIllrick, MacIlrevie, MacIlwraith, MacIlwrick, MacIver, MacIvor, MacKain, MacKane, Mackay, MacKeachie, MacKean, MacKeand, MacKee, MacKellaig, MacKellaigh, MacKelloch, MacKerron, MacKey, MacKie, MacKiggan, MacKillop, MacKinnell, MacLairish, MacLardy, MacLarty, MacLaverty, MacLeverty, MacMurchie, MacMurchy, MacMurdo, MacMurdoch, MacO'Shannaig, MacO'Shannaig, MacPhilip, MacQuilkan, MacQuistan, MacQuisten, MacRaith, MacRearie, MacRorie, MacRory, MacRuer, MacRury, MacRyrie, MacSorley, MacSporran, MacSwan, MacSween, MacWhan, MacWhannell, Mark, Marquis, Martin, May, Murchie, Murchison, Murdoch, Murdoson, Murphy, O'May, Paton, Patten, Peden, Philip, Philp, Purcell, Reoch, Revie, Riach, Robison, Roderick, Rorie, Rorison, Ryrie, Shannon, Shennan, Sorley, Sorlie, Sporran, Train, Whannel, Whannell, Wheelan, Whellan, Wilkie, Wilkinson .

References:
One or more of the following publications has been referenced for this article.
The General Armory; Sir Bernard Burke - 1842.
A Handbook of Mottoes; C.N. Elvin - 1860.
Scottish Clans and Tartans; Neil Grant - 2000.
Scottish Clan and Family Encyclopedia; George Way of Plean and Romilly Squire - 1994.
Scottish Clans and Tartans; Ian Grimble - 1973.
World Tartans; Iain Zaczek - 2001.
Clans and Families of Scotland; Alexander Fulton - 1991.



Modern


ancient




Sign-up for a Founders account and receive personalized
family heraldry service and much more!


Want to know more?
Click the Heart!

Heraldry Database