Search



Home


Surname


First Name
Popular Products



Coat of Arms


Clan Badges


Books & Gifts


Celtic Jewelry


Black Shirts


CD Music


Download

Design Gallery



Irish


Flags


Celtic


Tartans


Scottish


Claddagh


Surnames


Highlander


Celtic Radio
Research



History


Country


Families

All of our products can be order in bulk for family reunions and get-togethers. Depending on the number of items ordered, we can offer bulk orders at reduced prices for incredible savings from individual items. We also offer embroidered Clan Badge and Coat of arms patches in bulk orders for all of your family and clan festivals.
Don't see your Clan Badge or Family Coat of Arms or do you have a special customized order? Please
contact
us with your special order details and we will be happy to setup a free quote.

Our Heraldry Database has thousands of Family histories to search. Visit Now!

Evans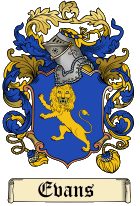 Coat of Arms

---

Evans is derived from the name Ieuan which along with Ioan is Welsh for John (the Welsh language is still quite strong in Wales). It originated as a first name at a time in Wales when there were no surnames, when people would be named according to their father (for example, William son of Ieuan) would be William ap Ieuan, "ap" being Welsh for "son of").

But when such names were written.....
Heraldry Database: Hodge
Hodge


Heraldry Database

Surname: Hodge
Branch: Hodge
Origins: Scottish
More Info: Scotland


Background: English Patronymic name from the name Hodge, which was derived from the given name Roger. Roger came to England as Rogier courtesy of the conquering Normans. The common nickname for ROGER 'fame, spear'; the name was made popular after the Norman Conquest by Roger of Montgomery who distinguished himself at the Battle of Hastings.

In reference to Hodge Hill Common: a precious piece of undeveloped land around the junction of the Coleshill Road and Bromford Road. Hodge is probably the family name of a medieval landowner, but this was also a by-name of Roger, used as a patronising nickname for an agricultural labourer, ie. 'a country bumpkin'.



Motto:
Dant lucem crescentibus orti, Rising from crescents they give light.
Arms:
Ar. three chevronels az. in chief three inescutcheons gu.
View the Heraldry Dictionary for help.

T
his well known English surname is of early medieval origin, and is one of the patronymic forms of the medieval male given name 'Hodge', a pet form of 'Roger'. The Normans introduced 'Roger' into England after the Conquest of 1066 as 'Rog(i)er', which was adopted from the Germanic 'Ro(d)ger', composed of the elements 'hrod', renown, and 'geri, gari', spear. The equivalent Old Norse name 'Hrodthgeirr' reinforced the form of the name in Normandy. The substitution of 'H' for 'R' as the initial in the English variants of 'Roger' reflect the difficulty encountered by English people in pronouncing the Norman (French) 'r' sound. Early examples of 'Hodge' as a given name are recorded as 'Hogge', as in the 1208 Fines Court Records of Lincolnshire, and the first recordings of the surname are similar (see below). The modern spellings first appears in the 16th Century, and the recorded forms include Hodge, Hodges, Hodgeson, Hodgson, Hodgett, Hodgetts, etc. Early recording examples include Ricardus Hoge in the 1379 Poll Tax rolls, Ebbota Hoggese in the same rolls, William Hodges listed in the Suffolk Subsidy Rolls of 1524, and Agnes Hodgett in the Marriage License lists of London for the year 1577. Where it occurs the final 's' as in 'Hodges', is a reduced form of 'son of '. The Coat of Arms originally granted in Gloucester in 1610 or thereabouts, has the blazon of a gold field, charged with three black crescents, and on a black canton, a gold coronet. The first recorded spelling of the family name is shown to be that of Alicia Hogges, which was dated 1327, in the Subsidy Rolls of Somerset, during the reign of King Edward 11, known as 'Edward of Caernafon', 1307 - 1327. Surnames became necessary when governments introduced personal taxation. In England this was known as Poll Tax. Throughout the centuries, surnames in every country have continued to "develop" often leading to astonishing variants of the original spelling.
Name Variations: Hodge, Hudge, Hodgin, Hodgen, Roger, Hodges, Hodgeson.
References:
One or more of the following publications has been referenced for this article.
The General Armory; Sir Bernard Burke - 1842.

A Handbook of Mottoes; C.N. Elvin - 1860.

Scottish Clans and Tartans; Neil Grant - 2000.

Scottish Clan and Family Encyclopedia; George Way of Plean and Romilly Squire - 1994.

Scottish Clans and Tartans; Ian Grimble - 1973.

World Tartans; Iain Zaczek - 2001.

Clans and Families of Scotland; Alexander Fulton - 1991.

Surname Database: http://www.surnamedb.com/Surname/Hodge



| | |
| --- | --- |
| Discuss | Search |


Sign-up for a Founders account and receive personalized
family heraldry service and much more!



Want to know more?
Click the Heart!

Heraldry Database