Search



Home


Surname


First Name
Popular Products



Coat of Arms


Clan Badges


Books & Gifts


Celtic Jewelry


Black Shirts


CD Music


Download

Design Gallery



Irish


Flags


Celtic


Tartans


Scottish


Claddagh


Surnames


Highlander


Celtic Radio
Research



History


Country


Families

Our store includes not only customized products, but select clothing items from brand name house hold names like Champion, Izod, WeatherProof, Adidas and more. For those in rural areas or that are home bound, we offer a separate clothing store containing thousands of items that can be purchased quickly with expedited service and shipping (hard to find larger sizes are available). We offer a wide selection of popular Celtic and Medieval books, Jewelry, Gifts, Accessories (such as caps and designer bags), Mouse Pads, Coat of Arms Plaques, Surname History PDF files, Bumper Stickers and Coat of Arms Downloads.

Our Heraldry Database has thousands of Family histories to search. Visit Now!

O'Friel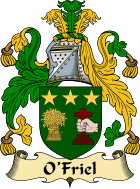 Coat of Arms

---
O'Friel is a Donegal name. In Irish it is O'Firghil (from Feargal); it is pronounced, and often written, O'Frighil, i.e. in English phonetic O'Freel. The sept has a distinguished origin, being descended from Eoghan, brother of St. Columcille (Fr. John Ryan, S.J. has pointed out that the chief point of interest about the O'Friels is that they are nearest in blood to St. Colmcille, for they alone ar.....
Heraldry Database: Graham
Graham


Heraldry Database

Surname: Graham
Branch: Graham
Origins: Scottish
More Info: Scotland


Background: Tradition says the first Graham was a Caledonian chief called Graym who attacked and burst through the mighty Antoine Wall which divided Scotland in two, and drove the Roman legions back to Hadrian's Wall on the English border. More likely, the chiefs spring from an Anglo-Norman family who originally came to England with William the Conqueror in 1066, and are recorded in his Doomsday Book as holding the lands of Graegham or Grey Home.

David I, king of Scots, was brought up in England and given a Norman education. He married a Norman heiress and through her acquired vast estates in England. Thus when he succeeded to the Scottish throne in 1124 he brought with him many of his Anglo-Norman friends to help create order in what was then a very primitive and savage land. He granted them large estates in the Lowlands and without exception these barons then intermarried into the local Celtic aristocracy. Within a generation or two they had become totally integrated with the older race and were soon exclusively Scottish.

William de Graham, the first recorded of that name, was granted land around Dalkieth and Abercorn in Midlothian and appears as a witness on David I's charter of 1128 founding the Abbey of Holyroodhouse. His descendant, Sir David Graham, acquired the lands of Dundaff in Strathcarron in 1237, and built a castle there. This was probably a wooden fortification on a motte or artificial earth mound in the Norman style. The remains of the later stone castle can still be seen. Sir John de Graham of Dundaff was William Wallace's right hand man and close friend in the first struggle for Scottish independence in the late 13th century. The contemporary poet Blind Harry calls him ''Schir Jhone the Grayme'' and records his brave death at the battle of Falkirk in 1298 when the small, ragged Scottish army was crushed beneath the hooves of the heavy armoured cavalry of the English army of Edward I. Sir John's gravestone and effigy can be seen today at Falkirk Old Church and bear the inscription '"Here lyes Sir John the Grame, baith wight and wise, Ane of the chiefs who rescewit Scotland thrise, Ane better knight not to the world was led, Nor was gude Graham of truth and hardiment".



Motto:
Ne oublie, Do not forget.
Arms:
Quarterly, 1st & 4th, Or, on a chief Sable three escallops Or (Graham); 2nd & 3rd, Argent, three roses Gules (Montrose).
Crest:
A falcon Proper, beaked and armed Or, killing a stork Argent, armed Gules.
Supporters:
Two storks Proper.
Plant:
Spurge laurel.
View the Heraldry Dictionary for help.

D
espite a colourful tradition which asserts that Greme was a mighty Caledonian chief who broke the Antonine Wall driving the Roman legions out of Scotland, the likely origin of this family is Anglo–Norman; the Manor of Gregham, or Greyhome, is recorded in William the Conqueror's Domesday Book. When David I came to Scotland to claim his throne, Graham was one of the knights who accompanied him. Sir William de Graham was present at the erection of the great Abbey of Holyrood and witnessed its foundation charter.
The first lands the family acquired in Scotland appear to have been around Dalkeith in Midlothian. Sir Nicholas de Graham attended the Parliament in 1290 where the Treaty of Brigham, for the marriage of the infant heir to the Scottish throne, Margaret, the Maid of Norway, to Prince Edward of England, was agreed. Their acceptance in Celtic Scotland was assured when they married into the princely family of Strathearn, and from Malise of Strathearn they acquired the lands around Auchterarder which were to become their principal seat. Sir John de Graham was a companion-in-arms of Sir William Wallace, the great patriot. His bravery was legendary even in his own lifetime, and he was called 'Graham with the bright sword'. He fell at the Battle of Falkirk in 1298, and his gravestone and effigy can still be found in Falkirk Old Parish Church.
The family's landholdings and power grew throughout the centuries. They acquired the lands of Mugdock north of Glasgow, where they built a stout castle around 1370. Patrick Graham of Kincardine was created a peer in 1451 with the title, 'Lord Graham'. Two generations later they were created Earls of Montrose and in 1504 their hereditary lands of 'Auld Montross' were erected into a free barony and earldom of Montrose. The first Earl fell at the fateful field of Flodden in 1513. By means of purchase and inheritance the Graham lands had become, by the late seventeenth century, among the richest in Scotland.
The name would have been remembered for the many great deeds of the family, but it passed into legend in the person of the fifth Earl and first Marquess of Montrose, James Graham, probably the most glamorous figure in Scottish history. A renowned scholar and poet, he was one of the leaders of the movement opposed to Charles I's attempt to introduce new practices of worship into the Scottish Church. Montrose signed the Covenant, but later decided not to take up arms against the king. He offered his services to the king, who gratefully accepted and created him captain general of the king's army in Scotland. This was a grand-sounding title, but the king's general was left to find his own army.
The Grahams rallied to their chief, and they were joined by a large force of Highlanders led by Alasdair Macdonald, 'Colkitto'. The campaign of 1644–45 is one of the most remarkable in Scottish military history. At one point, Montrose seemed poised not only to hold Scotland for the king, but to drive south to ward off the certain defeat faced in England. However, on 13 September 1645, Montrose was taken by surprise at Philiphaugh in the Borders by a substantial force of Covenant cavalry under General David Lesley. The captain general escaped to the north, but his forces were massacred after they surrendered, and the royalist cause in Scotland seemed mortally wounded. In May 1646, Montrose received orders from Charles to disband his army and leave the kingdom. Charles had by this time placed himself in the keeping of the Scottish Covenanting forces in England, setting in motion the series of events which led him to the scaffold at Whitehall.
Montrose arrived safely in Norway and thereafter travelled extensively on the Continent. His military prowess, coupled with his own personal wit and charm, guaranteed the warmth of his reception. In Germany he was raised to the rank of mareschal, and offered field command. The French similarly honoured him. He had done everything and more that could be expected of a loyal subject, but the glitter of royal courts and the power which was offered to him could not sway his belief that his duty and loyalty lay with his king. He was given commission by the newly proclaimed Charles II to recover Scotland. With the assistance of arms and supplies from Sweden and Denmark, Montrose landed in Orkney in March 1650. He reached the mainland but the anticipated rising of royalists did not materialise. At Invercharron in Ross-shire, the tiny royal army was totally defeated and Montrose forced to flee. He was betrayed, captured and transported to Edinburgh, where he was sentenced to death without the formality of a trial, and executed on 21 May 1650. After the Restoration, the Stuarts repaid their debt to the Grahams in some small measure by according the captain general's remains one of the grandest state funerals ever held in Scotland. The chiefs were raised to the highest rank of the peerage in 1707, when the fourth Marquess was created Duke of Montrose.
The third Duke of Montrose sat in Parliament, and was responsible for the Act which in 1782 repealed the prohibition on the wearing of Highland dress.
Name Variations: Airth, Allardice, Allardyce, Blair, Bonar, Bonnar, Bontein, Bontine, Buntain, Bunten, Buntine, Bunting, Graham, Grahame, Hadden, Haddon, Haldane, Howden, Howe, Howie, MacGibbon, MacGilvernock, MacGrime, Menteith, Monteath, Monteith, Pye, Pyott.
References:
One or more of the following publications has been referenced for this article.
The General Armory; Sir Bernard Burke - 1842.

A Handbook of Mottoes; C.N. Elvin - 1860.

Scottish Clans and Tartans; Neil Grant - 2000.

Scottish Clan and Family Encyclopedia; George Way of Plean and Romilly Squire - 1994.

Scottish Clans and Tartans; Ian Grimble - 1973.

World Tartans; Iain Zaczek - 2001.

Clans and Families of Scotland; Alexander Fulton - 1991.



Ancient Menteith


Modern Menteith


Modern Montrose


Ancient Montrose




Sign-up for a Founders account and receive personalized
family heraldry service and much more!


Want to know more?
Click the Heart!

Heraldry Database