Search



Home


Surname


First Name
Popular Products



Coat of Arms


Clan Badges


Books & Gifts


Celtic Jewelry


Black Shirts


CD Music


Download

Design Gallery



Irish


Flags


Celtic


Tartans


Scottish


Claddagh


Surnames


Highlander


Celtic Radio
Research



History


Country


Families

Our store includes not only customized products, but select clothing items from brand name house hold names like Champion, Izod, WeatherProof, Adidas and more. For those in rural areas or that are home bound, we offer a separate clothing store containing thousands of items that can be purchased quickly with expedited service and shipping (hard to find larger sizes are available). We offer a wide selection of popular Celtic and Medieval books, Jewelry, Gifts, Accessories (such as caps and designer bags), Mouse Pads, Coat of Arms Plaques, Surname History PDF files, Bumper Stickers and Coat of Arms Downloads.

Our Heraldry Database has thousands of Family histories to search. Visit Now!

Hall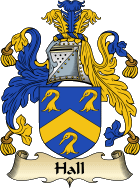 Coat of Arms

---
The history of Scotland, shrouded by the mists of time, indicates that the name 'Hall', is a Norman surname. the name 'Hall', was found in Lincolnshire [England] where they were granted lands after the Norman Conquest in 1066. Upon entering England with the Norman Conquest, the Hall's were actually 'FITZ WILLIAM'S', they being settled in Greatford Hall in Lincolnshire, and being directly descend.....
Heraldry Database: Douglas
Douglas


Heraldry Database

Surname: Douglas
Branch: Douglas
Origins: Scottish
More Info: Scotland


Background: Clan Douglas, also referred to as the House of Douglas, is an ancient family from the Scottish Lowlands taking its name from Douglas, South Lanarkshire, and thence spreading through the Scottish Borderland, Angus, Lothian and beyond. The clan does not currently have a chief, therefore it is considered an Armigerous clan.

The Douglases were once the most powerful family in Scotland. The chiefs held the titles of the Earl of Douglas, and following their forfeiture the chieftancy devolved upon the Earl of Angus (see also: Duke of Hamilton). The 4th Earl of Morton held the chieftaincy during the 16th century, the Earldom of Morton was then a subsidiary title of the 8th Earl of Angus after the 4th Earl's forfeiture and death in 1581.

The family's original seat was Douglas Castle in Lanarkshire, but they spread to many properties throughout Southern and North-Eastern Scotland.



Motto:
Jamais arrière, Never Behind.
Arms:
Quarterly, 1st, Azure, a lion rampant Argent crowned with an Imperial Crown Or (Earldom of Galloway); 2nd, Or, a lion rampant Gules, armed and langued Azure, surmounted of a ribbon in bend Sable (Abernethy); 3rd, Argent, three piles Gules (for Wishart of Brechin); 4th, Or, a fess checky Azure and Argent, surmounted of a bend Sable charged with three buckles of the Field (Stewart) of Bonkill); overall, on an esutcheon Argent, a man's heart ensigned of an Imperial Crown Proper and on a chief Azure three stars of the Field (Douglas).
Crest:
A salamander Vert encircled with flames of fire Proper.
Supporters:
(on a compartment comprising a hillock, bounded by stakes of wood wreathed round with osiers) Dexter, a naked savage wreathed about the head and middle with laurel and holding a club erect Proper, sinister, a stag Proper, armed and unguled Or.
View the Heraldry Dictionary for help.

T
he Douglases were one of Scotland's most powerful families. It is therefore remarkable that their origins remain obscure. The name itself is territorial and it has been suggested that it originates from lands by Douglas Water received by a Flemish knight from the Abbey of Kelso. However, the first certain record of the name relates to a William de Dufglas who, between 1175 and 1199, witnessed a charter by the Bishop of Glasgow to the monks of Kelso.
Sir William de Douglas, believed to be the third head of the Borders Family, had two sons who fought against the Norse at the Battle of Largs in 1263. William Douglas 'The Hardy' was governor of Berwick when the town was besieged by the English. Douglas was taken prisoner when the town fell and he was only released when he agreed to accept the claim of Edward I of England to be overlord of Scotland. He later joined Sir William Wallace in the struggle for Scottish Independence but he was again captured and died in England in 1302. His son, "The Good Sir James", patriot and founder of the Black Douglases was killed in battle in Spain, carrying the heart of his life-long friend, King Robert the Bruce to the Holy land. Douglas and his knights had joined the King of Castille's crusade against the Moors and in 1330, near Teba in Andalucia, they were cut off from the main Christian force and heavily outnumbered when they were attacked by the enemy. Sir James was killed leading the charge against the Moors but the casket containing Bruce's heart was recovered from the battlefield and returned to Scotland where it was interred in Melrose Abbey.
Marriage to a Stewart Princess brought wealth and prestige to his great nephew, the second Earl of Douglas, later to die in his moment of Victory at Otterburn in 1388. Sir James' illegitimate son, Archibald 'The Grim', became the third Earl and consolated the family's position. He successfully defended Edinburgh Castle against Henry IV of England in 1400 but died a year later. Archibald, the fourth Earl, married James I's sister and in 1437, on the death of James I, he was one of the council of regents, and later lieutenant general of the kingdom. Both he and his son were killed fighting the English in France.
Despire this and other setbacks, in the early fifteenth century the Douglases had become so powerful that they were seen as a thread to the nation's stability. In 1440 the young sixth Earl and his brother were invited by a rival to dine in Edinburgh Castle with the ten-year-old James II. A black bull's head, the symbol of death, was brought in, and the Douglas boys were dragged away, given a mock trial, and beheaded. The young king was horrified, but twelve years later he invited their cousin, the eighth Earl, under a promise of safe conduct, to Stirling Castle where he was murdered with the king himself striking the first blow. The ninth Earl prudently spent much of his adult life in England. When he returned in 1484 with a small invading army to recover his possessions, he was captured and confined in Lindores Abbey. He died in 1491, the last of his line.
Meanwhile, another of Sir James' great nephews, George, first Earl of Angus, was the first of the Red Douglases. He too married a Stewart princess and the Red Douglases soon rose to as great a prominence as the family had held hiherto; this was largely due to the success of Archibald, fifth Earl of Angus, known as 'Bell the Cat'. He is said to have gained his nickname from an incident in 1482 when a number of the Scots nobility plotted the downfall of certain unpopular favourites of the king. One of the conspirators told the tale of mice seeking deliverance from a cat; all agreed that a bell should be suspended from the cat's neck to signal its approach, but the question was, which mouse had courage to fasten the bell? Angus is said to have immediately cried 'I shall bell the cat'. The favourites were murdered, and Angus gained his nickname. He subsequently became Lord Chancellor of Scotland. His grandson, the sixth Earl, made himself guardian of James V by marrying Margaret Tudor, the young king's widowed mother. He was still taking the field against the English when over the age of sixty.
James, Earl of Morton, younger brother of the seventh Earl was a bitter enemy of Mary, Queen of Scots. He was one of the murderers of her secretary, David Rizzio, and was deeply implicated in the assassination of her second husband Lord Darnley. A brutally effective regent during the infancy of James VI, he fell from power in 1581 and was duly executed.
William, eleventh Earl of Angus and first Marquess of Douglas, was a Catholic and an ardent supporter of Charles I during the civil wars. He was created marquess in 1633 and lived in princely style at Douglas Castle. He joined Montrose after the Battle of Kilsyth in 1645 and was present when Royalist forces were surprised by Covenanter cavalry at Philiphaugh later that year when he barely escaped with his life. He made peace with Cromwell's government, although he was fined 1,000 pounds.
William, brother of the second Marquess became, through marriage, Duke of Hamilton in 1660. The titles of Marquess of Douglas, Earl of Angus and several others were ultimately all to devolve on the Dukes of Hamilton and the eldest son and heir of that house is always styled 'Marquess of Douglas and Clydesdale'. Other branches of the family include the Earls of Morton, and the Marquesses of Queensberry, who gave their name to the famous rules of boxing. The Douglas-Hamiltons are the heirs male of the house of Douglas but are barred, under Lyon Court rules, from matriculating as chiefs because of their hyphenated surnae. Angus Douglas-Hamilton, the fifteenth Duke, is an engineer, former RAF test-pilot and author. His seat is at Lennoxlove near Haddington.
Name Variations: Agnew, Blackett, Blacklock, Blackstock, Blackwood, Blalock, Breckinridge, Brown, Brownlee, Cavan, Cavers, Dickey, Drysdale, Forest, Forrester, Foster, Gilpatric, Glendinning, Glenn, Harkness, Inglis, Kidston, Kilgore, Kilpatrick, Kirkland, Kirkpatrick, Lockerby, Lockery, MacGuffey, MacGuffock , McKitrick, Morton, Sandilands, Sandlin, Soule, Sterrett, Symington, Troup, Young, Dowglass, Dovglas, Dowglas, Dulglas, Douglace, Douglas, Douglase, Douglass, Dogles, Dowglace, Dulglass, Douglis, Dowglasse, Dougles, Duglas, Douglles, Drysdale, Glen .
References:
One or more of the following publications has been referenced for this article.
The General Armory; Sir Bernard Burke - 1842.

A Handbook of Mottoes; C.N. Elvin - 1860.

Scottish Clans and Tartans; Neil Grant - 2000.

Scottish Clan and Family Encyclopedia; George Way of Plean and Romilly Squire - 1994.

Scottish Clans and Tartans; Ian Grimble - 1973.

World Tartans; Iain Zaczek - 2001.

Clans and Families of Scotland; Alexander Fulton - 1991.

Wikipedia: http://en.wikipedia.org/wiki/Clan_Douglas







Sign-up for a Founders account and receive personalized
family heraldry service and much more!


Want to know more?
Click the Heart!

Heraldry Database