Search



Home


Surname


First Name
Popular Products



Coat of Arms


Clan Badges


Books & Gifts


Celtic Jewelry


Black Shirts


CD Music


Download

Design Gallery



Irish


Flags


Celtic


Tartans


Scottish


Claddagh


Surnames


Highlander


Celtic Radio
Research



History


Country


Families

Welcome to our Celtic Radio Store - part of Coat of Arms Online Sales! You can help support all of the Celtic Radio broadcast channels and our website by purchasing one of our quality made customized products. We combine our award winning designer graphics with brand name apparels. Our products make excellent gifts for all occasions and especially for the person that has it all!
We produce shirts for clans, organizations or websites! Expediated manufacturing and shipping is available for an additional charge. Please
contact
us for a custom quote.

Our Heraldry Database has thousands of Family histories to search. Visit Now!

O'Kennedy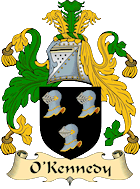 Coat of Arms

---

T

he eponymous ancestor of the O'Kennedys was Kennedy, nephew of Brian Boru, or Cinneide in Irish, the resultant surname being O Cinneide (Brian Boru's father was Cinneide). They are thus a Dalcassian sept, and at first their territory was around Glenomra near Killaloe, and their occupation is perpetuated by the name of the civil parish comprising that area, viz. Killokennedy, but pressure from the .....
Heraldry Database: Broadfoot
Broadfoot

View the Heraldry Dictionary for help.

We are unable to locate the history for this surname. If you can provide us with this information, then please
contact
Arms & Badges!
Name Variations: Broadfoot, Broadford, Bradfute, Braidfoot, Breadfoot.
References:
One or more of the following publications has been referenced for this article.
The General Armory; Sir Bernard Burke - 1842.

A Handbook of Mottoes; C.N. Elvin - 1860.

Scottish Clans and Tartans; Neil Grant - 2000.

Scottish Clan and Family Encyclopedia; George Way of Plean and Romilly Squire - 1994.

Scottish Clans and Tartans; Ian Grimble - 1973.

World Tartans; Iain Zaczek - 2001.

Clans and Families of Scotland; Alexander Fulton - 1991.


| | |
| --- | --- |
| Discuss | Search |


Sign-up for a Founders account and receive personalized
family heraldry service and much more!


Want to know more?
Click the Heart!

Heraldry Database