Search



Home


Surname


First Name
Popular Products



Coat of Arms


Clan Badges


Books & Gifts


Celtic Jewelry


Black Shirts


CD Music


Download

Design Gallery



Irish


Flags


Celtic


Tartans


Scottish


Claddagh


Surnames


Highlander


Celtic Radio
Research



History


Country


Families

We custom design and produce all of our products with industrial press technologies located at our Boston Massachusetts facilities! This industrial process results in superior manufacturing that will outlast even store bought products. Our base products are supplied from a major clothing wholesaler, so we can keep our prices low.

Orders made today are generally filled within 1-4 weeks depending on our current supply schedule. All products have a 30 day money back guarantee for defects in workmanship. Customer satisfaction is our number one priority!

Our Heraldry Database has thousands of Family histories to search. Visit Now!

O'Brennan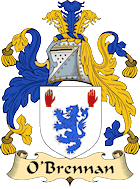 Coat of Arms

---

In modern Ireland there are many Brennans: the name comes twenty-eighth in the statistical list of Irish surnames. Here and there one is met with the prefix O, but to-day the form MacBrennan is seldom if ever found.

The simple form Brennan is used in the anglicized form of two quite distinct Gaelic Irish surnames, viz. O Braonain and Mac Branain. The former is the appellation of fou.....
Heraldry Database: Allen
Allen


Heraldry Database

Surname: Allen
Branch: Allen
Origins: Scottish
More Info: Scotland


Background: Harmony, stone, or noble. Also fair, handsome. Originally a saint's name, it was reintroduced to Britain during the Norman Conquest, remained popular throughout the Middle Ages, and was revived in the 19th century.



Motto:
Fortiter gerit crucem, He bravely supports the cross.
Arms:
Per fesse sa. and or, a pale engr. counterchanged and three talbots passant or, collared gu.
View the Heraldry Dictionary for help.

I
n Scotland the name is considered of dual origin, the first coming from Alwyn, a name favoured by the ancient Earls of Lennox and secondly, from the popularity of the name among the Bretons who accompanied William the Conqueror in his invasion of England in 1066. In the ensuing years many of these nobles migrated North to found great Scottish families, among whom were the Royal House of Stewart. A `symbolic' origin, as in `Aluin'(sparkling), has also been suggested, but such would be more appropriate to the various streams and rivers which bear that name - some may have derived their name from residing near such a feature. As the name became popular in two distinct cultures it strengthens the case for dual origin and places the onus on the individual to establish ancestral links before clan association is claimed. In such context the name has traditionally been linked to the Macfarlanes and Macdonalds of Clanranald - the former through their early association with Earldom of Lennox, the latter from the fact that `MacAllan'(sic) is the Gaelic title borne by their chiefs. Many of the MacAllans, Allansons and Allans who settled in Aberdeenshire were descended from the son of a Macfarlane chief who had migrated there when his clan was proscribed in the 16th century. Many of similar names who settled in the Lowlands are descended from Clanranald Macdonalds. As with many surnames derived from a `patronymic' tradition, quite distinct lineages have evolved throughout the country and the possibility of ascertaining their individual origins are masked by time. The name has also been linked with the Mackays of the far North, and some have association with the island of Bute in the Clyde estuary where, through contraction, it is derived from MacAllan, and frequently takes the form 'Callan' . The name became popular in Scotland by its frequent use in the family of the Stewards (later Stewarts), Alan, son of Waldeve witnessed charters by ing David I in 1139. Subsequently it appears regularly in old Scottish records; Alanus, brother of Galfridus Redberd, witnessed the sale of a tenement in Perth in 1219. TARTAN: There is no Allan tartan as such but bearers of the name Allan may wear the tartans of Clan MacFarlane or, alternatively, MacDonald of Clanranald. No CHIEF has been established for the name so clan allegiance would be decided by evidence of descent from ancestors who had clan associations.
Name Variations: Allen, Allan, Alan.
References:
One or more of the following publications has been referenced for this article.
The General Armory; Sir Bernard Burke - 1842.

A Handbook of Mottoes; C.N. Elvin - 1860.

Scottish Clans and Tartans; Neil Grant - 2000.

Scottish Clan and Family Encyclopedia; George Way of Plean and Romilly Squire - 1994.

Scottish Clans and Tartans; Ian Grimble - 1973.

World Tartans; Iain Zaczek - 2001.

Clans and Families of Scotland; Alexander Fulton - 1991.

ElectricScotland.com: http://www.electricscotland.com/webclans/atoc/allan2.html



| | |
| --- | --- |
| Discuss | Search |


Sign-up for a Founders account and receive personalized
family heraldry service and much more!



Want to know more?
Click the Heart!

Heraldry Database