Search



Home


Surname


First Name
Popular Products



Coat of Arms


Clan Badges


Books & Gifts


Celtic Jewelry


Black Shirts


CD Music


Download

Design Gallery



Irish


Flags


Celtic


Tartans


Scottish


Claddagh


Surnames


Highlander


Celtic Radio
Research



History


Country


Families

Our catalog of products also includes three designer logos created specially by the Celtic Radio designers:

'Enjoy Life' Brand - Pigmented fun t-shirts with our 'Enjoy Life' logo. Stickers available too!

'StormCelt' Brand - Rugged wilderness outdoor wear for the true independent Celt.

'StormGale' Brand - Clothing products to keep you warm & dry when storm winds blow.

Our Heraldry Database has thousands of Family histories to search. Visit Now!

O'Callaghan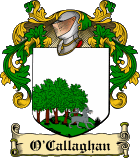 Coat of Arms

---
The name of O'Callaghan, in Irish O Ceallachain, was taken from Ceallachan (Callaghan), King of Munster (d. 952), the eponymous ancestor of the sept. Dispossessed of their original territory in the barony of Kinelea, Co. Cork, after the Anglo-Norman invasion, they acquired a large area of north Co. Cork near Mallow and retained it until again dispossessed under the Cromwellian regime. The leading .....
Heraldry Database: Down)
Down)


Heraldry Database

Surname: Down)
Branch: Ward (Bangor Castle-Down)
Origins: Irish
More Info: Ireland


Background: ( or MacWard) Ward is a common English name, but nearly all Irish Wards are Mac an Bhàird (son of the bard), the name of two noted bardic septs. That of County Galway is of Sodhan orgin.



Motto:
Usque ad mortem fidus, Faithful even to death.
Arms:
Az. a cross, patonce, or, a mullet for difference.
Crest:
wolf's head, erased, or, on the breast a mullet sa.
View the Heraldry Dictionary for help.

A
lthough Ward is a very common English name, the great majority of Irish Wards are native Irish in origin, the Gaelic form of the name being Mac an Bhaird, which means son of the bard; the pronunciation of these words is closely reproduced in the alternative form in English, viz. Macanward, also written MacAward and McWard. The Wards, as their name implies, were professional and hereditary bards, one family being thus attached to the O'Donnells of Tirconnel (Donegal) and another to the O'Kellys of Ui Maine (Hy Many): the latter, whose territory was near Ballinasloe, are perpetuated in the Co. Galway place-name Glenties. Ward is included in the list of the hundred commonest names in Ireland. Like so many old Gaelic families the Wards are still found chiefly in the territories of their origin, the birth indexes showing Counties Donegal and Galway as their present strongholds. The Wards of Co. Down, the head of which family is Viscount Bangor, are of English origin. The arms often ascribed to Irish Wards belong to the Bangors and do not appertain to the Gaelic Wards (MacWards). Maelisa MacAward was bishop of his native see, Clonfert, 1171-1173, but most famous Irishmen of the name were from Ulster. Greatest of these was Hugh Boy Macanward (1580-1635), the historian, first professor of Theology in the Irish College at Louvain. He was born at Lettermacaward. Eight Macanwards of this Donegal sept were notable poets in the seventeenth century. A remarkable Irishman in the French army was General Thomas Ward (1749-1794) who, though he continued to serve under the Republic and had many years, distinguished service to his credit, was guillotined. He was born in Dublin. John Ward (1832-1912), son of Marcus Ward the Belfast publisher, was an artist of note. Though he cannot be described as distinguished we may also mention another John Ward (17871-1837), an uneducated Corkman who achieved much notoriety in England as a mystic of very extreme views. The popular theatre in Dame Street, Dublin, in the first half of the eighteenth century was known as Ward's Theatre.
Name Variations: MacWard, Ward, Macanward, MacAward, McWard, Ballymacward, Lettermacaward.
References:
One or more of the following publications has been referenced for this article.
The General Armory; Sir Bernard Burke - 1842.

A Handbook of Mottoes; C.N. Elvin - 1860.

Irish Families, Their Names, Arms & Origins; Edward MacLysaght - 1957.

The Surnames of Ireland; Edward MacLynsaght - 1957.

The Book of Irish Families Great and Small.


| | |
| --- | --- |
| Discuss | Search |


Sign-up for a Founders account and receive personalized
family heraldry service and much more!


Want to know more?
Click the Heart!

Heraldry Database