Search



Home


Surname


First Name
Popular Products



Coat of Arms


Clan Badges


Books & Gifts


Celtic Jewelry


Black Shirts


CD Music


Download

Design Gallery



Irish


Flags


Celtic


Tartans


Scottish


Claddagh


Surnames


Highlander


Celtic Radio
Research



History


Country


Families

Our store includes not only customized products, but select clothing items from brand name house hold names like Champion, Izod, WeatherProof, Adidas and more. For those in rural areas or that are home bound, we offer a separate clothing store containing thousands of items that can be purchased quickly with expedited service and shipping (hard to find larger sizes are available). We offer a wide selection of popular Celtic and Medieval books, Jewelry, Gifts, Accessories (such as caps and designer bags), Mouse Pads, Coat of Arms Plaques, Surname History PDF files, Bumper Stickers and Coat of Arms Downloads.

Our Heraldry Database has thousands of Family histories to search. Visit Now!

Stevenson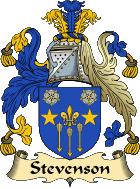 Coat of Arms

---
This is a Scottish/English/German patronymic or baptismal surname meaning "the son of Stephen", an ancient personal (first) name derived from the Greek masculine given name Stephanos, meaning "wreath, crown, honour, reward" or "that which surrounds", a name popularized throughout Christendom and the Holy Roman Empire in Europe by St. Stephen (died 36), an early Catholic Saint and martyr from Jerus.....
Heraldry Database: Macguinness
MacGuinness


Heraldry Database

Surname: MacGuinness
Branch: MacGuinness
Origins: Irish
More Info: Ireland


Background: Mag Aonghusa or Mag Aonghuis (son of Angus) of Iveagh. One of the leading septs of Ulster. The world-famous brewers descend from a junior branch.



Motto:
Spes mea in Deo, My hope is in God.
Arms:
Per saltire gu. and az. a lion ramp. or, on a chief erm. a dexter hand couped at the wrist gu.
Crest:
A boar pass. quarterly or and gu.
View the Heraldry Dictionary for help.

T
he modern spelling of this name is usually MacGuinness or MacGenis but in the historical records in English they are called as a rule Magennins, a form still to be found in some places today. In Irish the name is MagAonghusa, I.e son of Angus. They are descended form Saran, chief of Dal Araidhe in St. Patrick's time and thence to Eochaidh Cobha of Iveagh. From the twentieth century the Magennises were the principal territorial lords of Iveagh, Co. Down. Like the chiefs of many of the great Irish septs Magennis took advantage of the English policy of "surrender and regrant" early in the seventeenth century; earlier they were often at loggerheads with the ecclesiastical authorities and they showed a tendency to accept the tenets of the Reformation: conforming bishops include two Magennises - one of the diocese of Down, the other of Dromore. However, by 1598 the Magennis chief of the time, whose father was officially regarded as "the civillest of all the Irish in these parts", had joined Tyrone (who was his brother-in-law) and thus "returned to the rudeness of the country". A generation later their loyalty to Ireland and the ancient faith was undoubted. The Franciscan Bishop of Down and Connor, Hugo Magennis (d. 1640), was closely related to Viscount Iveagh and many of the Gaelic nobility of Ulster. They were consistently on the Irish side during the resistance to English aggression in that century and after the disasters following the battle of the Boyne they were finally dispossessed of their wide patrimony in Co. Down, much of which had been planted with English (not Scottish) settlers after the Cromwellian war. Many of them took service as Wild Geese. The best known of these was Brian Magennis, second Viscount Iveagh, who was colonel of Iveagh's Regiment in the Austrian Imperial Army and was killed in action in 1703. His brother Roger Magennis, third Viscount (d. 1709) served both France and Spain with distinction. The present Lord Iveagh (of the second creation), head of the largest brewery concern in the world - Guinness of Dublin - though not a direct descendant of the lords of Iveagh mentioned above, belongs to a cognate family of Co. Down. This family spent very large sums on improvement of housing and social conditions in the city of Dublin as well as on the upkeep of St. Patrick's Cathedral and its surroundings. General John R. MacGuiness (b. 1840), the American soldier, was born in Dublin.
Name Variations: MacGuinness, MacGenis, Guinness, Magennis.
References:
One or more of the following publications has been referenced for this article.
The General Armory; Sir Bernard Burke - 1842.

A Handbook of Mottoes; C.N. Elvin - 1860.

Irish Families, Their Names, Arms & Origins; Edward MacLysaght - 1957.

The Surnames of Ireland; Edward MacLynsaght - 1957.

The Book of Irish Families Great and Small.


| | |
| --- | --- |
| Discuss | Search |


Sign-up for a Founders account and receive personalized
family heraldry service and much more!


Want to know more?
Click the Heart!

Heraldry Database