Search



Home


Surname


First Name
Popular Products



Coat of Arms


Clan Badges


Books & Gifts


Celtic Jewelry


Black Shirts


CD Music


Download

Design Gallery



Irish


Flags


Celtic


Tartans


Scottish


Claddagh


Surnames


Highlander


Celtic Radio
Research



History


Country


Families

We custom design and produce all of our products with industrial press technologies located at our Boston Massachusetts facilities! This industrial process results in superior manufacturing that will outlast even store bought products. Our base products are supplied from a major clothing wholesaler, so we can keep our prices low.

Orders made today are generally filled within 1-4 weeks depending on our current supply schedule. All products have a 30 day money back guarantee for defects in workmanship. Customer satisfaction is our number one priority!

Our Heraldry Database has thousands of Family histories to search. Visit Now!

O'Boyle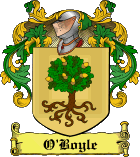 Coat of Arms

---
Boyle is O' Baoighill in modern Irish, the derivation of which is possibly from the old Irish word baigell, i.e. having profitable pledges: modern scholars reject the derivation baoith-geall. It is thus of course a true native Irish surname and the O'Boyles were a strong sept in County Donegal with a regularly initiated chieftain seated at Cloghineely: they shared with the O'Donnells and the O'Dou.....
Heraldry Database: Lalor
Lalor


Motto:
Fortis et fidelis, Brave and faithful.
Arms:
Vert a lion ramp. or, armed and langued gu.
Crest:
An arm embowed, vested gu. cuffed vert, the hand ppr. grasping a short sword also ppr.
View the Heraldry Dictionary for help.

T
his name in modern times is spelt in three different ways - Lawlor, Lalor, Lawler - the first of these being slightly more numerous than the others. In Irish it is O Leathlaoghair, which would appear to denote descendant of the half leper, no doubt a nickname arising from physical defect and not to be taken literally. The prefix O, it may be noted, which was discarded during the period of Gaelic submergence, has not been resumed in modern times. The O'Lalors, like their kinsmen the O'Mores, were one of the Seven Septs of Leix. They were located near the famous Rock of Dunamase in Co. Leix, but were driven from this territory by the English invaders under Queen Elizabeth 1. The scene of the making of the treaty, as a result of which the leading men of the Seven Septs were transplanted to Co. Kerry in 1609, is still called Lalor's Mills. The peasants and workers of the O'Lalor sept remained in their old territory, a fact which is borne out by the prevalence of the name there to-day: nearly all the Lalors, Lawlors and Lawlers in Ireland are to be found in Leinster, either in Leix or in the counties lying to the east of it. The name of one Harry Lalor is traditionally preserved as the hero of the massacre of Mullaghmast in 1577 in which many innocent and unsuspecting Lalors, O'Mores and other inhabitants of Leix were treacherously done to death by the O'Dempseys in conjunction with the English planters of the district. The fall of the O'Dempseys as a great family was, according to John O'Donovan, locally attributed to this disgraceful event. Rev. James O'Lalor (or Lawler), a Co. Kilkenny Parish Priest, wrote in 1764 a notable elegy in Irish on one of the Kavanaghs, which was published by John O'Donovan some 90 years later. The editor in his introduction mentions several distinguished Lalors all of Leix or Kilkenny. He does not, however, mention the revolutionary James Fintan Lalor (1807-1849), son of Patrick Lalor, sometime M.P. for Leix; his brother Peter (1823-1889) led the insurgent miners at Eureka, Australia, in 1854 and subsequently became a minister and speaker of the Legislative Council of Victoria. John Lawlor (1820-1901), the sculptor, is remembered by the statues in London, and Cork and Limerick. Alice Lalor (1766-1846), better known as Mother Teresa, was a prominent figure in the religious life of America.
Name Variations: Lalor, O'Lalor, Lawlor, Lawler, Leathlaobhair.
References:
One or more of the following publications has been referenced for this article.
The General Armory; Sir Bernard Burke - 1842.

A Handbook of Mottoes; C.N. Elvin - 1860.

Irish Families, Their Names, Arms & Origins; Edward MacLysaght - 1957.

The Surnames of Ireland; Edward MacLynsaght - 1957.

The Book of Irish Families Great and Small.



| | |
| --- | --- |
| Discuss | Search |


Sign-up for a Founders account and receive personalized
family heraldry service and much more!


Want to know more?
Click the Heart!

Heraldry Database