Search



Home


Surname


First Name
Popular Products



Coat of Arms


Clan Badges


Books & Gifts


Celtic Jewelry


Black Shirts


CD Music


Download

Design Gallery



Irish


Flags


Celtic


Tartans


Scottish


Claddagh


Surnames


Highlander


Celtic Radio
Research



History


Country


Families

All of our products can be order in bulk for family reunions and get-togethers. Depending on the number of items ordered, we can offer bulk orders at reduced prices for incredible savings from individual items. We also offer embroidered Clan Badge and Coat of arms patches in bulk orders for all of your family and clan festivals.
Don't see your Clan Badge or Family Coat of Arms or do you have a special customized order? Please
contact
us with your special order details and we will be happy to setup a free quote.

Our Heraldry Database has thousands of Family histories to search. Visit Now!

Sisson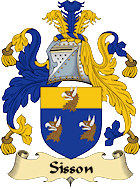 Coat of Arms

---
The name of the martyr St Cecilia, the patron Saint of musicians was particularly popular with the Normans and was introduced into England by them after the 1066 invasion. As a result of its popularity the original name developed into many nickname or petname spellings of which the most usual was "Ciss". From 'Ciss or Siss' developed patronymic spellings by adding the Anglo-Saxon 'Son', to give va.....
Heraldry Database: Patrick
Patrick


Heraldry Database

Surname: Patrick
Branch: Fitz-Patrick
Origins: Irish
More Info: Ireland


Background: Fitz-Patrick in Gaelic is: Mac Gíolla Phádraig (Son of Gìolla Phádraig) meaning servant of St. Patrick



Motto:
The Brave May Yield to the Brave.
Arms:
A saltier ar. on a chief az. three fleurs-de-lis Or.
Crest:
A dragon vert, surmounted by a lion sa. tail extended.
View the Heraldry Dictionary for help.

F
itzpatrick is the only surname with the prefix "Fitz" which is of native Gaelic-Irish origin. Donal Gìolla Phàdraig (d. 1087), from whom the family derived their name, was the famed warrior son of Donnchadh, King of Ossory (present day Kilkenny and adjacent areas) in the 11th century. His descendants are now found in all provinces of Ireland, Laois having the largest number. By far the most important branch of the sept was and still is, the family whose Chief was known as Lord of Upper Ossory.
At one time he was almost royal ruler over Laois and neighboring Kilkenny. Following the Anglo-Norman invasion in the late 12th century, their power was vastly diminished by the ascendancy of the Ormond Butlers and other English settlers. Although their patrimony was restricted to Upper Ossory barony, the Fitzpatricks were by no means dispossessed of all their property. They were one of the original great Irish families to submit to Henry VIII, and as a result, in 1541, Brian, the first to assume the surname Fitzpatrick in place of Mac Gìolla Phàdraig, was created Lord Baron of Upper Ossory in the 17th century, the Fitzpatricks lost considerable territory through their staunch support of James II. Nevertheless, the head of the sept received a peerage in 1714 and 1878 records show that no less than 22,000 acres of the finest land in Ossory was owned by the family. One of the best known of the surname was Brian Fitzpatrick (1585-1652), Vicar Apostolic of Ossory, murdered by Cromwellian soldiers. He was instrumental in saving the "Book of the O'Byrne," which he transcribed, from destruction. Apart from the Earls of Ossory, the most noteworthy in modern times was Patrick Fitzpatrick (1792-1865), trusted colleague of Daniel O'Connell.
Name Variations: Fitz-Patrick, FitzPatrick, FitzPatricks, Kilpatrick, Shera, Sherar, Sherra, Patchy, Patchie, Parogan, Parrican, Fitz, MacGilPatrick, McGilPatrick, Macllpatrick, Mcllpatrick, MacSherra, McSherra, McShera, MacShera, Sheera, McSheera.
References:
One or more of the following publications has been referenced for this article.
The General Armory; Sir Bernard Burke - 1842.

A Handbook of Mottoes; C.N. Elvin - 1860.

Irish Families, Their Names, Arms & Origins; Edward MacLysaght - 1957.

The Surnames of Ireland; Edward MacLynsaght - 1957.

The Book of Irish Families Great and Small.


| | |
| --- | --- |
| Discuss | Search |


Sign-up for a Founders account and receive personalized
family heraldry service and much more!


Want to know more?
Click the Heart!

Heraldry Database