Search



Home


Surname


First Name
Popular Products



Coat of Arms


Clan Badges


Books & Gifts


Celtic Jewelry


Black Shirts


CD Music


Download

Design Gallery



Irish


Flags


Celtic


Tartans


Scottish


Claddagh


Surnames


Highlander


Celtic Radio
Research



History


Country


Families

All of our products can be order in bulk for family reunions and get-togethers. Depending on the number of items ordered, we can offer bulk orders at reduced prices for incredible savings from individual items. We also offer embroidered Clan Badge and Coat of arms patches in bulk orders for all of your family and clan festivals.
Don't see your Clan Badge or Family Coat of Arms or do you have a special customized order? Please
contact
us with your special order details and we will be happy to setup a free quote.

Our Heraldry Database has thousands of Family histories to search. Visit Now!

Kennedy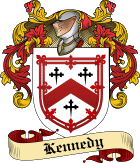 Coat of Arms

---

This name comes from the old Irish Gaelic, 'cinneidigh', literary meaning 'ugly headed'. The family came from Ireland to Celtic Dalriada, now Strathclyde, but are mainly associated with the district of Carrick in Ayrshire. They claimed descent from the Earls of Carrick and kinship to the Bruce family, whom they supported against the Comyns and throughout the War of Independence.

John Ke.....
Heraldry Database: Becker
Becker


Heraldry Database

Surname: Becker
Branch: Becker
Origins: German
More Info: Germany


Background: From becker, the same as backer, a baker. It may be from becher, a cup or goblet, from bechern, to tipple; "der Becher" (German), drinker, a tippler; the same in Dutch. And another background: From the German "becker," meaning baker, or one who bakes bread. 2) One who created wooden vessels such as cups, mugs, and pitchers, derived from Middle High German "becher," meaning cup or goblet, from Greek "bikos," meaning pot or pitcher.



Motto:
Bis vivit qui bene, He lives twice who lives well.
View the Heraldry Dictionary for help.

We are unable to locate the history for this surname. If you can provide us with this information, then please
contact
Arms & Badges!
Name Variations: Becker, Becks, Beck, Becker, Baker, Becher, Becquer, Becher, Beccher, Beckker, Bekker.
References:
One or more of the following publications has been referenced for this article.
The General Armory; Sir Bernard Burke - 1842.

A Handbook of Mottoes; C.N. Elvin - 1860.


| | |
| --- | --- |
| Discuss | Search |


Sign-up for a Founders account and receive personalized
family heraldry service and much more!


Want to know more?
Click the Heart!

Heraldry Database