Search



Home


Surname


First Name
Popular Products



Coat of Arms


Clan Badges


Books & Gifts


Celtic Jewelry


Black Shirts


CD Music


Download

Design Gallery



Irish


Flags


Celtic


Tartans


Scottish


Claddagh


Surnames


Highlander


Celtic Radio
Research



History


Country


Families

All of our products can be order in bulk for family reunions and get-togethers. Depending on the number of items ordered, we can offer bulk orders at reduced prices for incredible savings from individual items. We also offer embroidered Clan Badge and Coat of arms patches in bulk orders for all of your family and clan festivals.
Don't see your Clan Badge or Family Coat of Arms or do you have a special customized order? Please
contact
us with your special order details and we will be happy to setup a free quote.

Our Heraldry Database has thousands of Family histories to search. Visit Now!

Sinclair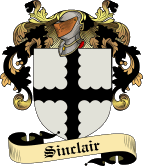 Coat of Arms

---

S

t Clare lay in Pont d'Eveque in Normandy, and was the birthplace of this great northern clan. Walderne de Santo Claro accompanied William the Conqueror on his invasion of England in 1066. His son by Margaret, daughter of Richard of Normandy, was one of the many Anglo–Norman barons who came north to settle in Scotland during the reign of David I. William de Santo Claro was granted the barony of Ros.....
Heraldry Database: Woodhouse
Woodhouse


Heraldry Database

Surname: Woodhouse
Branch: Woodhouse
Origins: British
More Info: England


Background: The family of Woodhouse of Womburne Woodhouse originates with Benedict Wodehouse of Womburne (fl. 1550); the spelling Woodhouse was used from the 17th century. The modern surname may derive from any of several places called Woodhouse, Wodehouse in England.



Motto:
In hoc signo, In this sign you will conquer.
Arms:
Sa. a chev. or, gutte-de-sang, betw. three cinquefoils erm.
Crest:
Out of clouds ppr. an arm, couped at the elbow, and erect, habited ar. charged with four sinister bendlets sa. in the hand ppr. a club of the last, over it this .
View the Heraldry Dictionary for help.

T
his interesting and long-established surname is of Anglo-Saxon origin, and has a number of possible sources. Firstly, it may be locational from any one of the places thus called, such as those in Leicestershire; in Leeds; and the place near Saxon in the West Riding of Yorkshire. The placename derives from the Olde English pre 7th Century "wudu", meaning wood, and "hus", house; hence, "house(s) by the wood". It may also be of topographical origin, meaning a "dweller in the house near the wood", from the same derivation. The third possibility is that it may be used to describe the "Woodwards residence", and would therefore be an occupational surname, since a woodward was someone who held the important position of warden to the woodlands owned by a prominent landholder. The surname was first recorded in the late 12th Century (see below), and Richard del Wodehus appears in the 1275 Hundred Rolls of Suffolk. The well known author, P.G. Wodehouse (1881 - 1975), was born into a Norfolk family whose earliest known ancestor was John de Woodhouse, who lived in Rastrick, Yorkshire at the end of the 13th Century. In 1624, William Woodhouse married Mary Ship at Cornhill, London. The Coat of Arms most associated with the name depicts a gold cross between twelve gold crosses crosslet on a red shield, the Crest being on a coronet a cross crosslet gold. The Motto, "In hoc signo", translates as, "Under this sign". The first recorded spelling of the family name is shown to be that of Helius de Wudehus, which was dated 1170, in the "Pipe Rolls of Nottinghamshire", during the reign of King Henry 11, known as "The Builder of Churches", 1154 - 1189.
Name Variations: Woodhouse, Woodhuse, Wodehouse, Woodhoose, Woodhowse.
References:
One or more of the following publications has been referenced for this article.
The General Armory; Sir Bernard Burke - 1842.

A Handbook of Mottoes; C.N. Elvin - 1860.

English Surnames; C.M. Matthews - 1966.

A Dictionary of English Surnames; P.H. Reaney - 1958.

Surname Database: http://www.surnamedb.com/Surname/woodhouse





Sign-up for a Founders account and receive personalized
family heraldry service and much more!


Want to know more?
Click the Heart!

Heraldry Database