Search



Home


Surname


First Name
Popular Products



Coat of Arms


Clan Badges


Books & Gifts


Celtic Jewelry


Black Shirts


CD Music


Download

Design Gallery



Irish


Flags


Celtic


Tartans


Scottish


Claddagh


Surnames


Highlander


Celtic Radio
Research



History


Country


Families

All of our products can be order in bulk for family reunions and get-togethers. Depending on the number of items ordered, we can offer bulk orders at reduced prices for incredible savings from individual items. We also offer embroidered Clan Badge and Coat of arms patches in bulk orders for all of your family and clan festivals.
Don't see your Clan Badge or Family Coat of Arms or do you have a special customized order? Please
contact
us with your special order details and we will be happy to setup a free quote.

Our Heraldry Database has thousands of Family histories to search. Visit Now!

MacDonald of Clan Ranald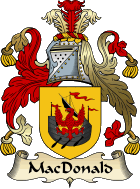 Coat of Arms

---
During the whole of the 15th century the Clanranald had been engaged in feuds regarding the lands of Garmoran and Uist; first, with the Siol Gorrie, or race of Godfrey, eldest brother of Ranald, the founder of the tribe, and afterwards with the MacDonalds or Clanhuistein of Sleat, and it was not till 1506, that they succeeded in acquiring a legal title to the disputed lands. John, eldest son of Hu.....
Heraldry Database: Welles
Welles


Heraldry Database

Surname: Welles
Branch: Welles
Origins: British
More Info: England


Background: Welles is a surname of English origin. It derives from occupation, location, and topography. The occupational name (i.e. "Wellman") derives from the person responsible for a village's spring. The locational name (i.e. "Well") derives from the pre-7th century waella ("spring"). The topographical name (i.e. "Attewell") derives from living near a spring. The oldest public record is found in 1177 in the county of Norfolk. Variations of Wells include Well, Welman, Wells, Wellman and Wellsman. At the time of the British Census of 1881, its relative frequency was highest in Berkshire (3.2 times the British average), followed by Leicestershire, Oxfordshire, Kinross-shire, Huntingdonshire, Kent, Sussex, Lincolnshire, Dumfriesshire and Bedfordshire.



Motto:
Semper paratus, Always prepared.
Arms:
Ar. a lion, rampant, sa.
View the Heraldry Dictionary for help.

We are unable to locate the history for this surname. If you can provide us with this information, then please
contact
Arms & Badges!
Name Variations: Welles, Well, Welman, Wells, Wellman, Wellsman, Wels.
References:
One or more of the following publications has been referenced for this article.
The General Armory; Sir Bernard Burke - 1842.

A Handbook of Mottoes; C.N. Elvin - 1860.

English Surnames; C.M. Matthews - 1966.

A Dictionary of English Surnames; P.H. Reaney - 1958.




Sign-up for a Founders account and receive personalized
family heraldry service and much more!


Want to know more?
Click the Heart!

Heraldry Database