Search



Home


Surname


First Name
Popular Products



Coat of Arms


Clan Badges


Books & Gifts


Celtic Jewelry


Black Shirts


CD Music


Download

Design Gallery



Irish


Flags


Celtic


Tartans


Scottish


Claddagh


Surnames


Highlander


Celtic Radio
Research



History


Country


Families

We custom design and produce all of our products with industrial press technologies located at our Boston Massachusetts facilities! This industrial process results in superior manufacturing that will outlast even store bought products. Our base products are supplied from a major clothing wholesaler, so we can keep our prices low.

Orders made today are generally filled within 1-4 weeks depending on our current supply schedule. All products have a 30 day money back guarantee for defects in workmanship. Customer satisfaction is our number one priority!

Our Heraldry Database has thousands of Family histories to search. Visit Now!

Bailey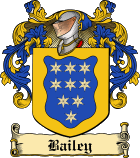 Coat of Arms

---

T

he Bailey or Bailiff was a man of great importance and was paid accordingly by his master. Where a shepherd earned 4 shillings per annum and a ploughman 8 shillings, the Bailey would receive six pounds. He lived in the Manor House at the Lord's expense and was responsible for the administration and supervision of the general agricultural policy. Then term Bailey, now obsolete in England, is still .....
Heraldry Database: Stafford
Stafford


Heraldry Database

Surname: Stafford
Branch: Stafford
Origins: British
More Info: England


Background: The name Stafford is of Old English origin, and the meaning of Stafford is "ford by a landing place."



Motto:
Virtus basis vitoe, Virtue is the basis of life.
Arms:
Or, a chev. gu. a canton erm.
Crest:
Out of a ducal coronet, per pale, or and gu. a boar's head and neck sa.
View the Heraldry Dictionary for help.

T
he family name Stafford is derived from the Anglo-Saxon word "Stat", meaning a town, and "ford" meaning a ford. These two words joined together produce the name Statford, which through a simple transition was finally spelled Stafford, the name of a town in England, which was originally built by Ethelfleda, daughter of King Alfred, about 910-915 A. D. It is located on the Sow River, near its junction with the Penk River. It is located about 130 miles north of London, and, in 1921, it had a population of approximately 30,000. It is the birth place of Isaac Walton. Staffords, from the Encyclopedia Britannica: The famous English House was founded in England by Robert, a younger brother of Ralph de Tosney, of a noble Norman House, who was standard bearer of the Dutchy. Robert received at the conquest of England a great feif extending into seven counties and became known as Ralph de Stafford from his residence at Stafford Castle. With his son the male line became extinct and his sister's husband, Hervey Bagot, one of knightly tenants, succeeded to her right (1194), their descendant Edward de Stafford was summoned as a baron in 1299. His son, Ralph conducted the brilliant defense of Aiguillon against the host of France, fought at Crecy and in the siege of Calais. Chosen Knight of the Garter at the foundation of the Order. He was created Earl of Stafford in 1351. His son, Hugh, who succeeded as second earl in 1372, served in the French Wars. From 1376 he became prominent in politics, probably through his marriage to a daughter of Warwick, being one of the four lords of the comittee in the Good Parliament, and also serving on the committee that controlled Richard II (1378-80), whom he accompanied on his Scottish expedition in 1385. He died next year on a pilgrimage to Rhodes. His son Thomas, the third earl, married (1392) the daughter and heiress of Thomas, Duke of Buckingham (son of Edward III) who, on Thomases death married in 1398 his brother Edmond, the fifth earl. Their son Humphrey (1402-1460), the first Stafford Duke of Buckingham was placed by his descent and his possessions in the front rank of the English Nobility. Henry the second duke, was attained in 1483, but because of the triumph of Henry VII, in 1486, Edward, the third duke (1478-1521), regained the title and the estates, and recovered the ancestral office of Lord High Constable in 1509. He was accused of treason and after a nominal trial by his peers was beheaded on May 17,1521. A subsequent Act (1523) confirming his attainder. Henry (1501-1563), the son of the last duke, was granted by the Crown some of his father's manors for his support, and, espousing the Prostestant cause (though married to a daughter of Margaret, countess of Salesbury and sister of cardinal Pole) was restored in blood on Edward VI's accession and declared Lord Stafford, a new creation, by Act of Parliament. His second surviving son, Thomas, evidently assumed the royal Arms, sailed from Dieppe with two ships on April 1557, landed in Scarborough, seized the castle and proclaimed himself protector. He was captured and executed for high treason. His father's new barony, in 1637, passed to a cadet in humble circumstances who was called on, as a pauper, to surrender to the King, which he did (illegally it is now held) in 1639. The King therefore bestowed on Mary Stafford (the Heir general of the line) and her husband, William Howard, in whose descendants, it is now vested. Roger who had surrendered the title, died in 1640, the last heir male, apparently of the main line of this historic house.
Name Variations: Stafforde, Staford, Stafford, Staforde, Strafforde, Straford, Strafford, Straforde.
References:
One or more of the following publications has been referenced for this article.
The General Armory; Sir Bernard Burke - 1842.

A Handbook of Mottoes; C.N. Elvin - 1860.

English Surnames; C.M. Matthews - 1966.

A Dictionary of English Surnames; P.H. Reaney - 1958.

Celtcorner.com: http://www.celtcorner.com/history.html



| | |
| --- | --- |
| Discuss | Search |


Sign-up for a Founders account and receive personalized
family heraldry service and much more!


Want to know more?
Click the Heart!

Heraldry Database