Search



Home


Surname


First Name
Popular Products



Coat of Arms


Clan Badges


Books & Gifts


Celtic Jewelry


Black Shirts


CD Music


Download

Design Gallery



Irish


Flags


Celtic


Tartans


Scottish


Claddagh


Surnames


Highlander


Celtic Radio
Research



History


Country


Families

Our store includes not only customized products, but select clothing items from brand name house hold names like Champion, Izod, WeatherProof, Adidas and more. For those in rural areas or that are home bound, we offer a separate clothing store containing thousands of items that can be purchased quickly with expedited service and shipping (hard to find larger sizes are available). We offer a wide selection of popular Celtic and Medieval books, Jewelry, Gifts, Accessories (such as caps and designer bags), Mouse Pads, Coat of Arms Plaques, Surname History PDF files, Bumper Stickers and Coat of Arms Downloads.

Our Heraldry Database has thousands of Family histories to search. Visit Now!

Kennedy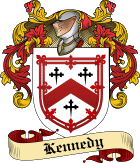 Coat of Arms

---

This name comes from the old Irish Gaelic, 'cinneidigh', literary meaning 'ugly headed'. The family came from Ireland to Celtic Dalriada, now Strathclyde, but are mainly associated with the district of Carrick in Ayrshire. They claimed descent from the Earls of Carrick and kinship to the Bruce family, whom they supported against the Comyns and throughout the War of Independence.

John Ke.....
Heraldry Database: Norman
Norman


Heraldry Database

Surname: Norman
Branch: Norman
Origins: British
More Info: England


Background: Old English, Dweller in the North, Scandinavian, especially a Norwegian, recorded as a personal name from the second half of the 10th century and fairly common in 1066.



Motto:
Deus dabit vela, God will fill the sails.
View the Heraldry Dictionary for help.

We are unable to locate the history for this surname. If you can provide us with this information, then please
contact
Arms & Badges!
Name Variations: Norman, Normand, Normant.
References:
One or more of the following publications has been referenced for this article.
The General Armory; Sir Bernard Burke - 1842.

A Handbook of Mottoes; C.N. Elvin - 1860.

English Surnames; C.M. Matthews - 1966.

A Dictionary of English Surnames; P.H. Reaney - 1958.


| | |
| --- | --- |
| Discuss | Search |


Sign-up for a Founders account and receive personalized
family heraldry service and much more!


Want to know more?
Click the Heart!

Heraldry Database