Search



Home


Surname


First Name
Popular Products



Coat of Arms


Clan Badges


Books & Gifts


Celtic Jewelry


Black Shirts


CD Music


Download

Design Gallery



Irish


Flags


Celtic


Tartans


Scottish


Claddagh


Surnames


Highlander


Celtic Radio
Research



History


Country


Families

We custom design and produce all of our products with industrial press technologies located at our Boston Massachusetts facilities! This industrial process results in superior manufacturing that will outlast even store bought products. Our base products are supplied from a major clothing wholesaler, so we can keep our prices low.

Orders made today are generally filled within 1-4 weeks depending on our current supply schedule. All products have a 30 day money back guarantee for defects in workmanship. Customer satisfaction is our number one priority!

Our Heraldry Database has thousands of Family histories to search. Visit Now!

Lamont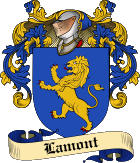 Coat of Arms

---
Around 500 AD, a migration to southwest Scotland from the Irish kingdom of Dal Riata in northern Ireland took place. Our oral traditions and written history state that this invasion was led by the three sons of Erc, the King of the Irish Dal Riata. This action was the start of the Scottish kingdom of Dalriada. During this time it is said that the Stone of Destiny was taken to Scotland by the Gaels.....
Heraldry Database: Norman
Norman


Heraldry Database

Surname: Norman
Branch: Norman
Origins: British
More Info: England


Background: Old English, Dweller in the North, Scandinavian, especially a Norwegian, recorded as a personal name from the second half of the 10th century and fairly common in 1066.



Motto:
Deus dabit vela, God will fill the sails.
View the Heraldry Dictionary for help.

We are unable to locate the history for this surname. If you can provide us with this information, then please
contact
Arms & Badges!
Name Variations: Norman, Normand, Normant.
References:
One or more of the following publications has been referenced for this article.
The General Armory; Sir Bernard Burke - 1842.

A Handbook of Mottoes; C.N. Elvin - 1860.

English Surnames; C.M. Matthews - 1966.

A Dictionary of English Surnames; P.H. Reaney - 1958.


| | |
| --- | --- |
| Discuss | Search |


Sign-up for a Founders account and receive personalized
family heraldry service and much more!


Want to know more?
Click the Heart!

Heraldry Database