Search



Home


Surname


First Name
Popular Products



Coat of Arms


Clan Badges


Books & Gifts


Celtic Jewelry


Black Shirts


CD Music


Download

Design Gallery



Irish


Flags


Celtic


Tartans


Scottish


Claddagh


Surnames


Highlander


Celtic Radio
Research



History


Country


Families

Our catalog of products also includes three designer logos created specially by the Celtic Radio designers:

'Enjoy Life' Brand - Pigmented fun t-shirts with our 'Enjoy Life' logo. Stickers available too!

'StormCelt' Brand - Rugged wilderness outdoor wear for the true independent Celt.

'StormGale' Brand - Clothing products to keep you warm & dry when storm winds blow.

Our Heraldry Database has thousands of Family histories to search. Visit Now!

MacMahon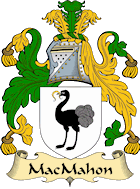 Coat of Arms

---

M

acMahon is one of the best known and most distinguished names in Ireland. In Irish Mac Mathghamha, or in ultra-modern spelling MacMahuna, it is said to be derived from the Irish word for a bear. It is borne by two quite distinct septs. One of these belongs to Co. Clare, in which county is now the most numerous name. These descend from Mahon, son of Murtagh Mor O'Brien, King of Ireland (D. 1119), a.....
Heraldry Database: Jordan
Jordan


Heraldry Database

Surname: Jordan
Branch: Jordan
Origins: British
More Info: England


Background: Jordan is derived from the name of the river Jordan, "Yarden" in Hebrew. The name first became popular in England as a personal name during the Crusades when it was a common practice for Crusaders to bring back vials containing the waters from the river Jordan to be used in the baptism of the Crusaders children.

Jordan Family Coat of Arms, and Sir Name Origin The history of the Jordan Surname in England can be traced back almost 1000 years. One of the more colorful legends, mixed with facts, credits a man named Sir William Deardon who participated in the 3rd Crusade in the Holy Lands. Sir William performed a number of heroic deeds during a battle at the River Jordan. These deeds were witnessed by King Richard the Lionhearted who promptly dubbed Sir William as "Sir Jordan" in honor of his performance.



Motto:
Percussa resurgo, Being struck down I rise again.
Arms:
Az. a lion, rampant, betw. eight cross crosslets, fitche, or , a chief of the second.
Crest:
demi lion or, issuant from wreath, restingon his sinister foot, and holding in his dexter and eagles head, erased.
View the Heraldry Dictionary for help.

We are unable to locate the history for this surname. If you can provide us with this information, then please
contact
Arms & Badges!
Name Variations: Jordan, Jordane, Jordain, Jordaine, Jourdan, Jourdane, Jorden, Jurden, MacShurtan, MacJordan, MacShurton, MacShurdane, MacShurtaine, McShurtan, McJordan, McShurton, McShurdane.
References:
One or more of the following publications has been referenced for this article.
The General Armory; Sir Bernard Burke - 1842.

A Handbook of Mottoes; C.N. Elvin - 1860.

English Surnames; C.M. Matthews - 1966.

A Dictionary of English Surnames; P.H. Reaney - 1958.


| | |
| --- | --- |
| Discuss | Search |


Sign-up for a Founders account and receive personalized
family heraldry service and much more!


Want to know more?
Click the Heart!

Heraldry Database