Search



Home


Surname


First Name
Popular Products



Coat of Arms


Clan Badges


Books & Gifts


Celtic Jewelry


Black Shirts


CD Music


Download

Design Gallery



Irish


Flags


Celtic


Tartans


Scottish


Claddagh


Surnames


Highlander


Celtic Radio
Research



History


Country


Families

Our store includes not only customized products, but select clothing items from brand name house hold names like Champion, Izod, WeatherProof, Adidas and more. For those in rural areas or that are home bound, we offer a separate clothing store containing thousands of items that can be purchased quickly with expedited service and shipping (hard to find larger sizes are available). We offer a wide selection of popular Celtic and Medieval books, Jewelry, Gifts, Accessories (such as caps and designer bags), Mouse Pads, Coat of Arms Plaques, Surname History PDF files, Bumper Stickers and Coat of Arms Downloads.

Our Heraldry Database has thousands of Family histories to search. Visit Now!

Swain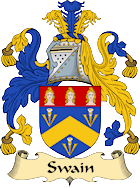 Coat of Arms

---

Swain is an English surname derived from the Old Norse personal name Sveinn (Sven, Sweyn), meaning a youth or young man. There are a number of variations in the spelling of the surname Swain, including Swaine, Swainne, and Swayne.

It is also common as a given name in history as Sweyn.

From this word meaning boy, young male or servant, are derived:

(1) The noun swai.....
Heraldry Database: Hucks
Hucks


Heraldry Database

Surname: Hucks
Branch: Hucks
Origins: British
More Info: England


Background: Decedent of Gamel Filius Hucca year 1185 Templar Records from Yorkshire England.



Motto:
In Deo omnia, In God are all things.
Arms:
Ar. a chev. betw. three owls .
Crest:
On a ducal coronet or, a fleur-de-lis ar.
View the Heraldry Dictionary for help.

T
his name derives from the medieval personal name Hucca or Uccak a pet form of the Olde English pre 7th Century name Uhtroed a compound of the elements "uht", dawn plus "ric" power. One, Gamel filius (son of) Jucca is recorded in the 1185 Knights Templars Records of Yorkshire. Hucke (without surname) appears in the Norfolk County Records" 1221. The surname adopted from this source is recorded in the late 13th Century. In the modern idiom, the name has three spelling variations Huck, Hucke and Hug. The diminutive forms are Huckle and Huckel(l) and the patronymic Huck(e)s. The first recorded spelling of the family name is shown to be that of William Hukke, which was dated 1279, in the Hundred Rolls of Huntingdonshire.
Name Variations: Huck, Hucks, Hux, Huckes, Ucke, Hucks, Hucca, Uccak, Uhtroed, Hucke, Hug, Hugman, Hook.
References:
One or more of the following publications has been referenced for this article.
The General Armory; Sir Bernard Burke - 1842.

A Handbook of Mottoes; C.N. Elvin - 1860.

English Surnames; C.M. Matthews - 1966.

A Dictionary of English Surnames; P.H. Reaney - 1958.

Surname Database: http://www.surnamedb.com/Surname/Huck



| | |
| --- | --- |
| Discuss | Search |


Sign-up for a Founders account and receive personalized
family heraldry service and much more!


Want to know more?
Click the Heart!

Heraldry Database